MBTA Partners With Uber, Lyft To Improve Services For Riders With Disabilities
Play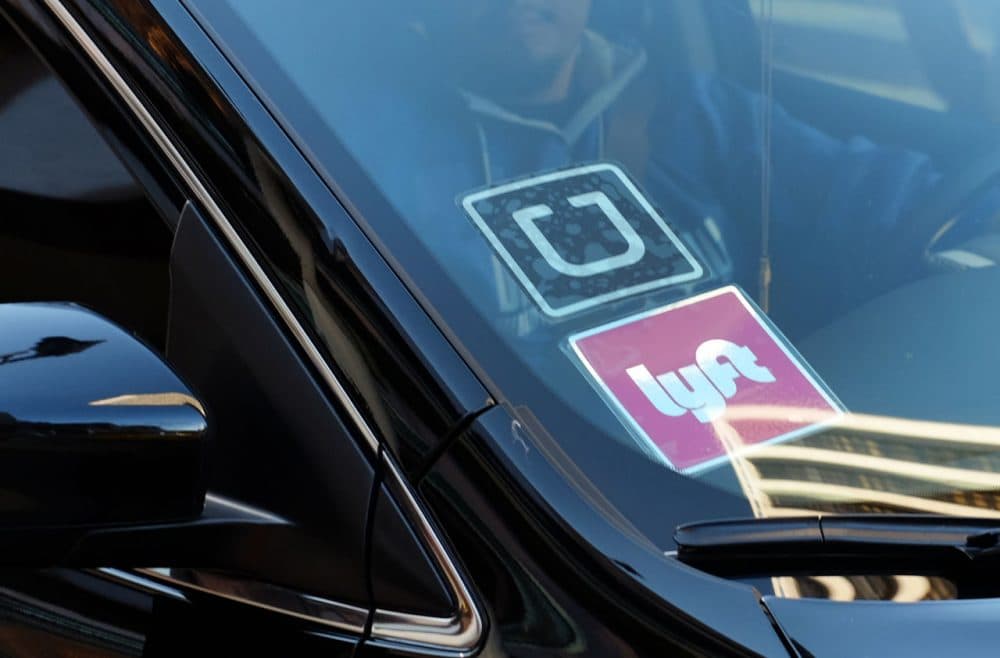 This article is more than 6 years old.
People with disabilities should have an easier time getting around Massachusetts because of a new partnership between the MBTA and ride-hailing companies Lyft and Uber.
Under the program announced Friday, customers of the MBTA's The Ride can use the ride-hailing services for $2 per trip, as opposed to $3.15 on The Ride. The MBTA will pay Uber and Lyft $13 each way.
Gina Russo, an outreach specialist in the Perkins School for the Blind's library, says she'll gladly be one of the first to use the new service.
Russo has been blind since infancy because of juvenile rheumatoid arthritis. She also has to use a wheelchair most of the time so she's been using the MBTA's The Ride to get around for years. And it can be a hassle.
"By 5 o'clock today, I have to schedule everything for tomorrow," Russo says. "And I have to know exactly when I want to arrive and exactly when I want to leave. And when I go to the doctor's, there's no way of telling. Sometimes the doctor says, 'Oh, I'm going to send you for X-rays,' or this or that, and I say, 'Well, my Ride's picking me up,' so I have to cancel it."
Trips on The Ride can take a long time — she says her longest was three hours and 15 minutes to get from Watertown to Boston. She frequently arrives at work and other places late.
Gov. Charlie Baker says the state is looking to improve its service for riders with disabilities and save money at the same time.
"Currently every Ride trip costs the T about $31, regardless of length, and nearly $46 when fixed costs are included, while on-demand trips through taxis, Uber and Lyft cost $13 or less," Baker explains.
For longer trips where the ride-hailing services charge more than $15, the passenger will have to pay the difference.
Massachusetts Secretary of Transportation Stephanie Pollack told a crowd at the Perkins School that the program is about more than money.
"I know that what you want is what everyone else wants: the ability to get to school and work on time, the ability to make plans with your friends for tonight, the ability to be as independent as you can make yourself be," Pollack says.
Uber and Lyft say their services are already popular among people with disabilities.
Still, some wonder whether people with visual, hearing and mobility impairments will be especially vulnerable being transported by drivers of the ride-hailing companies. Three Uber drivers in Massachusetts have been charged with sexual assault in the last few months.
Baker recently signed a new law requiring background checks — but not fingerprinting — for ride-hailing drivers.
Chris Taylor, general manager of Uber in Boston, believes the safeguards that have been put in place are enough to protect riders.
"We have been working diligently with the Baker administration to implement the legislation that was just passed," Taylor says. "And as decided by the legislators of the commonwealth, we think that it's going to add increased levels of safety for everybody, which I think is very important, and yeah, I think we're moving in a good direction."
Uber and Lyft currently transport people with collapsible wheelchairs in their regular passenger vehicles.
They have added fully wheelchair-accessible vans to their fleets and will be adding more.
This segment aired on September 16, 2016.