With Some Homes Still Under Water, Houston Residents Deal With Harvey's Aftermath
05:56
Play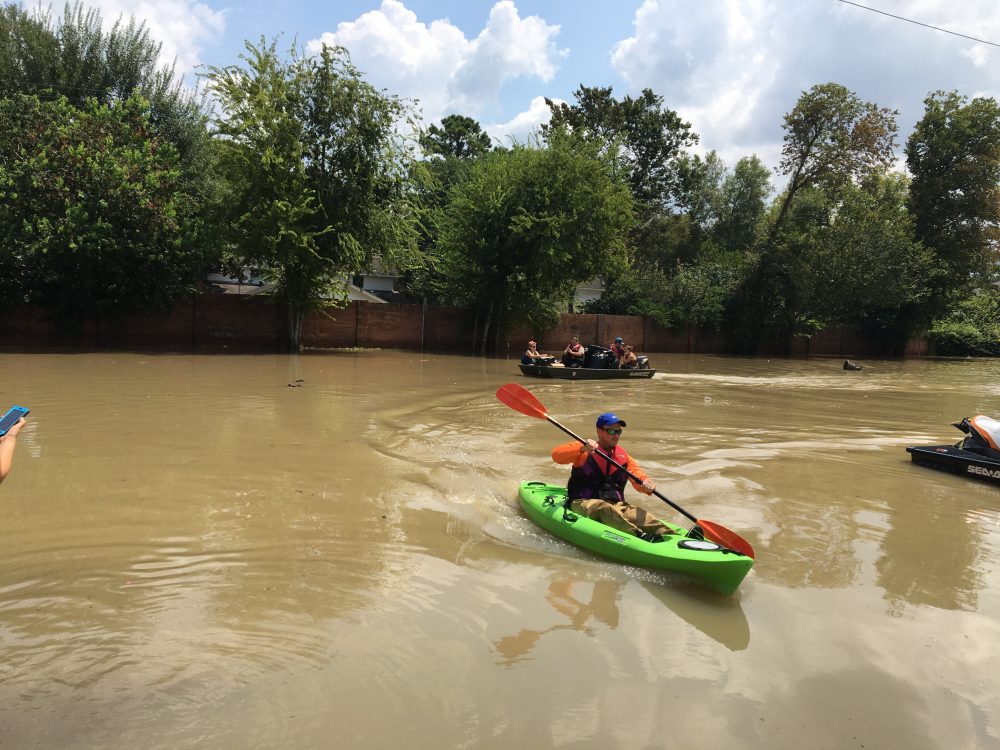 This article is more than 3 years old.
More than a week after Hurricane Harvey hit the coast of Texas and then dumped more than 50 inches of rain on Houston and much of southeastern Texas, recovery and clean-up efforts continue. In Houston, that means life is returning to normal for many people – but many thousands of others are dealing with the daunting aftermath of the catastrophe, including homes that remain under water.
WBUR's Anthony Brooks joined Weekend Edition from Houston this Labor Day weekend with the latest.
Sharon Brody: This flooding and the extent of the damage is so intense — more than a week after the rain started, some homes are still under water. Tell us what you've been seeing.
Anthony Brooks: Indeed, and Houston is so big that that are big swaths of it where life appears to have returned to normal, but there are still areas where there are big challenges. And we'll hear about one of those in a moment. But first, let's hear from Robert Picard. He's deputy leader of MassCare – he's a Red Cross worker from Brookline, Massachusetts, who's down here in Houston helping to organize the recovery effort. And I spoke to him about the challenges ahead for tens of thousands of people with damaged homes. Here's what he said:
Robert Picard: Many of them can't go home. There's no home to go to, or, the home is there but it needs six months of renovation before it's good to go there. Many places, apartments were destroyed, a lot of people who rent cannot go back to where they were, a million automobiles were destroyed in this process, they can't drive, they can't get in and out to get to stores — to get to work.
"She hasn't worked for 10 days. She doesn't know how she's going to pay the rent and certainly doesn't know how she is going to replace everything that was lost in the house."

Robert Picard, Red Cross worker
A young mother I was talking to, she is now out of work. Her home is flooded. They said she can get back in next week probably but the rent is due at the end of the week. She hasn't worked for 10 days. She doesn't know how she's going to pay the rent and certainly doesn't know how she is going to replace everything that was lost in the house.
Sharon, multiply that story by tens of thousands, and you get an idea of the magnitude of the challenge down here.
And while much of Houston is dry, you mentioned that parts of the city are still under water. What have you observed?
I spent part of yesterday in west Houston – in a part of the city that is close to two reservoirs, which are so full from all that rain, that city officials have had to release water, which means this neighborhood is still under water. And that's where I met Nathan Kelly and his wife, who had just climbed out of a boat after visiting their home to retrieve some valuables and take stock of the damage in their house that still had four feet of water in it.
Nathan Kelly: We actually just moved in a little over a week and a half ago, we bought the house in November and remodeled it and spent nine months doing that, and had gotten moved in and started unpacking and putting stuff up, and that's when all this kind of took effect.
I met Nathan Kelly at the entrance of a small shopping mall, which is now a boat launch. All day, boats came and went, ferrying residents to and from their inundated homes.
A small army of volunteers drove the boats — they carried guns because of reports of looting. City officials say because of the over-burdened reservoirs, this part of the city will remain under water for the next 10 to 14 days – so people like Kelly and his family will have to wait before they can even consider rebuilding.
Nathan Kelly: We have wood floors on the bottom and they've all kind of buckled into mountains so you know, you cross through the living room and your head's hitting the ceiling because of how far the floors are pitched up. The smell — you can't even believe — it's putrid. You can already see you know the effects of a waterlogged house. And like I said, you know 10 to 14 days of that — that's just going to exacerbate the problem.
While Harvey was cruel to many in this part of the city, it spared the home of Leticia and Ed Fallick, just a few blocks away from the worst of the flooding, where cicadas hum in the background. The water rose within a few feet of their front door and then stopped.
There's still water at the end of their walkway, and on the street in front of their house, but Leticia Fallick says for several days their house was a dry island surrounded by flooded streets.
Leticia Fallick: I'm having a lot of survivor's guilt. Every time I pick up my phone, there's a bad story.
Leticia's daughter, Carla Fallick: Every time I check my Facebook and Instagram, I see that somebody else's parents' house is destroyed, or their house is destroyed, or cars destroyed – anything.
So this family was lucky. And two days ago, they had something to celebrate. Carla Fallick married her fiancé, Zack Wilson – right outside this house, surrounded by the flood.
Carla Fallick: Obviously Harvey happened and we were stuck in our house — could not leave — land locked, and didn't have a car, didn't have anything. My older brother who was here too got ordained online overnight, and he married us in our yard.
Zack Wilson: As he was just finishing, he signed the paper, he did a little ceremony with us, the fire department shows up with their boat.
So Sharon, that's Carla Fallick and Zack Wilson, married two days ago in Harvey's wake. A happy moment down here amidst a difficult time for many here in Houston.
Well, nothing like saying your vows amidst a once in a 20-or-40,000 year extreme weather event. Anthony, thank you.
Indeed. You're welcome, Sharon.
The audio atop this post includes the above transcribed conversation with Anthony Brooks, as well as a story from Brooks about how Houston residents are dealing with the aftermath of Harvey. 
This segment aired on September 3, 2017.