Here's Who's On The Ballot For Boston's Preliminary Election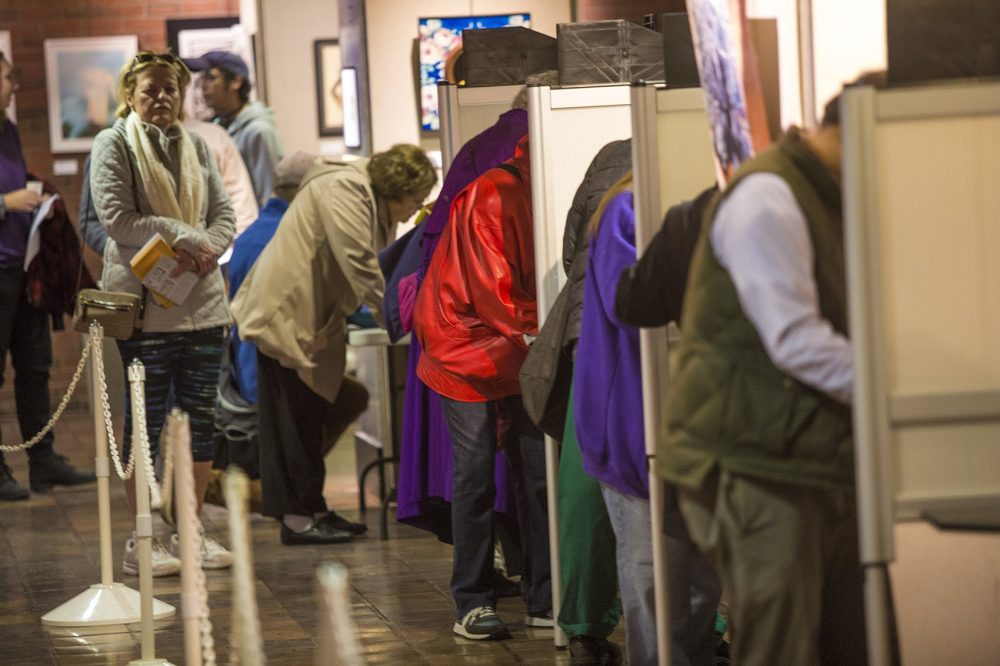 This article is more than 4 years old.
Boston voters will head to the polls on Sept. 26 for the city's preliminary municipal election.
It's a much quieter civic affair than four years ago, when an open mayoralty meant a dozen candidates were vying to get to the final runoff election. (In Boston, the two top vote-getters in the preliminary advance to the general election in November.)
This year, there are four candidates for mayor, including the incumbent, Marty Walsh. Walsh's main challenger is Roxbury City Councilor Tito Jackson.
For Boston City Council, there's no preliminary election for the four at-large councilor seats, and just four of nine district seats have preliminary elections.
Of those, the most competitive race is to fill Jackson's District 7 seat: Thirteen candidates are seeking to replace him.
Retirements are opening up two other seats. Three candidates are vying to succeed East Boston's Sal LaMattina in District 1, and seven are hoping to replace South Boston's Bill Linehan in District 2.
Councilor Mark Ciommo, of Allston-Brighton's District 9, also has two challengers.
Here's a quick guide to the preliminary election:
1. When can I vote? 
Voting for the preliminary election takes place from 7 a.m. to 8 p.m. on Tuesday, Sept. 26.
2. Who's running for what races?
Mayor Of Boston:
Marty Walsh, incumbent, of Dorchester
Tito Jackson, District 7 councilor, of Roxbury
Robert Cappucci, former School Committee member, of East Boston
Joseph Wiley, health insurance worker, of East Boston
City Councilors:
District 1 (Charlestown, East Boston, North End):
Margaret Farmer
Stephen Passacantilli
Lydia Edwards
District 2 (Downtown, South Boston, South End):
Peter Lin-Marcus
Kora Vakil
Corey Dinopoulos
Michael Kelley
Edward Flynn
Joseph Kebartas
Erica Tritta
District 7 (Roxbury):
Roy Owens
Deeqo Jibril
Angelina Magdalena Camacho
Brian Keith
Joao Gomes Depina
Domonique Williams
Hassan Williams
Rufus Faulk
Steven Wise
Jose Lopez
Kim Janey
Charles Clemons Muhammad
Carlos Tony Henriquez
District 9 (Allston, Brighton):
Brandon David Bowser
Alexander Bernhard Golonka
Mark Ciommo (incumbent)
3. Am I eligible to vote?
Check your voter status here.
If you haven't registered, you're out of luck for Boston's preliminary election. In Massachusetts, the registration deadline is 20 days before an election (though a judge recently ruled that requirement to be unconstitutional; the secretary of state plans to appeal).
You can still register for the general election on Nov. 7. Register to vote online here, or in person, or by mail.
4. OK, I'm eligible. Where can I vote? 
There are polling locations in wards across Boston. Find your polling location here.
5. Can I vote by absentee ballot?
If you can't make it to the polls, you can vote by absentee ballot. You can request the application for an absentee ballot in person, or by mail. Here's how to vote by absentee ballot in the city of Boston.
With reporting by WBUR's Jeremy Rellosa
This article was originally published on September 19, 2017.