Business Leaders Ready To Engage In Transportation Financing Debate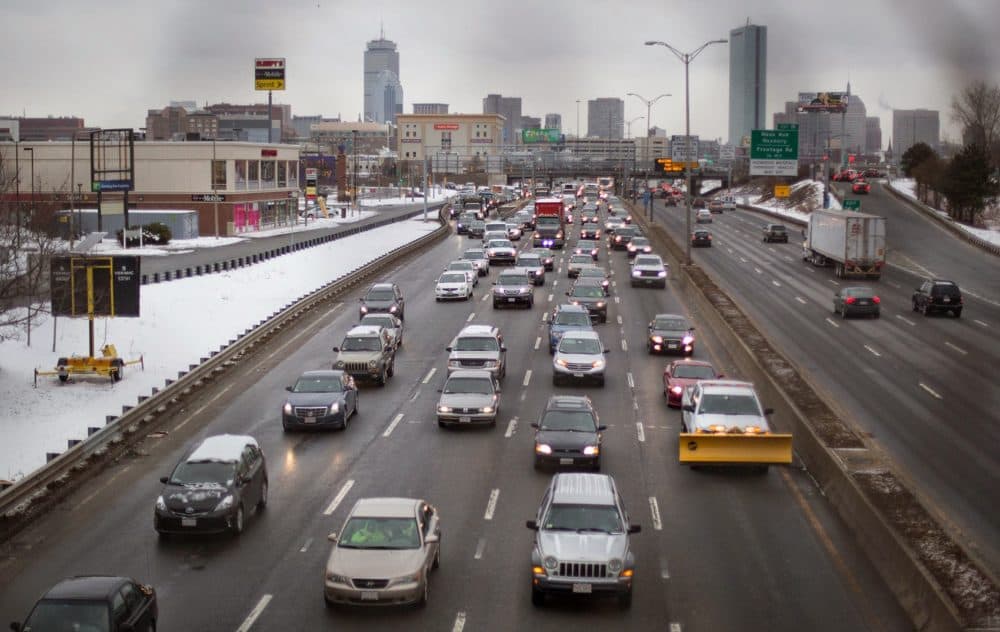 This article is more than 3 years old.
As Beacon Hill looks to tackle some of the transportation issues often blamed for congestion, traffic and unreliable service, employers and business groups are among those at the center of discussions about ways to improve transit around Greater Boston and beyond.
"Many of our largest employers are very interested in how they can help to address the issue of transportation," said David Maher, who as president and CEO of the Cambridge Chamber of Commerce represents some of  the hottest and fastest-growing business regions in the state.
Business groups have increasingly decried the Boston area's public transportation woes as a hindrance to business growth. Traffic and congestion on the roads make for long and frustrating commutes by car, and the unpredictable nature of public transportation frequently makes workers late to their jobs.
"I think that too often when people are asked questions around transportation and other public policy issues, it's, 'What are they going to do about it?' with they being government," Greater Boston Chamber of Commerce CEO James Rooney said earlier this month. "It should be, 'What are we going to do about it?' And that includes business and other community stakeholders."
House Speaker Robert DeLeo has been beating the drum to get chambers of commerce and other business groups more involved in discussions around transportation and transportation financing, and has said he is open to tax hikes or just about any other prescription to address the state's critical transit needs.
Speaking at a Cambridge Chamber of Commerce breakfast on Tuesday, DeLeo said congestion on the roads and unreliable service on public transportation is a problem that "impacts every employee and every business" in Massachusetts. He said he wants the business community to weigh in on what policies it could support.
"We want to make sure the business community clearly articulates the policies that it can unite behind," he told business leaders at the Royal Sonesta Hotel. "Folks, I look at this as not only a political issue for us up on Beacon Hill, but an issue for you as well. I'm looking for you, quite frankly, to unite with us, join with us and give us some ideas in terms of how you feel we can do a better job than we're doing right now."
At a Greater Boston Chamber of Commerce breakfast earlier this month, DeLeo told reporters that "it's all on the table" when it comes to possible new revenue for transportation. He suggested a gas tax hike and increased fees charged on rides hailed through apps like Uber or Lyft could be part of the conversation.
"Quite frankly, I think we're at a situation relative to transportation we're at a critical point. If we're going to continue to grow our economy here in Massachusetts, transportation has to be one of the major factors that we address," he said.
Transportation activists and some policymakers — including some on the T's Fiscal and Management Control Board — have called for new state revenue to fund transportation improvements. Rooney said the Baker administration's efforts to tighten up MBTA operations make the idea of a tax hike for transportation more palatable to businesses.
"There's a growing acknowledgment, I think, that the Baker administration has done a good job from a management perspective righting the ship at the T. It is a better-managed organization than the one he found in 2016, I don't think there's any question about that," he said. "That enables us to have a more serious conversation about giving them the revenues they need to provide us with the transportation network we need."
Maher said his organization wants to be a facilitator in the discussion of transportation and transportation financing and is planning to host a forum on the topic later this year.
"The whole idea is really about sharing ideas," he said. "I don't expect that the commonwealth or the Senate or the House of Representatives are able to solve the problem by themselves. I think it's really about bringing a cross-section of ideas together."
Rooney, who also spoke of his group as a facilitator, said his chamber and the broader business community can help drive the conversation towards solutions by discussing the issue in a more organized and focused way.
"It starts with coming together and talking to each other, maybe doing it in a more organized fashion," he said. "It will be about how businesses can come together, have the dialogue, articulate our pain points regionally and see if we can't come to some consensus around interventions."
DeLeo said Tuesday that he talks about transportation anytime he visits chambers of commerce around the state, and understands that different parts of Massachusetts have different transportation needs. Having the support of business leaders will be key, DeLeo said, in helping to ensure that the proposed solutions address transportation statewide.
"If we're going to be able to get this through and get the support from people throughout the commonwealth, then we're in this together," the speaker told the chamber Tuesday.