These Cambodian Performers Are Using The Circus Arts To Heal Intergenerational Trauma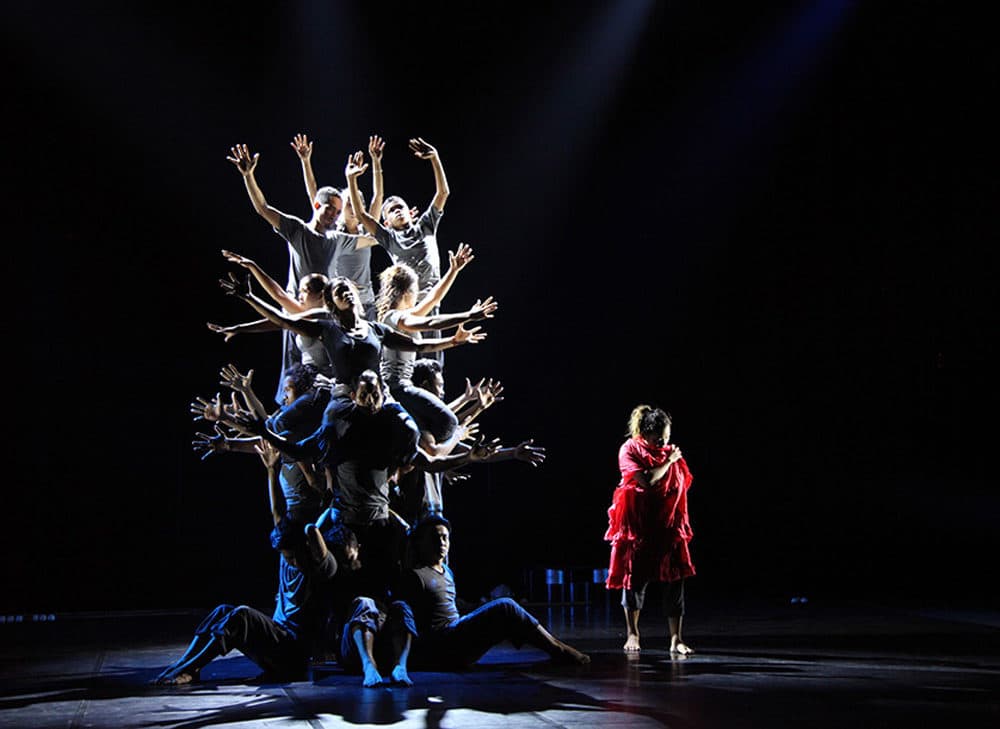 This article is more than 3 years old.
During the Khmer Rouge genocide in Cambodia, the threat of violence and death permeated daily life. Leader Pol Pot's brutal militia enforced new rules, expected unflinching allegiance and engaged in social engineering to create a master race, killing nearly two million people.
For a group of Cambodian performers whose elders survived the Khmer Rouge conflict, the past was shrouded in silence. To shatter that reticence, they developed theater piece "See You Yesterday" that harnesses their acrobatic and circus arts skills to physically embody their inherited trauma. The show, directed by Michael Lessac and produced by Global Arts Corps (GAC), premieres in the U.S. via ArtsEmerson at the Paramount Center on Thursday, May 16.
GAC's mission is to bring together performing artists from opposite sides of religious, cultural and racial conflicts. Back in 2012, Khuon Det, a Khmer Rouge survivor, artistic director and co-founder of Cambodian nonprofit Phare Ponleu Selpak ("The Brightness of the Arts"), asked Lessac to work with his students after seeing GAC's touring production from South Africa, "Truth in Translation." GAC was charged with bolstering the performers' acting skills and with helping them dig deep to understand the genocide. Det wanted Lessac to help the young artists "develop, through their own circus techniques … a production that allows them to be able to interact with their elders again," he explained.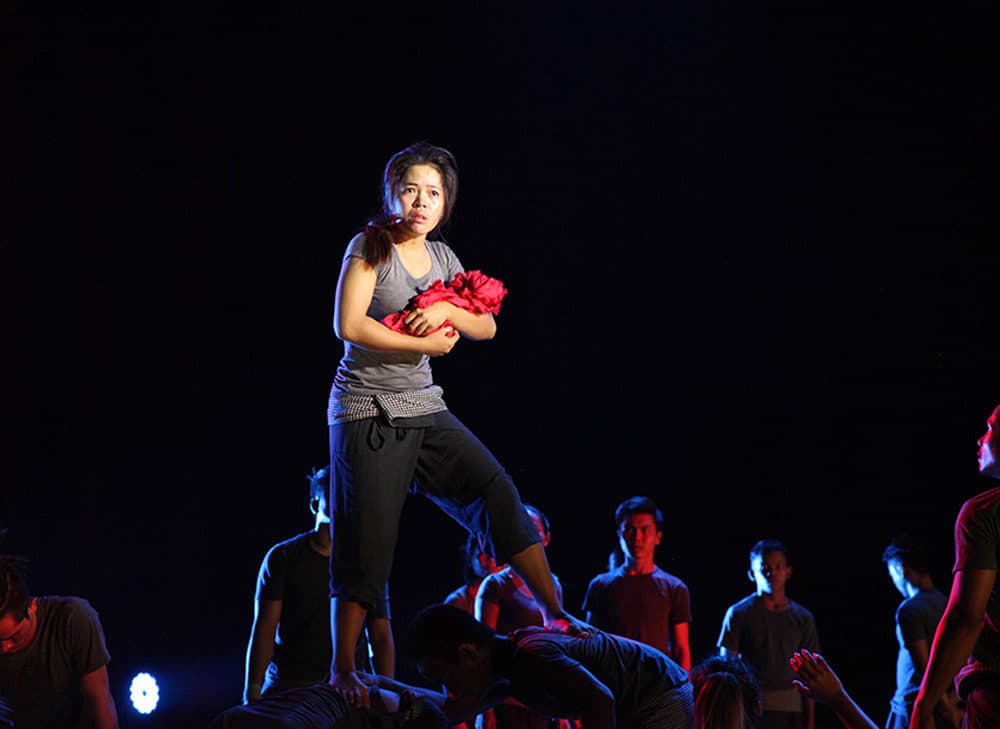 At rehearsals, they imagined what their lives would have been like during the Khmer Rouge reign using the splintered accounts passed down to them, historical facts and news stories and "automatically created the scenes within the improv work we were doing," Lessac shared. The GAC team's actors and trainers asked questions and worked together with the troupe, who "brought all the answers to the floor," he said. The group interviewed the elders, and talked with a former Khmer Rouge child soldier.
When the time was right, Lessac asked them to do the circus as if they were performing for the Khmer Rouge. "That means, if you make a mistake, you die," he told the group. After that breakthrough moment in rehearsal, the artists shared that they finally felt what their elders experienced.
Through this voyage into the dark depths of genocide, the actors learned what it took to torture and to kill, but also how to move past trauma, create community and how to lead. "It's a joyous show" that they've made, Lessac said. They've made "it victorious for themselves. They gave themselves the next level of triumph over oppression, even if it was [in] a small way."
Lessac is invested in the complicated task of contending with the past through "conflict preservation," as he called it, to find pathways to understanding. He seems most interested in examining the "us and them" ideology in which conflict festers and combusts. "If you don't find the right kind of imaginative space to re-interrogate what you placed in denial or what you placed in a package of fears that you never want to visit again," he said, "I think it'll just happen again."

His long career spans decades and crosses industries. He's directed a lengthy list of TV shows including "The Drew Carey Show," "Everybody Loves Raymond" and "Taxi," holds a doctorate in developmental and perceptual psychology and recorded an album, "Sleep Faster, We Need The Pillow," in 1968. But, it's the theater — a world he explored with a grant when he was 19 or 20 — he shared, that makes him feel alive.
"The craft of theater, if I understood it completely enough," he said, helps him "try to figure out how far can you push the potential of the human instrument in terms of the relationship between all the magical things that people can do when they don't think about it."
That magic can show up in rehearsals when people are given a safe space to explore their rage, joy and sadness. Rehearsals, Lessac said, "are made for looking at your own identity and shifting it for the truths that you find."  The aspiration then, is for whatever's uncovered to spill onto the stage, sparking dialogue, creating empathy and hopefully, cultivating true reconciliation. "See You Yesterday," which had its world premiere in 2016 in Rwanda, attempts to highlight the human condition and, if we're open to it, help us learn from our mistakes.
---
"See You Yesterday" is at the Paramount Theater in Boston from May 16 through May 19. The show, a Global Arts Corps production, was created in partnership with Phare Performing Social Enterprise and Phare Ponleu Selpak Association .