Billie Eilish Challenges Ideas Of How Teenage Girls Should Use Their Voices
If you're a 17-year-old artist with one SoundCloud hit to your name and the chance to tell the world who you are, you might fill your debut album with candid songwriting and personality. But Billie Eilish takes it a step further, opening the first track of her full-length debut, "WHEN WE ALL FALL ASLEEP, WHERE DO WE GO?" with a gratuitous saliva slurp: the sound of popping out her dental hardware upon entering the studio. It's an irreverent way to begin such a high-stakes debut, but then again, irreverence is Eilish's superpower.
The rest of the album is as jolting as those opening seconds. Following the viral success of her 2017 song "Ocean Eyes," she's launched her career with an album that subverts teen pop tropes by skewing in darker, weirder directions and exploring topics like power and masochism. Her music isn't created with a team of industry pros; her only collaborator is her brother Finneas, who serves as a co-writer and producer. There's an echo of Lorde's "Pure Heroine" cultural commentary and ennui to the resulting album, but Eilish isn't following anyone's lead too closely. Where Lorde's debut was saturated with outsider-pop detachment, Eilish owns her emotional intensity, mixes it with morbid imagery, and lays it bare over a collage of minimalist synths, trap beats and dubstep wobbles.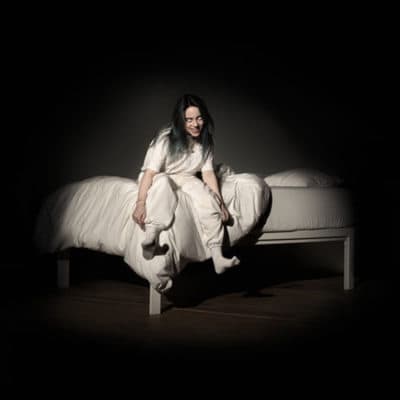 I'm not necessarily the album's typical listener. I'm 27, but Eilish's sound is pointedly Gen Z in a way that makes me feel ancient. But I'm glad to see her music gaining traction, because it represents a teenage perspective that I almost never heard during my own teen years in the mid-2000s — one that channels a teenage girl's sense of restlessness while aspiring to something more complex than a mall-punk rebellion.
When I was 13 and started looking for music that made sense of my place in the world, that mall-punk rebellion was the closest thing I could find for a long time. I soundtracked my junior high and early high school years with a mix of Warped Tour bands and MySpace scenesters — or in other words, that about 90% of my listening involved 20-something dudes with guitars and a lot of intense things to say about women. There were a few standouts (early Paramore offered a refreshing female perspective) but the overwhelming narrative was hung up on romance and dominated by male frustration.
It was the catharsis I was after, not necessarily their storytelling, but at the time the two seemed like a package deal. And as a young female fan, I wasn't alone in that: In those days, the cover of Tiger Beat was regularly smeared with guyliner, because naturally those angsty guys were our heartthrobs. Still, the way pop-punk spoke about women didn't do its female fans many favors. The women in those songs appeared more often as plot devices than as real people, defined by the way they fit into male artists' own love lives. I didn't see it in such clear-cut terms back then, but the takeaway was that your options included being a lust object, muse, reviled ex or invisible.
"WHEN WE ALL FALL ASLEEP, WHERE DO WE GO?" offers an overdue teenage eye-roll toward that kind of ambient misogyny. Romance factors into many of the songs, but unlike much of mainstream teen pop, it doesn't define them. Eilish's boldness does. Her perspective skews darker and weirder, and does it with purpose: "bad guy" claimed the top of the Billboard 100 by positioning Eilish as a full-fledged antihero; "you should see me in a crown" outlines her ambition against patronizing expectations; "bury a friend" explores masochism while casting her as the monster under her own bed. Even "all the good girls go to hell," which has all the DNA of a bad-girl anthem, is really about climate change.
Sometimes Eilish swaggers; other times, she's sensitive. All together, her album makes an argument that toughness and vulnerability aren't contradictory. Her sense of darkness sometimes comes from tackling heavier topics, but at other times it's a playful, knowing aesthetic choice that messes with the same gothic melodrama that made me fork over too much of my babysitting money to Hot Topic. It extends from her songs to her music videos, which mix bright, Instagrammy minimalism with horror-movie shock factor. In the video for "when the party's over," her eyes bleed black gunk; in "bury a friend," she's skewered with a backful of hypodermic needles. It's equally morbid and mischievous in a way that's firmly teenage, and makes the album better for it.
Teenagers' discontent is often dismissed as "angst" in pop music, but there are plenty of valid things for teenagers to feel frustrated about. Teenager or not, even in 2019, cultural expectations can make being openly angry, critical or frustrated while female feel like self-sabotage. There's an entrenched idea that likability has to come before you can accomplish anything else, and even once you realize the double-standards of that instinct it can stay tangled in your daily habits. (As I write this, I'm fighting the urge to gut-check every sentence of this essay to make sure it doesn't sound too biting.) Eilish's music makes an argument against that idea, too. As her music reaches more widespread success, it represents a more self-assured, dissenting voice, and a sense of agency or power at an age when it's easy to feel like you have none.
Now three months after the album's release, Eilish has set a new record by being the only female artist to ever land 14 songs on the Billboard Top 100 in a single week. Seven of her songs have gone gold; two have gone platinum. While Billie Eilish might not be a household name just yet (unless your house contains teenagers), her success is a big part of what makes her music so important right now. Her irreverence toward teen pop norms works against irrelevant expectations about what it means to be a teenage girl. She's not a punk artist, but her ideas are more progressive than those of most of the pop-punk bands I listened to growing up. It's not a radical change, it's no riot grrrl, but it's a step toward questioning gendered cultural ideas about the ways a teenage girl should or shouldn't use her voice. Her sound meets young pop listeners where they're at, but it has the potential to take them somewhere new. Clearly, a little irreverence was overdue.
---
Billie Eilish performs at the Rockland Trust Bank Pavilion in Boston's Seaport on Friday, June 14.