Looking Back At The Merrimack Valley Gas Explosions, 1 Year Later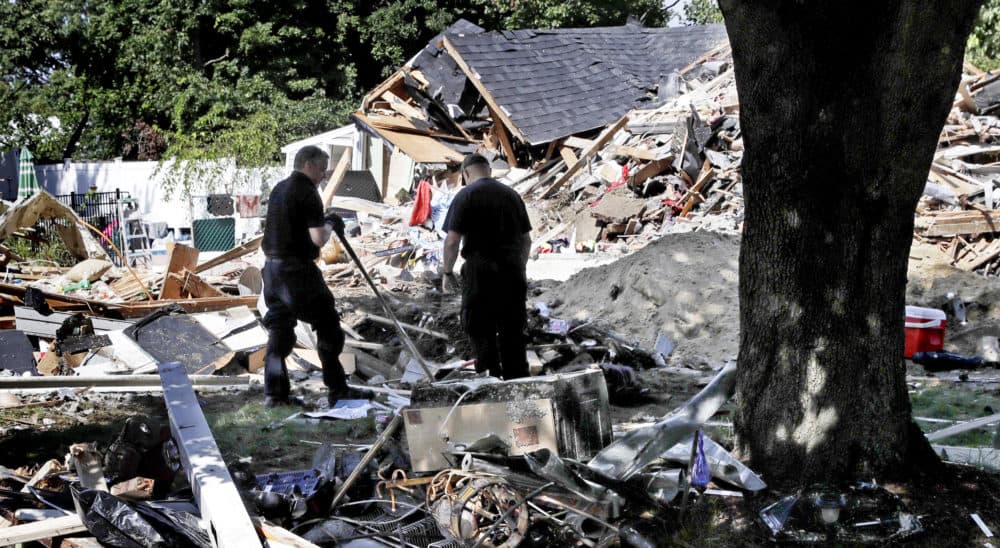 This article is more than 3 years old.
A year ago Friday, a series of gas explosions described by some as "Armageddon" shook the Merrimack Valley region — and the community is still recovering.
On Sept. 13, 2018, the pressure in Columbia Gas natural gas pipelines in Lawrence, Andover and North Andover climbed to 12 times higher than it should have been. The result: three explosions and structure fires across the three communities. The explosions killed a teen, injured more than two dozen other people, and affected more than 8,500 Columbia Gas customers.
It took months to replace gas lines and restore service to customers, many of whom were without gas as temperatures cooled and the holiday season inched near.
As of this summer — and after a lengthy court process — Columbia Gas agreed to pay a total of $143 million to settle class-action lawsuits brought by victims. Exactly how that money might be paid out is still unclear.
Here are some numbers to help explain what's happened over the last year:
80 — The minimum number of structure fires caused by the explosions.
18 —  Age of the only person to die in the disaster, Leonel Rondon.
23 — Victims who were injured, excluding Rondon.
12 — Times higher the pipeline pressure should have been in the company's faulty pipes prior to the explosions.
350 — Camping trailers that Columbia Gas brought in for customers to spend the night and stay warm. Many times, the trailers weren't at capacity but remained closed to the area's homeless.
50,000 — Pounds of turkey a Merrimack Valley restaurant gave out to families without gas on Thanksgiving.
6,100 — Service lines replaced in the gas restoration process.
11 — Weeks it took for Columbia Gas president Steve Bryant to change his mind about retiring.
$500 — What businesses can win each week in a small sweepstakes. It's part of "Rock The Register," an initiative to get people back to shopping in and supporting local businesses.
$143 million —  How much Columbia Gas must pay to compensate victims of last year's natural gas explosions and fires in the Merrimack Valley.
700 — Abandoned service lines in the Merrimack Valley that will need compliance checks, Columbia Gas just announced. They said there are instances of noncompliance with Massachusetts requirements for abandoning the lines that they are working to fix.
70% — Portion of affected businesses that are now operating as they did before the explosions. About one-third of the businesses affected still need help getting back on their feet.