Baker Upping Health Care Resources As COVID-19 Models Predict Up To 172,000 Total Mass. Cases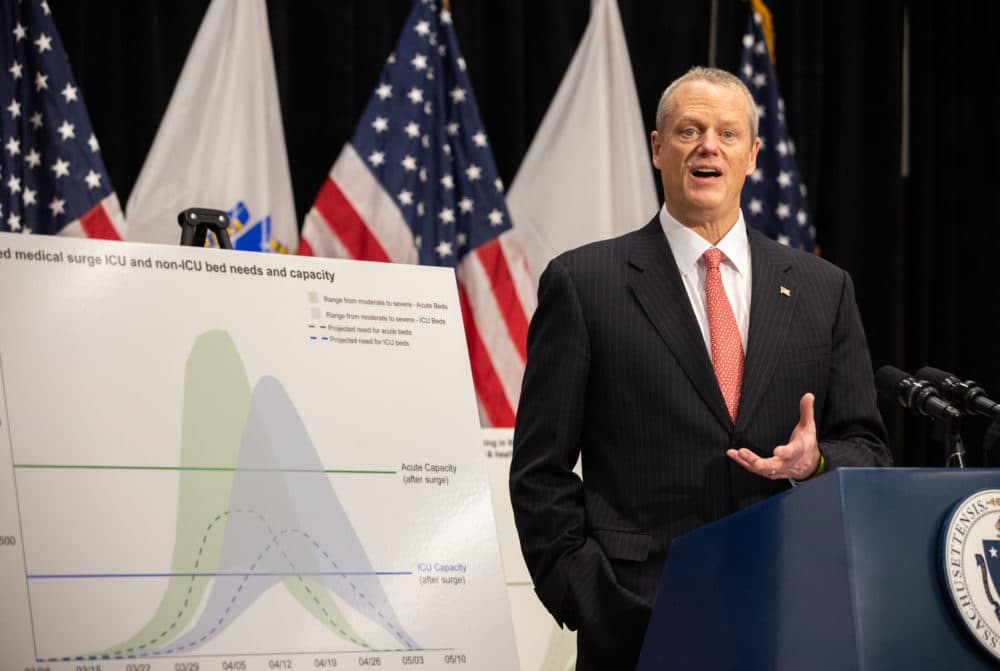 This article is more than 2 years old.
Gov. Charlie Baker announced additional efforts on Thursday to expand the state's health care resources, as he presented new projections of how the coronavirus outbreak in Massachusetts might pan out in the state.
Baker said his administration consulted medical experts to come up with new models. His advisory panel estimates that between 47,000 and 172,000 residents will be infected, or 0.7% to 2.5% of the state's population. The new models also predict that the virus is likely to peak in Massachusetts between April 10 and 20.
The governor said the projections were based on Wuhan, China's outbreak and adapted based on Massachusetts' hospital capacity and the latest information about the virus here.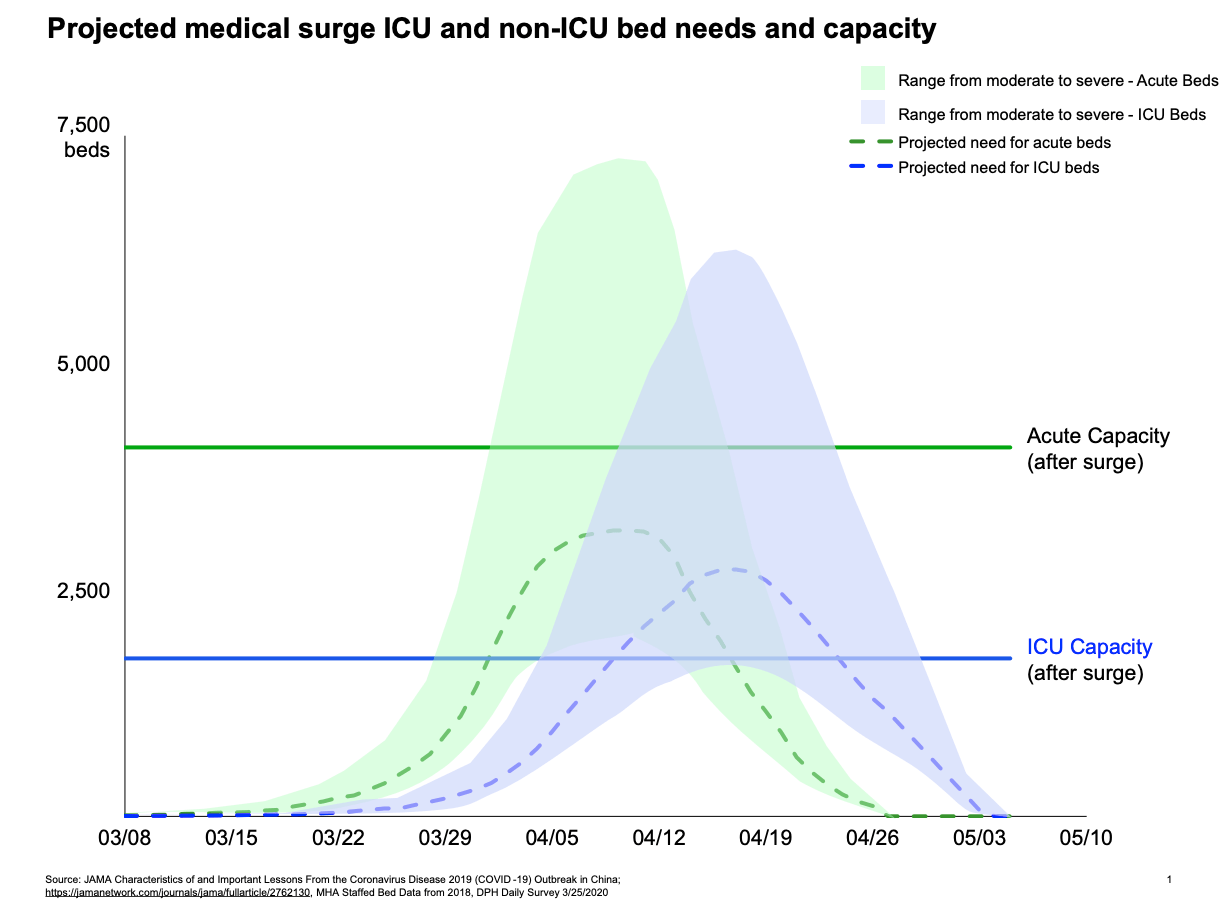 To prepare, Baker said the state needs to add 500 more intensive care unit beds, additional field hospitals and more ventilators.
He said the state is considering converting a number of possible sites, including the Boston Convention and Exhibition Center, Joint Base Cape Cod and the MassMutual Center in Springfield. Baker said the administration is also looking at smaller sites, has secured a contractor and will finalize its plans in the next seven to 10 days.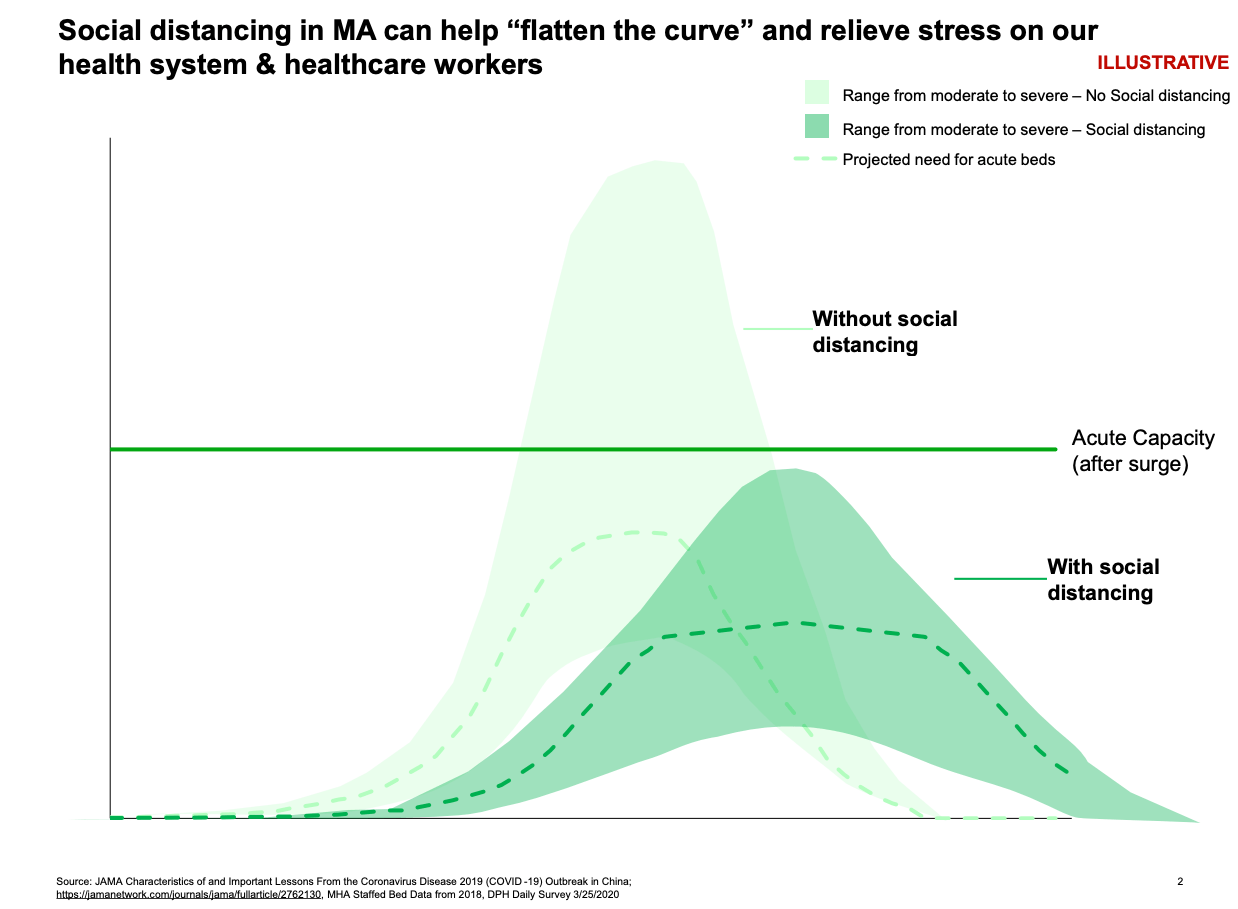 The state has already converted some facilities, including specialty hospitals like Carney Hospital in Dorchester, the DCU Center in Worcester and nursing homes in Worcester and Wilmington, to serve COVID-19 patients. An arena in Fitchburg is also being prepared to serve as a temporary morgue if need arises for additional capacity.
"Even with the best planning we still expect our medical system will be stretched," Baker said.
A shipment of more than one million N95 masks —a much-needed piece of protective equipment for health care workers — was transported from China to Logan Airport Thursday aboard the New England Patriots' team plane. The flight was designated as a humanitarian aid mission, Baker said.
Secretary of Health and Human Services Marylou Sudders added that Massachusetts Emergency Management Agency and the Department of Public Health planned to deliver more than 100 shipments of protective equipment to hospitals, nursing homes, fire stations and others on the front lines of the outbreak.
Sudders also said the state has "repeatedly requested" ventilators from the federal government — 1,400 of them so far, Sudders said.
The state will make data public about where medical equipment is allocated, Sudders said.