ICE Detainees Allege Assault, Isolation Used As Retaliation At Bristol County; Sheriff Denies Claims
This article is more than 2 years old.
En español, traducido por El Planeta Media.
WBUR has obtained audio of phone conversations with U.S. Immigration and Customs Enforcement (ICE) detainees housed at the Bristol County House of Correction that took place during the May 1 altercation which turned violent, sending three ICE detainees to the hospital.
In the recording, one detainee claims Bristol County Sheriff Thomas Hodgson assaulted him.
"The sheriff approached me and attacked me, he assaulted me and then people reacted," the detainee said. "I got pepper in my mouth, I have asthma. I'm sure those people are coming back and forth with the canines and guns and so forth. This is not going to go down well, this [Sheriff Hodgson] is out of control."
WBUR has agreed not to identify the man because he fears retaliation.
In the recording, another detainee is heard coughing over the phone and describes the use of gas. Speaking in Spanish, the man says he doesn't want to go back to the "hole":
"... They want to bring us to the hole, and we don't want to go to the hole, we don't want to be punished. They sent me to the hole for seven days to punish me for speaking up."
The man, whom WBUR has agreed not to identify because he fears for his safety, is a signatory to letters sent in March by ICE detainees describing what they called overcrowding and inhumane conditions amid the pandemic. The detainee's attorney, as well as one of his family member's, confirms he has spent time in isolation after speaking with attorneys. The attorney said his client has been distressed since Friday's incident.
According to the Bristol County sheriff's office, on May 1, a number of ICE detainees refused to be relocated to a different building for COVID-19 testing after reporting symptoms and barricaded themselves into their unit. Detainees and their lawyers have reported they requested the tests be administered in their unit instead. The ensuing standoff included the use of a "flash-bang" grenade containing tear gas, pepper spray and a K9 unit.
Bristol County Sheriff Thomas Hodgson and ICE are in the middle of a class action suit filed by Lawyers for Civil Rights on behalf of all those held in federal immigration detention at Bristol. Fifty ICE detainees have been released under varying conditions from ICE as a result of the lawsuit.
WBUR has spoken with several men recently released from ICE detention, including VM, whom we agreed to identify by his initials because he fears repercussions for speaking with a reporter.
VM said during his time in detention at Bristol, anyone complaining of coronavirus symptoms or asking for a test was relocated out of the unit and isolated.
"They use this trick to tell you, 'Oh, we're going to take you to medical or to another unit to test you or to check your pressure or something,' but, we got a medical room in the Unit B [where ICE detainees are held] so they using this [as an excuse] to take you to the hole."
Another man detained in Bristol County for seven months who was also recently released as a result of the lawsuit told WBUR he was unsurprised by the events that erupted Friday evening. We've agreed to use only his initials, FV, because he too fears retaliation for speaking with the press.
Sheriff Hodgson, FV said, was angry.
"He got mad when we start sending letters, when we start telling people what he's doing to us in there," FV said. "He got mad because we trying to fight for our rights. He got mad because this is the first time that he's been in there that he's seen people that get together."
Lawyers and family members of Bristol ICE detainees have reported similar behavior to WBUR.
They use this trick to tell you, 'Oh, we're going to take you to medical or to another unit to test you or to check your pressure or something,' but, we got a medical room in the Unit B [where ICE detainees are held] so they using this [as an excuse] to take you to the hole.

VM
Ira Alkalay is an attorney representing several ICE detainees at Bristol County. He said many have spoken with him about the use of isolation and retaliatory behavior by the sheriff.
"They have said the sheriff is upset about the lawsuit, has mentioned the lawsuit and in fact the day that [the altercation] happened I was told that a number of individuals, including one of my clients, was on the phone with the supporting attorneys from Yale who are part of the litigation team for the lawsuit," Alkalay said, "and that they were told afterwards by the sheriff when [the altercation] was later happening that he listens to all of their calls, including their calls with the attorneys, that he knew what was going on, he was done playing games and that they were going to be sorry."
Advocates, state lawmakers and members of the state's congressional delegation have called for independent investigations of the melee. Massachusetts Attorney General Maura Healey's office has also opened an investigation, asking the sheriff's office for video footage and documentation related to the event.
Jonathan Darling, the spokesperson for Hodgson's office, said in an email that they have repurposed a restricted housing unit with single cells and toilets into an isolation unit for COVID-19 "situations."
"Detainees can be sent there for medical isolation. No detainee was sent into isolation for speaking up or anything like that," Darling said in an email. "That is just another example of the misinformation campaign these activist attorneys are taking part in to sway public opinion and influence the judge who is deciding on ice releases."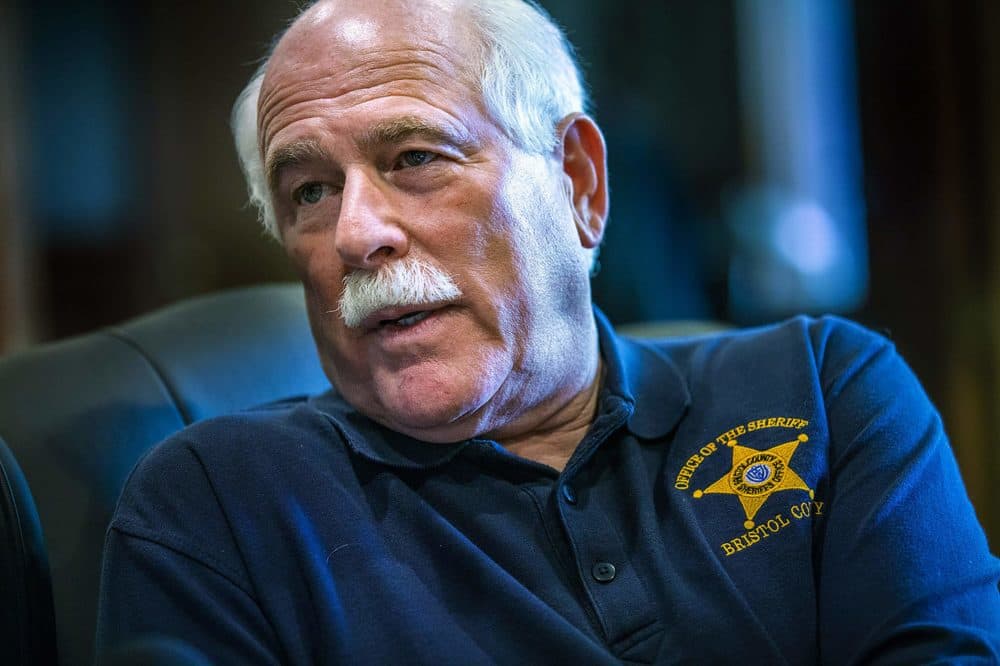 Speaking to WBUR's Radio Boston on Monday, Hodgson said he believes, "these activist lawyers are really in large part responsible for why these things have happened." Hodgson also refuted that he physically assaulted any of the detainees and denied the allegation that he's using isolation in lieu of medical testing.
"That's just nothing but a lie," he said.
"And on top of that, I know parents whose kids came home from Europe, the kids had to be quarantined in their bedroom for two weeks. This is about public health ... and for [ICE detainees] to suggest that [COVID-19 testing] was a ploy to get them into isolation, that is what CDC requires, you have to be isolated. And that's why sheriffs have the ability to manage these things in the prisons and make sure that people aren't released out into the community," Hodgson said.
Since March, ICE detainees detained in Bristol County House of Correction have complained about overcrowded conditions as well as the lack of soap and other cleaning supplies amid the pandemic.
U.S. District Court Judge William Young in Boston ordered the Bristol County sheriff's office on Friday, April 24, to begin submitting reports on the number of federal immigration detainees in its correctional facilities tested for the coronavirus, as well as any test results. The court order will provide the first definitive look at testing among federal immigration detainees in Bristol County.
The next hearing in the class action suit is Thursday.
This article was originally published on May 06, 2020.