As Pandemic Impacts Business, Frugal Bookstore Offers A Silver Lining In Nubian Square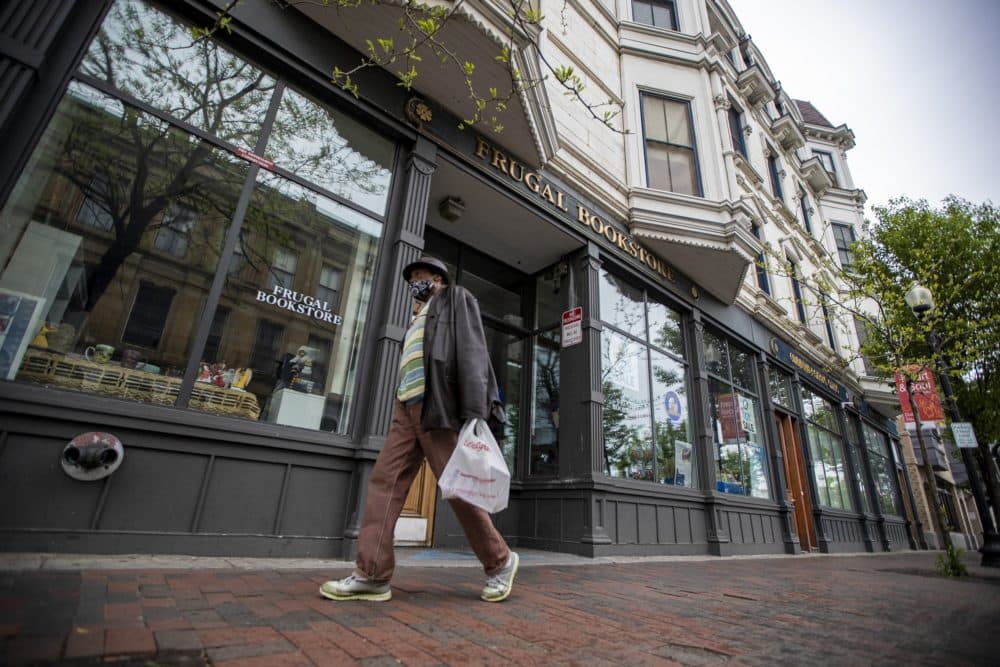 This article is more than 2 years old.
Arts and culture businesses and venues have been hit particularly hard by the coronavirus pandemic. Museums furloughed employees, Boston Calling was canceled and restaurant owners are struggling to keep their businesses open. Some weren't able to make it through the mandatory closures and shuttered their doors. As some businesses look toward opening their doors on May 25 per Gov. Charlie Baker's four-phase plan, many more small business owners are concerned about staying afloat in the aftermath of quarantine.
But in the heart of Nubian Square, there is a silver lining. Frugal Bookstore, the only bookstore in Roxbury and the first black-owned bookstore in Boston, was on the verge of closure two weeks ago. "Things were looking really bleak," says owner Leonard Egerton. He's run Frugal Bookstore with his wife Clarrissa for the past 12 years. The bookstore made it through the 2008-2009 financial crash but 2020 brought a new type of adversary. News of the coronavirus hit and the usual steady stream of customers became a slow trickle that then stopped completely. When non-essential businesses were forced to close, Leonard and Clarrissa knew they had to do something.
After taking a day to deliberate, the couple decided to put up a GoFundMe page in hopes that they could raise some cash to stay open. "It was scary, this has been our livelihood," Leonard says. "Everything we have done...emotionally, physically, intellectually, has stemmed from this bookstore."
On May 2, the GoFundMe page went up. In just 24 hours, the couple hadn't just met their $20,000 goal, they surpassed it by $5,000. "We were blown away by the amount of the support," says Clarrissa. "To this day we're speechless."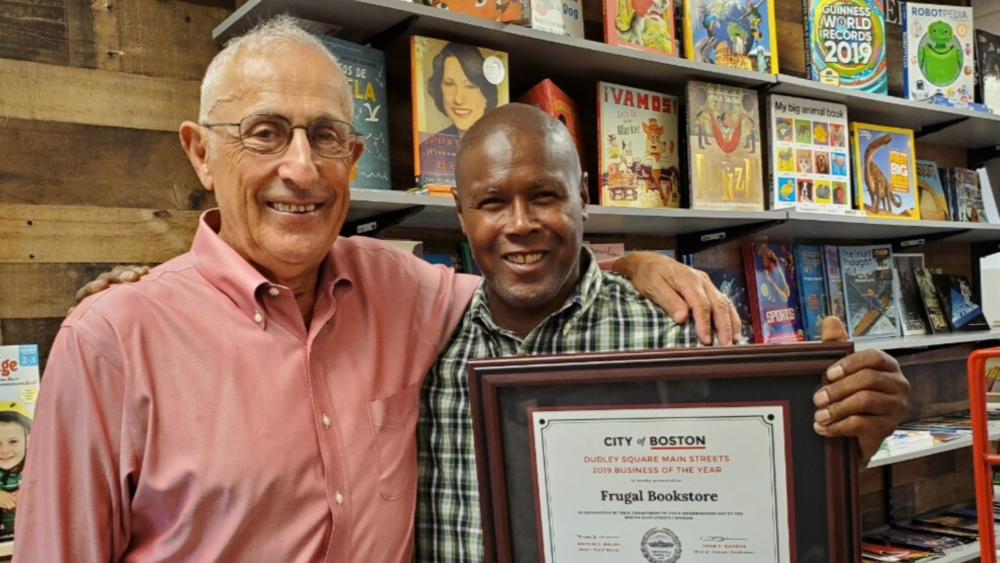 Frugal Bookstore started off as a collection of books in a corner of Frugal Furniture, a Roxbury store owned by Bob Romanow. "I was unemployed at the time and heard Frugal was looking to hire," Leonard recalls. "Bob especially wanted help with the books he had in his store, most of them written by black authors." What began as a book corner in a furniture store blossomed into a business venture called Multicultural Book World. "Our mission was to sell books, written by diverse authors, to schools in the area," says Leonard.
Frugal Bookstore officially opened as a separate entity in 2008. Shortly after, Romanow offered to sell Leonard the bookstore side of the business. Since then, it's become a central place of learning, cultural exchange and community gathering. "We've seen kids grow up through this bookstore," says Clarrissa. "We've seen families grow, children get bigger and bigger. It's a community, not just a store."
As the only black-owned bookstore in Boston, Frugal serves as a space for myriad organizations and community events centered around the needs and desires of black Boston. Community jam session Black Cotton Club transform the store into a nighttime space for poetry and music while book clubs for black students engage youth in conversation about black literature during the day. Frugal has also hosted a number of author's talks and book signing events for writers of color.
Clarrissa and Lawrence, through their store, have continued a very long and old legacy of black bookstores serving as integral community spaces. From Drum and Spear, which operated from 1968-1974 in Washington, D.C. to Harlem's National Memorial African Bookstore, opened in 1933 and closed in 1975  many black bookstores have historically served as spaces for activist movements. Contemporary black-owned bookstores across the country, like the Lit Bar in Brooklyn and For Keeps in Atlanta, continue this tradition of utilizing community gatherings as an essential part of programming. Now, with social distancing being the "new normal" for the foreseeable future, programming won't be taking place at Frugal for quite a while.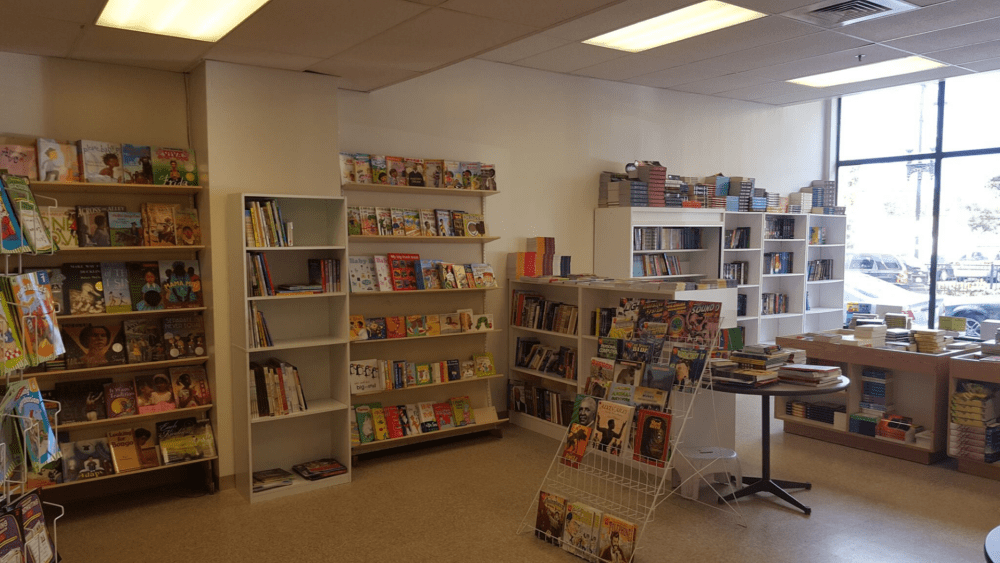 Even with the financial show of support from the community, Clarrissa and Leonard still worry about what the future will bring. The bookstore is their family's main source of income and with so many books in inventory, they have a lot of money that's sitting on shelves. "Moving inventory in a bookstore is different than another business," Clarrissa points out. "And on top of that, bookstores aren't considered essential."
The couple has explored some of the programs designed to give small businesses a helping hand during the pandemic. But like many other small business owners, they've run into a string of roadblocks and rejections on the path to getting monetary assistance. On top of that, there's still the health concern of operating during the coronavirus. With some intermittent help from their children, the couple runs the store entirely by themselves.  "It's a lot to think about," says Leonard. "The possibility of getting sick and losing your business? It's a lot to try to plan for."
In the meantime, they plan on beefing up virtual offerings like livestreamed events and author conversations. Customers can call or email before 2 p.m. to order books or peruse the selection on the bookstore's website. "It's been a blessing to see how our community, both here in the city and across the country, support us," says Clarrissa. "It's saying, 'We want and need this bookstore here.'"
Despite the uncertain future, the couple doesn't plan on shuttering their doors anytime soon. For now, this gem is still firmly embedded in Nubian Square.