Fate of Vandalized Columbus Statue In North End Not Yet Decided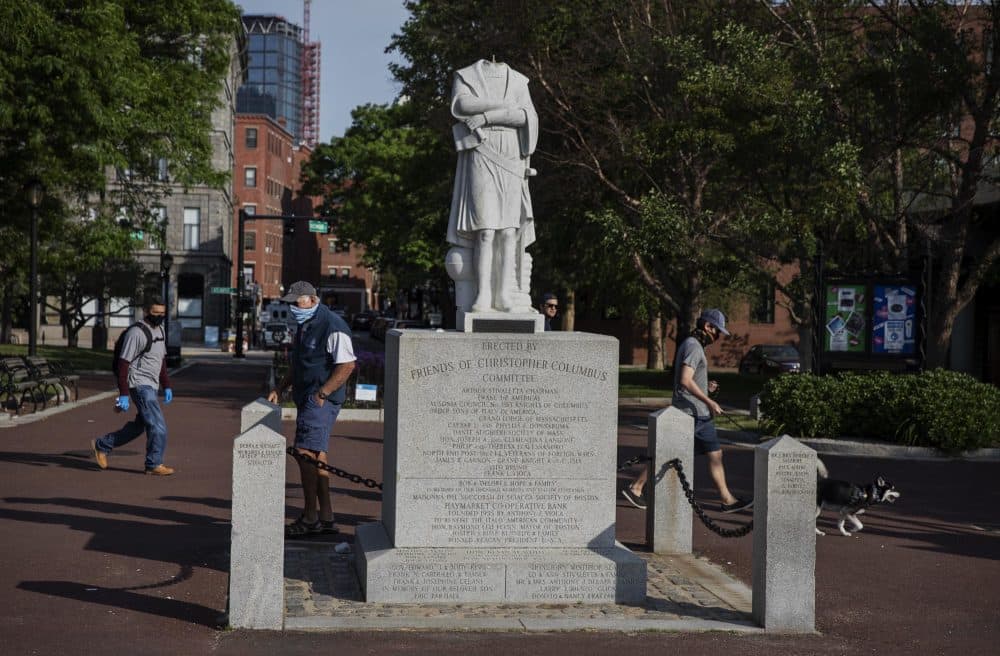 This article is more than 2 years old.
City officials have not yet decided what to do about a statue of Christopher Columbus in Boston's North End that has been repeatedly vandalized, most recently this past week.
"The Mayor is always open to having a conversation, but no formal decision has been made regarding the future of the Christopher Columbus statue," a spokesperson from Walsh's office said in a statement Sunday.
Last week, Walsh acknowledged that the statue had been a frequent target of destruction. The statue was found beheaded Wednesday morning.
"Given the conversations that we're certainly having right now in our city ... and throughout the country, we're also going to take time to assess the historic meaning of the statue," Walsh said last week.
On Monday, the Italian American Alliance walked back claims that the city had decided to restore and replace the statue to its former location, with added security cameras.
The Alliance said the group had only decided to meet with the mayor, but no meeting had yet taken place and no decision had been made.
Dr. Francis Mazzaglia, chairman of the board of the Italian American Alliance, said that to the Italian American Alliance, Columbus represents the story of immigrants.
"Who else has discovered America because of Columbus? Millions of people have come here and discovered economic opportunity. Millions of other people have come to America to escape the oppression in the old country," Mazzaglia said.
In a press release announcing a gathering of indigenous groups at the site of the beheaded statue Wednesday, Jean-Luc Pierite, president of the North American Indian Center of Boston (NAICOB) board, said the Columbus statue represents the state violence endured by Black and Indigenous people in the U.S. for more than 500 years and asserted that "any attempt to erase our history through the restoration of the statue will be met by Black and Indigenous peoples asserting our rights and sovereignty."
Clarification: An earlier version of this story stated that Walsh intended to repair and return the statue to its prior location, according to Mazzaglia. Walsh's office said on Sunday the city had not yet decided what to do with the statue. On Monday, the Italian American Alliance issued a statement saying the group had made a mistake in saying a decision had been made. 
This article was originally published on June 14, 2020.