Rollins: Suffolk County Sheriff Never Alerted DA Of Inmate's Death, Despite Protocols
Resume
When an inmate dies in the custody of a Massachusetts sheriff, jail officials typically contact the local district attorney to investigate. But that protocol fell by the wayside for Rodrick Pendleton.
The 51-year-old father and former truck driver died in 2015, after allegedly being ignored for days in the medical unit of the Suffolk County House of Correction while he suffered from a painful condition. By the time jail staff sent him to the hospital, it was too late.
Suffolk County District Attorney Rachael Rollins said there is "no indication" that anyone in the DA's office at the time was made aware of Pendleton's death, which was detailed in a WBUR investigation in March.
"Ultimately, whether there was foul play or not, this man's family deserves to have answers."

Rachael Rollins
"I would expect a direct call to me," Rollins said in a new interview. Even if the death is not suspicious, she said. "They don't get to self-regulate and make that determination without our involvement."
Rollins said Suffolk County Sheriff Steven Tompkins' office should inform her or another top official in her office of any inmate death, including if the person dies at a hospital while in custody, as Pendleton did.
Tompkins' office did not respond to multiple requests for comment.
Pendleton's death highlights a stark grey area in the reporting of inmate fatalities in Massachusetts: There's often little to no examination of the health care inmates received in the days and weeks before they died.
Jails typically review the staff's emergency response in a death case. And DAs look for wrongdoing, such as an assault or drug overdose. But it's rare for anyone to be held to account for medical negligence.
Pendleton died in June 2015, after days of suffering from what turned out to be a bowel obstruction. Inmates told the jail's internal investigators that he was "way beyond sick," describing a skinny man with a strangely distended stomach. He was moaning and throwing up in a pail for days, feet from the nurses' station.
Pendleton looked like he was dying, said one inmate, who recalled thinking, "Why don't they just send him to the hospital?"
(Editor's Note: Below is an audio excerpt of an inmate being questioned in the internal investigation of Pendleton's death. WBUR obtained it from the Suffolk County Sheriff's Department. Portions were redacted by the department citing medical privacy. WBUR has shortened those pauses.)
Internal records detail Pendleton's final harrowing hours in cell seven of the medical unit. A nurse heard him scream during medicine rounds, and about 8:10 p.m. he was lying on the floor, gasping for breath. When an officer asked Pendleton what was wrong, the only words the officer could make out were: "Help me."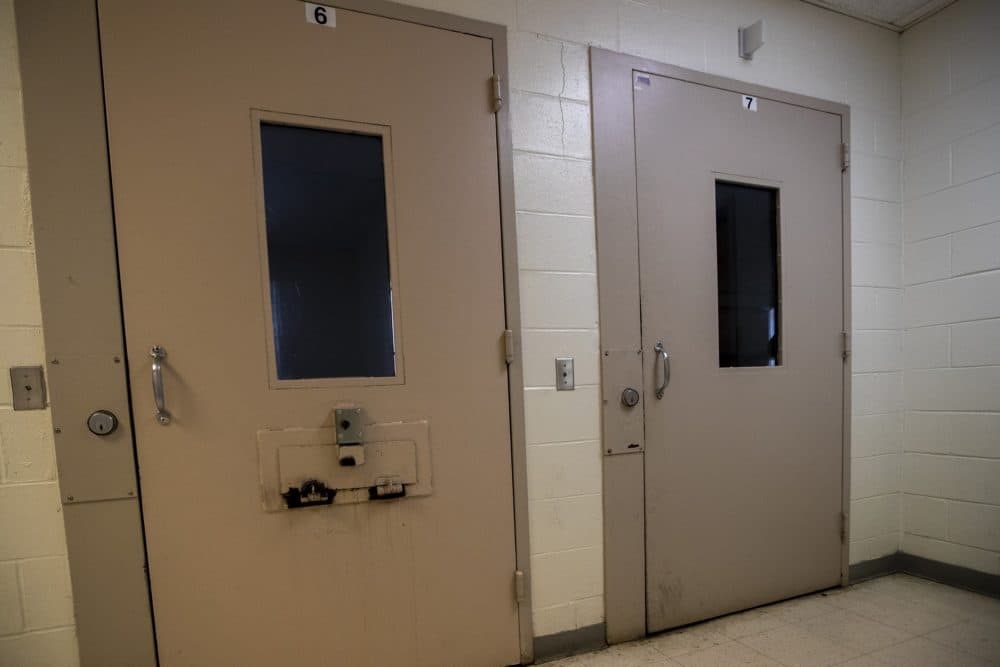 Pendleton was pronounced dead at Boston Medical Center just three hours later. He was one of 127 people WBUR identified who died of medical causes on the watch of a Massachusetts county sheriff over the past decade.
These deaths often involved allegations or evidence of inadequate care. Many of the inmates were simply ignored, or the seriousness of their symptoms was not believed.
WBUR filed public records requests with the Suffolk County District Attorney's office for information on Pendleton's death. After a months-long search, Rollins' staff concluded there were no records — and that the sheriff had not reported the death to the DA at the time, Daniel Conley.
"They don't get to self-regulate and make that determination without our involvement."

Rachael Rollins
Rollins said since learning that, she has spoken with the sheriff, connected the general counsels of both offices and coordinated with Tompkins to "make sure this doesn't happen ever again."
"I want to make sure there are plenty of checks and balances in place," she said. "I'd rather be told three times about one death than not at all — and it falls through the cracks, as I believe happened here."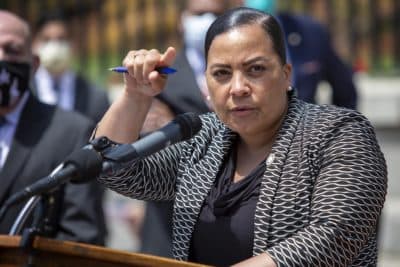 Rollins said one reason her office should be informed of any suspicious death in her district is to detect civil rights violations or troubling patterns, whether at a jail or other type of facility. For instance, she ordered an investigation at the Soldiers' Home in Chelsea when veterans there started dying of COVID-19 in March.
As a matter of practice, in virtually all the jail deaths examined by WBUR, sheriffs' offices contacted the local DA. And the DAs produced reports, however cursory.
But not in Pendleton's case.
"We're a very transparent organization," said Yolanda Smith, Suffolk County House of Correction superintendent, in an interview earlier this year. "If the nature of the incident calls for an outside agency to come in and help us with an investigation, that's exactly what happens."
A Boston Police Department spokesman said they have no records of Pendleton's death.
Smith said she was unfamiliar with Pendleton's case, and later said the jail's legal counsel would have to approve talking about medical matters. She directed questions about Pendleton's medical care to NaphCare Inc., a private, for-profit company that provides health care to inmates at Suffolk. NaphCare had no comment.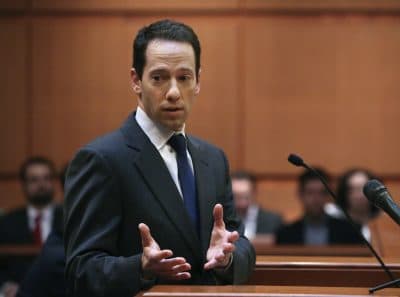 "We're deeply concerned that there are cases that fall through the cracks — or worse, are kicked into the cracks," said Matthew Segal, legal director for the ACLU of Massachusetts. Investigations don't work, he said, "unless you have someone who's really willing to follow the truth wherever it leads."
Finding the truth is often left to inmates' families, including obtaining jail records and official death reports. It's a task that's nearly impossible without resources to hire a lawyer.
Under Massachusetts law, one agency is charged with looking for negligence in death cases — the state medical examiner. If they find evidence of negligence, they're supposed to tell the DA. But the medical examiner was woefully behind at the time of Pendleton's death, according to a state audit from 2017.
Pendleton's sister, Janice Pendleton, tried for years to learn more about how her brother died, to no avail. She had difficulty getting information from the sheriff's department and the autopsy report from the state medical examiner's office, she said.
When she tried to hire an attorney, Pendleton said, no one would take the case without a completed autopsy. She only learned the details of her brother's suffering from WBUR's reporting.
Janice Pendleton said the medical and jail staff who witnessed her brother crawling on the floor and begging for help should be held accountable.
"I want them fired," she said. "They don't deserve those jobs because they don't have that right to pick and choose when someone needs to go to the hospital."
Within a month of Pendleton's death, the jail closed its internal report (sometimes called a mortality review) long before obtaining an official cause of death from the medical examiner.
This happens often, said Rachelle Steinberg, an assistant deputy superintendent for the Suffolk County Sheriff's Department, in the WBUR interview earlier this year.
"The mortality review has to happen within 30 days, regardless of an autopsy," she said. "If you wait two years for an autopsy to come back, no one remembers anything.''
Asked whether there's a flaw in this system, Steinberg acknowledged, "There potentially could be."
A spokesman for the medical examiner, Jake Wark, declined to comment on why Pendleton's autopsy took so long to complete. He said the agency has "dramatically reduced" its backlog of cases.
Rollins said there should be more thorough vetting of deaths such as Pendleton's, because people in custody have basic rights.
"The sentence was the time you were told to serve," she said, "not additionally withholding medical care or harming you above and beyond that."
And if inmates die, their families have a right to know what happened, Rollins said. "Ultimately, whether there was foul play or not, this man's family deserves to have answers."
This segment aired on August 20, 2020.