Child Care Providers Face Uncertainty As Fall Gets Closer
Resume
Update Aug. 21, 1 p.m.: The state has put out its regulations for child care providers this fall. Read more here.
Since child care programs were ordered to close in March, a small group of directors in Newton have been meeting weekly by Zoom to support one another and problem solve.
This week, they got down to brass tacks and plexiglass.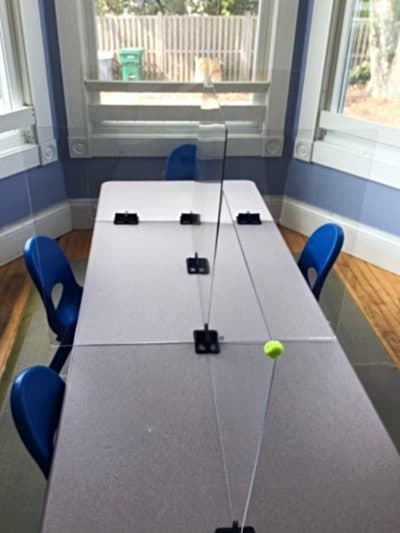 Melody Lack, of TLC Nursery School in Wayland, shows a group of 38 caregivers how her staff have set up plexiglass dividers on shared tables so kids can eat lunch together inside. Soon, they're sharing tips about which Home Depot has it in stock and which plastic stands are best to keep them upright. One provider velcros the stands to tables so the clear dividers won't blow over.
Four of the providers on the Newton Early Childhood Association call reopened this summer. Most are planning to reopen in September or October. One is hoping to start up again in the new year.
With a matter of weeks before they welcome kids back though their doors, many are nervous and looking for answers. They have all read the current health and safety regulations about sanitation, parent drop-offs, shared toys and how to socially distance toddlers and preschoolers. They have a lot of specific questions about how to enact the written rules in real life.
Nearly 40 minutes into the discussion someone types into the chat what is, perhaps, the biggest question on everyone's minds: "Has anybody had a COVID exposure at the school and how did they manage it?"
"We did not have an exposure, but I received an email on a Sunday morning that a child had a fever over the weekend," said Melodia Ferrucci, who runs Toddler Loving Care in Newton. "So I went on pure panic mode like, 'Oh my god. This is it. It's over. Everybody has to shut down.' "
It turned out to be fine. The child stayed home and the coronavirus test came back negative. And, Ferrucci laughed, "now I know if it happens again, which it probably will, I'll have a different way of handling it."
Others had similar practice drills. But no cases of COVID-19 in the centers.
A toddler spiked a fever of 101 degrees in the middle of the day at Meeting House Child Care Center in Newton.
"It was like, 'Alright, what's our protocol? We know what this is. We know the special exit.' We all just did it," director Pam Penton told the group. The regulations are clear: If that happens, the child needs to be isolated and the classroom deep cleaned.
It seemed to help the group to hear how 30 pages of state regulations play out in real life. But there's one problem: They don't know the rules yet for the fall. The new guidance is expected to be released Friday.
"School starts in less than a month for me," said Barbara Sullivan, executive director of the Auburndale Community Nursery School, which is planning to open Sept. 16. "We need to know: This is what it is. Someone just has to step up to the plate and take control and help us out."
"School starts in less than a month for me. We need to know: This is what it is. Someone just has to step up to the plate and take control and help us out."

Barbara Sullivan, Auburndale Community Nursery School
The guidance is cutting even closer for Temple Emanuel Preschool, which is planning for a Sept. 8 start date.
"That doesn't give us a lot of time, even if the guidelines are loosened from what they are currently," said interim director Andrea Shapiro. "With all due respect, they're not very clear. A lot of it's left up to interpretation."
There are other uncertainties. Shapiro, for example, doesn't know how many children she'll be allowed to enroll: the 76 she enrolled pre-pandemic or the 48 she was limited to under the summer reopening rules. In addition: 15 families still haven't decided whether they'll enroll. For some, it's because they're waiting to find out which days their older kids will be in classrooms in Newton Public Schools.
"I'm scrambling to find new staff so that I can bring back all the children that I enrolled," said Shapiro. Half of the teachers decided not to return this fall. Two retired and two were worried about how much risk they would be putting themselves in by working with kids, as research about children's role in transmitting the virus continues to evolve. Now, Shapiro's trying to hire four to six teachers without being able to see them actually work with kids.
"It's literally a mad dash right now," she said. "I'm trying to remain optimistic that [I'll] find people, but as each day goes by, it becomes a little bit more challenging."
Other directors said they were looking for staff as well and trying to figure out teachers' schedules, especially if their children are enrolled in public schools that are going to be remote for all or part of the week.
Temple Emanuel has committed to keeping the preschool open, as it has been since 1937.
"It's an impossible job. But we're doing it because we love it and because we want to bring our families back."

Andrea Shapiro, Temple Emanuel Preschool
Most of the providers received Paycheck Protection Program funds, which had to be used to pay staff. One director is forgoing pay this year, so she can continue to pay staff. Some directors are pulling out all the reserves they have.
"I've cashed in all my CDs and done all that I can do," said Sullivan, of Auburndale. "I always had a little reserve for a rainy day. My accountant was so funny, she said to me last week, 'Barbara, this is the rainiest day you're ever gonna have. Cash those in.' "
Sullivan founded Auburndale Community Nursery School 31 years ago. She cannot offer scholarships to families this year, as she usually did. She also permanently closed her second location in Newtonville, which leased space in the basement of a church. The church uses that space at night, so she couldn't guarantee it would be sanitized when the kids arrived the next day.
"It was really hard," Sullivan said of the decision. "Even with the COVID, I called the staff in. We all separated with our masks. We were all crying. They just weren't ready for it. There's no way that I ever anticipated that I'd have to close it."
Like others, Sullivan is starting at a deficit because she issued refunds to parents during the closure. Other providers have taken out loans. At least two said they'll have to operate at a deficit this year.
"It's an impossible job," said Shapiro. "But we're doing it because we love it and because we want to bring our families back."
Reed Donahue, the hostess, is not going back through Little Red Wagon Playschool's doors. It's going all virtual.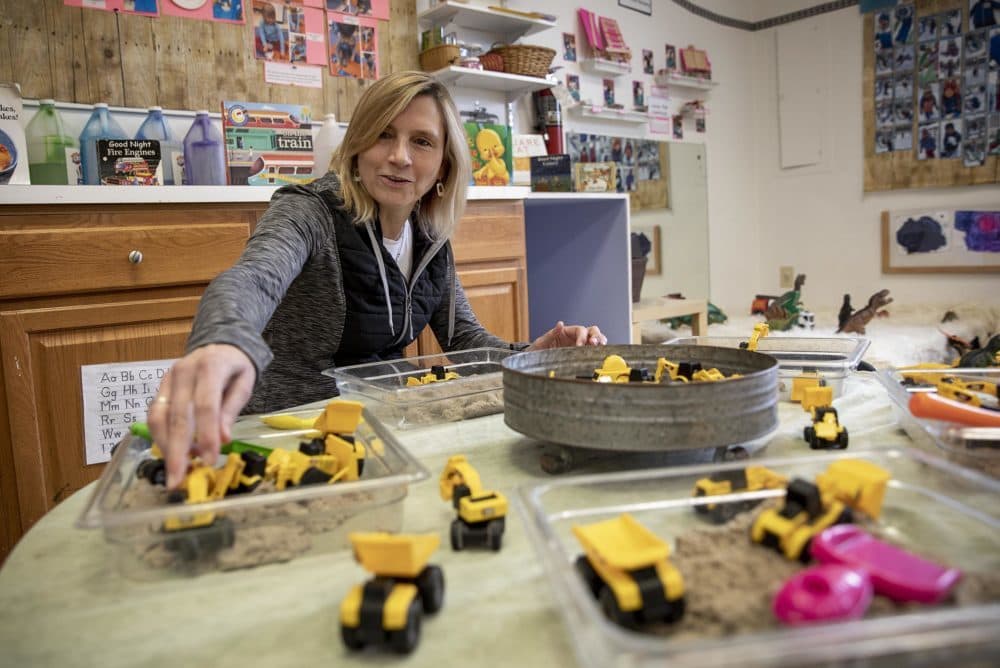 "I use the environment to my advantage in setting things up," Donahue said. "Just knowing I can't manipulate the environment as much as I could in regular times. Now the environment is being mandated for me, and that was really hard to swallow."
But she's excited for the opportunity to engage with kids all over the country. During the meeting Wednesday night, she received two inquiries. She has 14 kids enrolled, only three of whom had attended the physical Little Red Wagon. And it's difficult to see her colleagues try to figure out how to reopen their doors.
"That worries me, watching them put their heart and soul in it, to an end that might be against a brick wall. That's just — that's hard," said Donahue.
While these directors are glad they can lean on one another, many said they need more guidance and funding to weather the pandemic school year.
This article was originally published on August 21, 2020.
This segment aired on August 21, 2020.