They're Back: Harvard Study Shows Outpatient Visits Return To Pre-Pandemic Numbers
This article is more than 1 year old.
In the spring, as coronavirus cases surged, research showed visits to pediatricians, cardiologists and almost every type of health care provider dropped roughly 60%. Physicians laid off staff, cut salaries and worried they wouldn't be able to stay open. But now, eight months into the pandemic, an analysis of more than 50 million visits across the U.S., finds patients roaring back.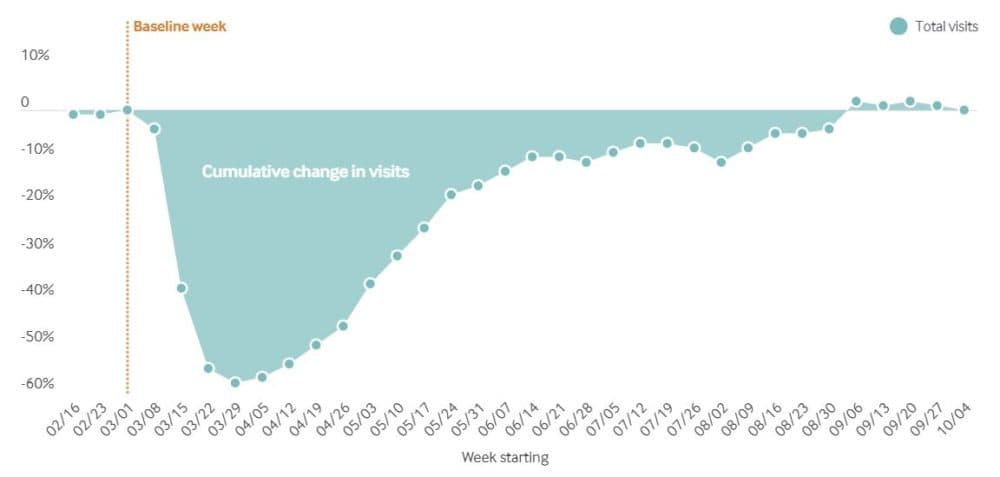 In fact some specialties — dermatology, urology and adult primary care — are seeing more patients than they did at the beginning of the year, before COVID-19 hit.
"In contrast to early on in the pandemic, when patients were very scared about going to their doctor's office, now into mid-October, the data really highlight that a lot of that fear has dissipated," said Dr. Ateev Mehrotra, lead author and an associate professor at Harvard Medical School.
But this review of 50,000 providers linked to the health care technology firm, Phreesia, reveals possible on-going concerns. Behavioral health appointments are still down 14% as compared to before the pandemic even though reports of depression and anxiety are up, and telemedicine has made access to appointments easier. And the study finds fewer physician visits for young children up to age 5, compared to before the pandemic.
Mehrotra says it's not clear if this means children aren't getting vaccines, screening for developmental delays, management of their asthma and other chronic conditions or is a sign of better health.
"It could be that children are just getting sick less," he says. "We're in our homes, there's less circulation of children in schools and day care and because of that, kids are getting less viral illnesses, we don't know."
The study shows use of telemedicine dropping, except in behavioral health. Many patients are returning for in-person visits.
This rebound in visits is not expected to make up for the financial losses from March, April and May. Mehrotra says he doesn't expect providers will be able to recoup that money. But he's less worried, based on these numbers, about practices going under.
"In many cases practices are back to their same visit volume, and theoretically that means the same amount of revenue. However, they took a substantial hit," he says. "But my level of concern is lower than it was previously."
This study, published by the Commonwealth Fund, just looks at outpatient visits. An update on the financial health of Massachusetts hospitals is out today as well. The state's Center for Health Information and Analysis reviewed data submitted, voluntarily, from March through July. By the end of July, 35 of 37 hospitals were in the black.
Steve Walsh, president and CEO of the Massachusetts Health and Hospital Association, says federal relief funding made a difference as did a resumption of elective care.
"This support has helped hospitals stabilize and survive, and it will be more vital than ever as providers continue to navigate precarious financial circumstances and brace for a COVID-19 resurgence," Walsh said in a statement. "Unfortunately, this will prove to be a very challenging season for our healthcare system yet again."