The Suitcase Junket Rebuilds In A State Of Uncertainty On 'The End Is New'
Since his folksy, homespun debut "Sever and Lift" in 2010, Matt Lorenz has created an archetype that many dream of becoming: the vagrant cowboy. Under his moniker The Suitcase Junket, he adheres to the antithesis of traditional; he's a one-man band, a puppeteer orchestrating a rig of suitcases, various knickknacks and a vintage clunker of a guitar, reworked to blast distortion like a noisy cannon. Now, a tumultuous decade later, the hefty heartland rock of his sixth album, "The End Is New" (out Nov. 20), finds Lorenz in a state of catharsis and at odds with the world, a space that has yielded the most thoughtfully composed and polished release of his career.
For someone who dwells so effortlessly in rickety, clattering music, Lorenz uses "The End Is New" to fortify new structures, ones built sturdily with passion and patience. After a prelude, the blistering "Black Holes And Overdoses" opens the album — a defiant, foot-stomping parlor blues led by a searing guitar riff and Lorenz's soulful howl. At first glance, it feels like a recognizable staple in his repertoire, but within the lyrics lies a frustrated take on a relentless news cycle, a perspective that feels contemporary and relatable. It's uncharacteristically plugged-in for the Western Massachusetts-based musician, who rusticly spends the bulk of his time living in a van and constructing instruments from junkyard salvage.
Despite his folkloric charm and eccentric sound, one thing Lorenz has deployed over the course of his discography is consistency. The peculiar elements of his music — throat singing, scrappy sounds, modified instruments — have always been present in his music, and the vast majority of his discography feels instantly captured, like the spectacle of his show is unfolding before you in real time. While "The End Is New" is undeniably a creation in his canon, the poignant and kinetic energy is captured more meticulously and methodically, using layers of familiar sounds and contemporary rock music production to build something significant and more striking than ever before.
As a whole, the album is also the most overtly brooding compositional work we've heard from Lorenz. He approaches its more somber moments with an unabashed purity, as heard on the forlorn, enveloping drama of "Light A Candle," an intriguing stint in pop melodrama that features a wailing guitar solo from Dinosaur Jr.'s J Mascis. The album's despairing closer "More" moves like a dirge, an industrial percussive beat giving way to a soaring chorus that recalls The Beatles' sinister operatic outro in "I Want You (She's So Heavy)." The song instills an ecological distress that can be found throughout, perhaps most notably on the bluesy "And Then There Was Fire," a pensive ode to the alarming trend of global wildfires earlier this year.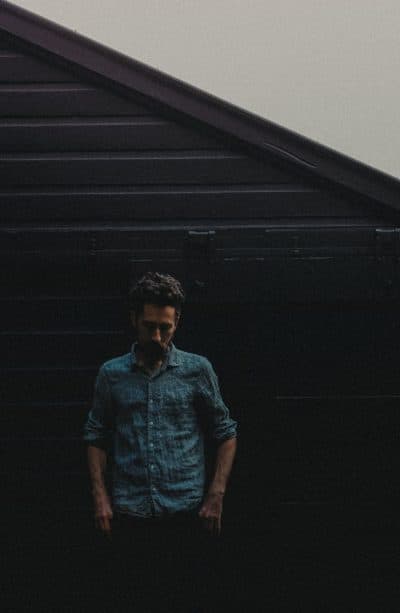 Lorenz has taken to describing his music as "doom folk," a characterization gleaned from the solemn wayfaring as presented by his character. Perhaps it's an apt description in certain selections, but to fully blanket his music in such a dark shade is a disservice to the bright moments in which he shines. The explosive Americana rock of "Breathe Forever" is uplifting and energized, recalling the galvanizing battle cries of Bruce Springsteen at his most romantically patriotic. "Jesus! King Of The Dinosaurs" finds Lorenz at his most playful and irreverent, chiding biblical extremists with a gritty Southern rock backbone and all of his rig's baubles on full display. The transcendent vocal performance within the heavy, mid-tempo groove of "Can't Look Away" showcases Lorenz's likeness to the great voices in the blues-rock/pop crossover, like Bonnie Raitt and Jonny Lang.
Where the album feels most mature and majestic is in songs like the aforementioned "Black Holes And Overdoses" and the dangerous cowboy-rock of "Rock Bottom," a ragged folk selection that could have easily melded into Lorenz's back catalog, both excelling under the skillful production techniques of producer Steve Berlin. The difference in these examples compared to previous work is the dedication to the heart of the song, rather than the spectacle of the performance. Berlin employs strings, organs, horns, traditional percussion instruments and accommodating harmonies throughout to make the songs feel polished and well-mapped. Whereas Lorenz's music once portrayed the charm of a talented street busker, his new approach feels slick, even commercial, with his chesty tenor vocals and melodic sensibilities comparable to pop-rock singers like David Gray or The Black Keys' Dan Auerbach.
The most evident sign of Lorenz's evolution arrives within the album's first 30 seconds on the introductory "Prelude." As the unfiltered sound of a distorted drone begins to take shape, Lorenz's signature overtone throat singing floats untethered in the churning noise. Upon first listen, it reads as a cue for what's to come, the acutely familiar sounds of a Suitcase Junket record sculpted as a sort of overture. After concluding the album in full, the introduction seems more veiled; perhaps it's a continuation of the past, a humble transition meant to usher in something new. And despite the weighted presence of the chaotic world, "The End Is New" shows that Lorenz hasn't hardened with despair, but instead matured with valor, building something remarkable with a little more than just some quirky bits and bobs.