Botanists' Stories Bloom In 'Tales From The Field' Story Slam
Look outside.
Perhaps you see a frigid tundra or a marshland. Maybe a mountain range or ocean. Spring will come soon enough to New England and the flora and fauna will return to  the frozen north (and south it seems. I'm so sorry, Texas.)
The outdoors that has saved many as they've quarantined during this pandemic, gardening, hiking, buying endless indoor plants, and attempting to commune with nature for perhaps the first time in their lives. C.L. Fornari, also known as "The Garden Lady" says there is something about spring, an energy that comes from watching buds emerge from earth.
"We all long for spring because it's the essence of renewal," Fornari said. "That touches all of our hearts for sure. And flowers are universal . . . we're looking for color and we're looking for fragrance. And we may even be looking to flowers for taste. And so anything that engages all of our senses like that is wonderful."
This weekend, Fornari, an author and host of GardenLine on WXTK FM, and co-host of the podcast Plantrama, is one of nine plant professionals from around the country that will participate in a live virtual event called, "Tales from the Field: A Botany Story Slam," on Saturday, Feb. 20.
It's organized by Framingham-based Native Plant Trust, the nation's first plant conservation organization and the only one focused solely on New England's native plants. During the slam, the audience will get to vote on their favorite story.
Fornari will share a story she's known for, about bamboo. But when she was thinking about which botany story to tell, the garden lady considered talking about the time she was asked to participate in an icebreaker.
There, in this room full of strangers, she was asked about her first kiss.
"I stood up, took a deep breath and said, 'I can tell you about the first plant that I ever ate as a child without knowing that it was edible violets,'"Fornari told me. "I can tell you the first plant that I ever made into a musical instrument, a hollow dandelion stem. And I can tell you the first plant that anyone ever gave me as a gift, a lantana. I remember all my first plants. I just don't remember my first kiss."
Plants are powerful keepers of memory.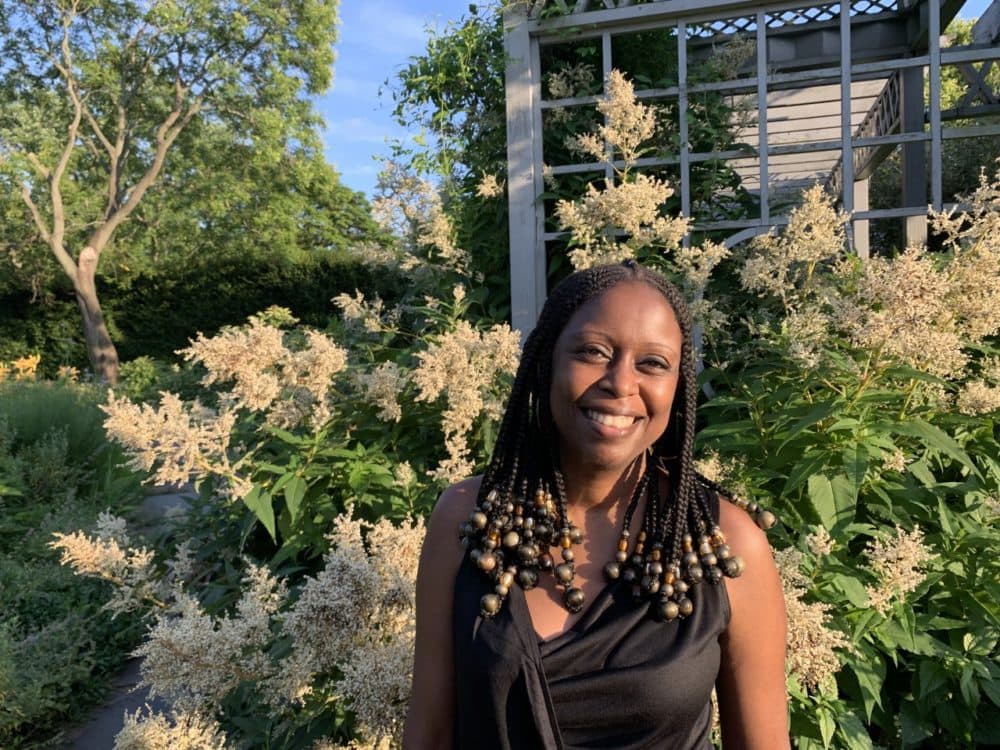 There are especially strong memories attached to the land you hail from and how you relate to it, said horticulturalist and landscape designer Wambui Ippolito.
"Every story of my family is around the land," she said. "How we've migrated there, how we had homesteads there, who's buried in that land."
Her family still resides in east Africa. The story she intends to share Saturday is about growing up in this environment among the tall grass and the surprises found there.
"So [most mornings] you got up and you just went outside and it was a different kind of outside. It was an outside in the Rift Valley with people who grow their own food with cows and sheep and goats and chickens and everything around you," Ippolito said.
"And then miles and miles and miles of land around you. So literally, you could just be gone for hours and then come back. And we didn't have street lights. So you just knew you gotta watch that sun. And when it's at a certain angle, you have to be making your way back into the house. So that was my life."
Ippolito develops programming for museums, public gardens, and parks focusing on the intersections between migration, culture, history, and science.
Yet, she takes that place, that land of her childhood with her everywhere she's lived.
It remains a part of her, and informs every aspect of her life.
---
The Native Plant Trust's virtual botany story slam takes place Saturday, Feb 20, 6-8 p.m.