As Mass. Loosens Pandemic Restrictions, People 'Get Back Out There,' But Caution Remains
Resume
In Boston, the capital city of one of the most vaccinated states in the country, you could still spot a good number of people wearing masks this Memorial Day weekend even though, in most situations, it's no longer a requirement.
Saturday marked the dawn of post-pandemic life in Massachusetts. Mask rules were relaxed, and are now only required in certain situations like on buses, trains and planes, and in hospitals or clinics. Capacity limits and other business restrictions have also been lifted.
Kimberly Sapp, the manager at A&B Kitchen • Bar, is optimistic.
On Saturday afternoon, the restaurant, located in the shadow of TD Garden in Boston, was already busy. The Garden would open in a few hours at 100% capacity for the Bruins' home game against the New York Islanders.
"Having a really great matchup and then having all of the excitement of the restrictions being lifted really makes for the perfect storm of happy people in Boston," she said. "We're excited about it. We've got lots of reservations, lots of people are out. The energy in the air is really fantastic."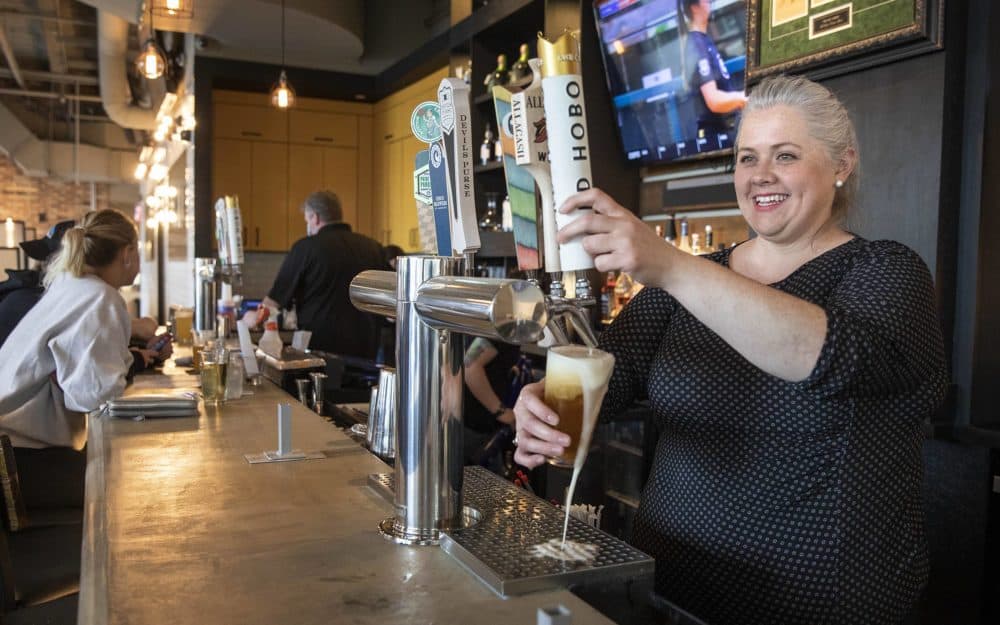 Sapp said A&B Kitchen • Bar closed several times during the pandemic. Helming the restaurant for the past year has been a challenge that hasn't quite ended — the prices of the food they purchase have gone up and they're still looking to hire people. But this weekend, Sapp was focused on what feels like better days ahead. She's been vaccinated for about a month and lifted restrictions means she's no longer donning a mask when she doesn't have to.
"I have a lot of faith in the vaccines and the work that's being done," Sapp said. "So, I feel great about being able to greet guests with a smile."
One of those guests was Leonard Rowan, visiting town from Houston for a friend's graduation from Harvard. He said he's looking forward to exploring Boston mask-free.
"I feel comfortable with the number of vaccines and vaccinations and finally letting go of the mask," he said, among a big table of friends.
Rowan, of course, won't be the only visitor in Boston this summer.
Gov. Charlie Baker originally said restrictions would ease up in August, but since he lifted them a couple of months ahead of schedule, businesses are hoping for a busy tourist season.
"I feel like social distancing is important still, but as long as people are careful and most people are getting vaccinated, it feels like getting back out there is a good thing to do," Rowan said.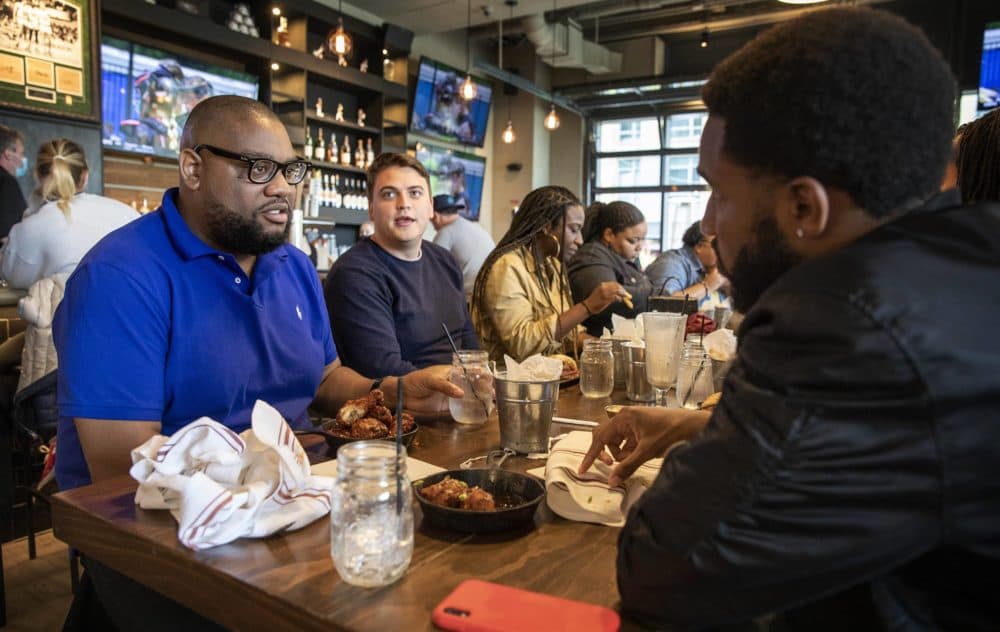 There was one person in A&B Kitchen • Bar who kept their mask on most of the time. They didn't want to be recorded, but told WBUR they're still covering their face because it's impossible to know who has been truly vaccinated.
On Boston Common, even though it wasn't crowded on a rainy and unseasonably cold Saturday, there were more masked people than unmasked. We're not called "Maskachusetts" for nothing, after all. But Carol Hayon, of Beacon Hill, said being able to shed the mask was a testament to how cautious the state has been throughout the pandemic. She said she got COVID last year.
"I'm not wearing a mask and I am enjoying the freedom and the idea that we've gotten through this, hopefully, together as a community," she said.
Hayon, who's vaccinated, said she's excited to spend this weekend with other vaccinated family members she hasn't seen in a while.