ArtsEmerson's New Director Of Artistic Programming Wants To Tear Up Old Narratives And Write Them Anew
Ronee Penoi talks a lot about "re-storying" — that is, telling a new story in place of the old accepted narrative. It's something she hopes to do in her new role as ArtsEmerson's director of artistic programming. "There's so much erasure of BIPOC [Black, Indigenous, People of Color] people in history books [and] onstage," said Penoi, who is Laguna Pueblo and Cherokee. "So I believe we really need to break those narratives wide open, re-story them, and make them new."
Penoi steps into the role vacated in January by David Dower, who served as ArtsEmerson's artistic director for nearly a decade and helped establish it as one of the region's most forward-thinking theatrical institutions. Dower, who is white, framed his departure as a voluntary relinquishing of power to make space for groups underrepresented in arts leadership.
Penoi said her Indigenous identity would shape her approach to the job. "There's so many amazing contemporary theater Indigenous artists that I'm really excited to introduce to Boston," she said.
The accomplished producer comes to ArtsEmerson from Octopus Theatricals, a producing and consulting company with a long collaborative history with ArtsEmerson. "Over the years, we've developed a really strong relationship with the Octopus Theatricals company," said ArtsEmerson executive director David Howse. "So there is already an aesthetic understanding and alignment with the work."
Howse said Penoi was selected from a pool of three finalists after an extensive international search. In the end, it was Penoi's "value alignment" with ArtsEmerson, Howse said, that made her stand out in a competitive field. "What really stuck out to us was … Ronee's real commitment to inclusivity, her real commitment to BIPOC artists and elevating those voices," Howse said. "But also there is a deep commitment to the world — climate justice — in her practices."
ArtsEmerson's new director of artistic programming brings a wide range of experience to her new role. Penoi graduated from Princeton University in 2007 and promptly embarked on a series of producing gigs and prestigious fellowships. Later, she helped found the Industry Standard Group, an investment company focused on bringing greater racial diversity to the commercial producing field.
---
More from WBUR
---
Penoi grew up in Pittsburgh, where her parents were involved in community theater. Some of her earliest memories were of hanging out backstage at shows. A lifelong fan of musical theater, she remembers especially loving "Oklahoma!" — in part because of the (then novel) way the production merged dance, theater and music, but also because of its connection to the Indigenous playwright Lynn Riggs. "My dad would always tell me … 'Lynn Riggs, who's Cherokee just like you're Cherokee, wrote the book that it's based on'," Penoi recalled.
She plans to bring an Indigenous lens to her work at ArtsEmerson. "I am really interested in planting seeds of … not just Indigenous representation, but kind of readying ArtsEmerson and the city of Boston for how to get in right-relationship with Indigenous folks, both in an artistic context and not," Penoi said. She pointed to a centuries-old law forbidding unchaperoned Native Americans to enter the city of Boston under penalty of death, which was only abolished in 2004. "I think that there's such a history of a relationship with Indigenous folks that has been kind of brushed under the rug or not really unpacked and understood," she said.
ArtsEmerson's long-standing focus on social justice and civic responsibility means the institution is well-grounded to take on Penoi's mission of rewriting accepted cultural narratives. "I'm really thrilled to be working with [ArtsEmerson] because this re-storying work that I've been talking about is already underway," Penoi said, pointing to the upcoming season's productions of Esperanza Spalding and Wayne Shorter's new opera "Iphigenia" and Octavia Butler's "Parable of the Sower."
Since the '21/'22 season has already been planned, Penoi will make her official "debut," so to speak, with the '22/'23 season. She starts her new job on Aug. 2. For the first time, ArtsEmerson will be helmed by two people of color — a milestone whose significance is not lost on Penoi.
"For me, personally, and for the field — yes, of course it means a great deal," Penoi said. But she cautioned against tokenistic diversity as the end goal. "For instance, in politics, when a woman takes office, it's an accomplishment and it's an achievement, no doubt. [But] is it actually deconstructing the patriarchy to have women in the exact positions of power and structures that men have been in?" she said. "I'm someone who's very excited about the faces of leadership changing, while also holding that a lot of other things need to change, too."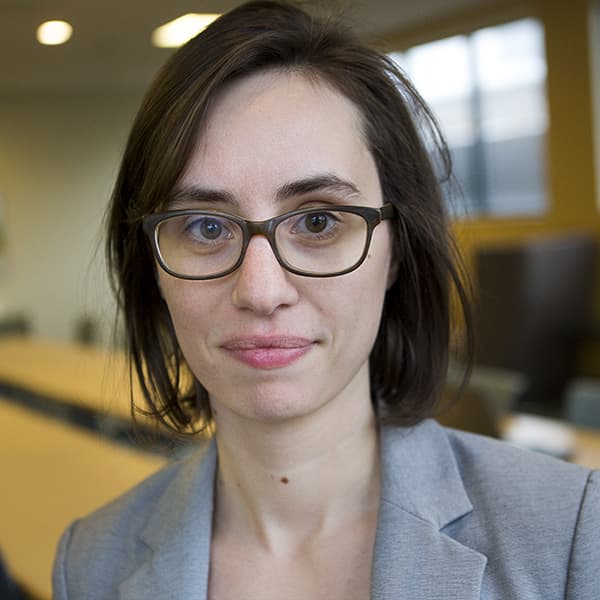 Amelia Mason Arts And Culture Reporter
Amelia Mason is an arts and culture reporter and critic for The ARTery, WBUR's arts and culture team. She covers everything from fine art to television to the inner workings of the Boston music scene.