Here Are Our Conversations With A Few Of This Year's MacArthur Fellows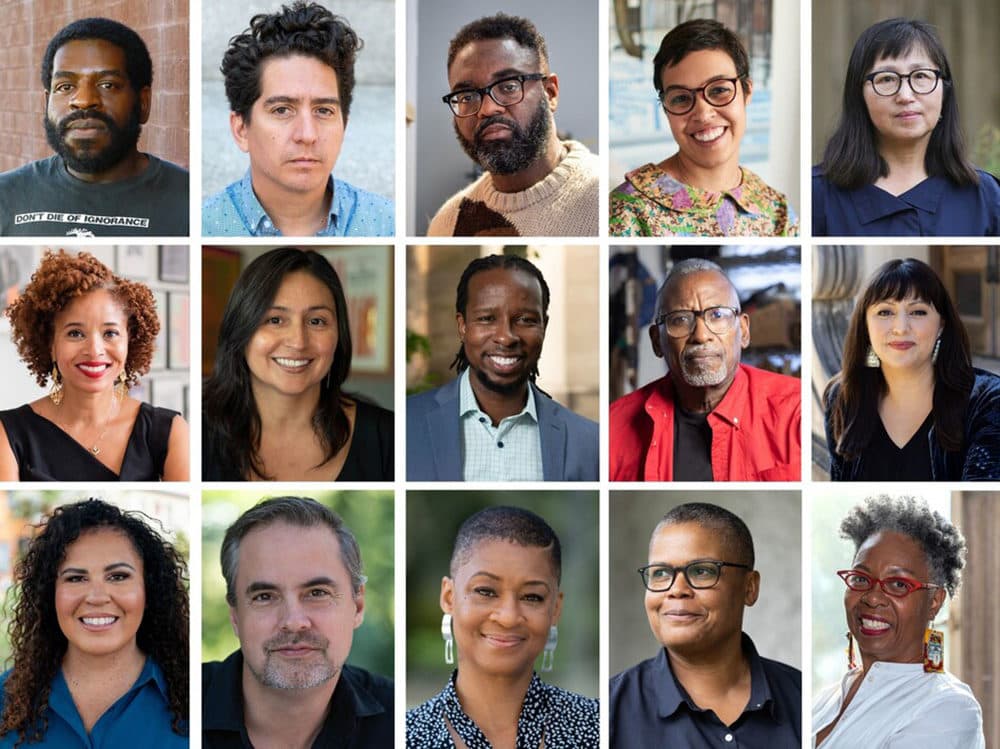 This article is more than 1 year old.
This year's MacArthur fellows were announced on Tuesday. The list highlights 25 exceptional individuals that span across fields, ranging from studying the mechanisms of how landforms are created on Earth, to exploring racial disparities through film. Each fellow receives $625,000 to spend however they like, as an investment in their potential.
WBUR spoke with several recipients of this year's MacArthur "Genius Grants" over the past few years. Here are some of those conversations.
---
Trevor Bedford: Computational Virologist
Speaking to WBUR's Here & Now co-host Robin Young, Trevor Bedford said he feels like he carries the weight of the impossible task of "fixing COVID." Bedford is a computational virologist and professor at the Fred Hutchinson Cancer Research Center in Seattle. His crowd-sourced work on tracking where viruses are and how quickly they mutate has proven critical in understanding the nature, danger and trajectory of COVID-19.
"The evolution of SARS-COV2 up to this point has been faster (than the influenza virus). Having something that's that evolvable suggests that it will be able to keep evolving ... As the world continues to build up immunity through natural infection and vaccination, evolutionary pressure shifts more to escape immunity. They'll need eventually to be vaccine updates to deal with that evolution."
---
Reginald Dwayne Betts: Poet and Lawyer
During Reginald Dwayne Betts' eight-year prison sentence for car jacking, someone slipped a book — "The Black Poets" by Dudley Randall — under his door. He told WBUR's Here & Now co-host Tonya Mosley that the book, along with "Poems from Prison" by Etheridge Knight, shaped the trajectory of his life and made him feel seen.
"I felt so lonely and alone in a cell, and then I'm reading poetry from decades before where somebody has saw me ... It was in that moment I decided to name myself poet because I believed it would give me a way to hold on to something in the world."
Betts is offering inmates that same opportunity by establishing micro-libraries in prisons throughout the country through his non-profit, Freedom Reads.
If you'd like to hear more from Betts, you can also check out his 2019 conversation with WBUR's Radio Boston host Tiziana Dearing about "Felon," his collection of poems.
---
Ibram X. Kendi: American Historian and Writer
Ibram X. Kendi is an author, historian and the host of podcast "Be Antiracist." He moved to Boston last year to found the Boston University Center for Antiracist Research, where he works to advance conversations around anti-Black racism.  WBUR's Tiziana Dearing caught up with Kendi on Radio Boston after the news of his fellowship was announced.
"As people, we've been arguing very viciously for the most part over the term 'racism' itself, over the term 'racist,' over who and what we should be striving to be. And in many ways, we've been using different languages to talk about the same problem, different vocabularies. What I've been specifically seeking to do is use the lens of history and use evidence to really define terms for for people like 'racism,' 'antiracism,' 'racist ideas,' 'antiracist policy', which then allows us to have an evidence-based conversation about the world that we live in and how we can change it.
"Historically, those who have those who were being racist typically defined racists in a way that exonerates them ... One of the fundamental difference in being antiracist is the willingness to admit the times in which we're being racist, while to be racist is to always deny the times in which we're being racist."
---
 Monica Muñoz Martinez: Public Historian
Monica Muñoz Martinez works to bring to light long-obscured cases of racial violence along the U.S.-Mexico border and documents descendants' efforts to commemorate and seek justice for the lives lost. In her book "The Injustice Never Leaves You: Anti-Mexican Violence in Texas," Martinez explores a brutal period of anti-Mexican violence in the early 20th century, a period of state-sanctioned racial terror. Martinez spoke with WBUR's Here & Now co-host Tonya Mosley in 2019 about the "forgotten" history of anti-Mexican violence in the U.S.
"The racial violence in the southwest, but especially in Texas, in the late 19th and early 20th century, targeted border communities, people who lived in places like Porvenir, places like Brownsville, border communities where people were living and thriving thanks to the life source of the river ... And in part of what led to the survival of Anglo settlers and colonizers was the violent displacement of indigenous people, but also of land-owning Mexicans.
"And in this case, after the massacre, the victims were portrayed as bandits and as squatters. But research has shown that they were landowners who were making it profitable because they had successfully learned to irrigate the land. And so this is a history of colonization that helps to give us some historical perspective into a truthful accounting of this kind of violence."
---
Desmond Meade: Civil Rights Activist
Desmond Meade, who serves as the president of the Florida Rights Restoration Coalition, works to restore voting rights to formerly incarcerated individuals to remove barriers to their full participation in civic life. During the 2020 presidential election, he cast his vote for president for the very first time — and has helped many others do the same. He told WBUR's Here & Now co-host Tonya Mosley that his experience voting strengthened his resolve to help others feel as heard as he did.
"When I walked in that voting booth, taking the spirits of my ancestors who were murdered and who were intimidated — they were able to overcome all of these challenges to be able to allow people like me to be able to vote again. I understood when walking in there that I was engaging, or getting ready to engage, in a very sacred act, an act that says more about me as a human being than about my politics. It wasn't about me being a Democrat or Republican. It was about me being an American citizen whose voice must be heard. It was a beautiful experience. It brought me to tears. And I know that every American should get an opportunity to experience this."
---
Safiya Noble: Internet Studies and Digital Media Scholar
Safiya Noble spent a week thinking a spam number was trying to reach her — only to find out it was the MacArthur Foundation calling with her fellowship news. Noble is founder and co-director of the Center for Critical Internet Inquiry at the University of California Los Angeles. Her research on internet bias found that simple search engines, like Google and Yahoo, exacerbate racist stereotypes and bias that victimize women and other marginalized groups. Noble told WBUR's Robin Young on Here & Now that the bias is "baked into the way the algorithm sorted information on the web," and often has to do with which websites have more money, not which search results are most popular.
"Ten years ago when I made an argument like that, people would say, 'Safiya, that is impossible because algorithms are just math and math can't be racist.' But of course, that's not what we're talking about. What we're talking about is the application of mathematical formulas to hundreds of millions of possible queries that could happen on the internet, and then choosing and bringing up the worst of all possible items that you might find on the web. That was a novel idea a decade ago — it's not novel now.
"(The public) think of these search engines as a fact checker or a knowledge space. Well, for certain types of banal information, it can be reliable ... But when you start asking complex social questions about people's history, these are nuanced kinds of queries that are actually being put into an advertising engine — which means those who have the most money to pay are going to be more visible ... The problem, in some cases, is that people don't always know when they're encountering that, and they trust large scale search engines like Google as an authority."
These interviews aired on WBUR's Here & Now and Radio Boston.
This article was originally published on September 29, 2021.