The BSO makes a celebratory return to Symphony Hall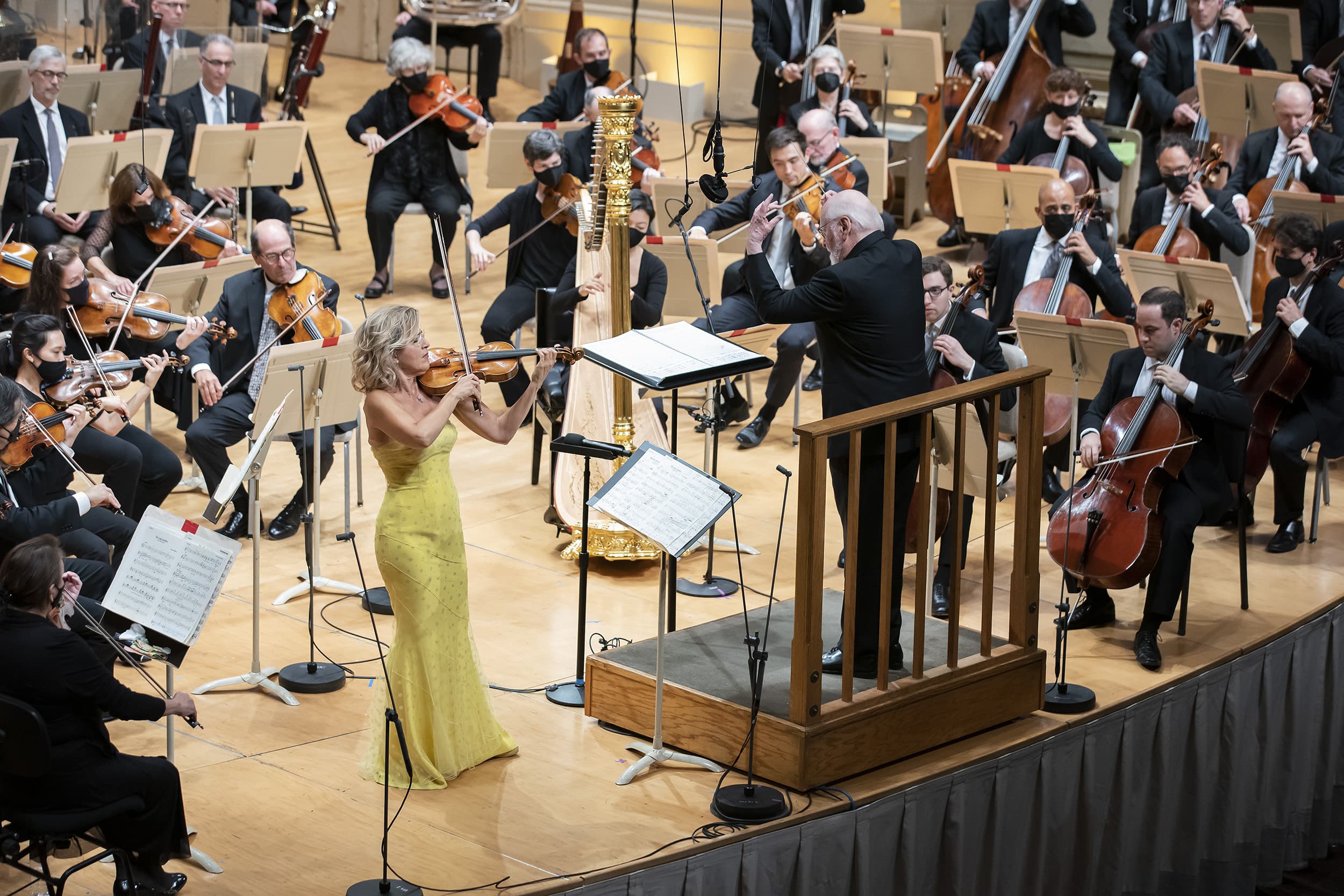 The most moving moment of the Boston Symphony Orchestra concert that marked its return after an absence of 18 months (568 days, to be exact) to its great concert hall was the prolonged standing ovation the audience gave the players as they appeared onstage Thursday night, Sept. 30. More ovations would come, but the most enthusiastic was the one that greeted the orchestra before it played a single note. Everyone seemed very happy to be in that hall. Music director Andris Nelsons, in his Latvian-tinged English, thanked the audience for "fostering an environment of acceptance and inclusivity."
The program touched lots of bases: history, discovery, celebrity, popularity. It began with the pointed selection of the late Beethoven overture, the aptly named "The Consecration of the House," that launched the very first BSO concert in 1881. This was followed by an ambitious recent piece, Violin Concerto No. 2 by John Williams, the Boston Pops' beloved conductor laureate. The star soloist was violinist Anne-Sophie Mutter, for whom the piece, as Williams writes, was "Composed Especially." The grand finale was undoubtedly the single most popular work ever commissioned for the BSO, Bartók's Concerto for Orchestra. And there was even a surprise world premiere. Nelsons compared the BSO to a five-star restaurant, in which "music is food for our souls."
We were privileged to hear many beautiful sounds, though the one that hit me hardest was the reverberant opening chord of the Beethoven, that rare combination of breadth and warmth and depth enabled by the plush acoustics of Symphony Hall.
We were privileged to hear many beautiful sounds, though the one that hit me hardest was the reverberant opening chord of the Beethoven, that rare combination of breadth and warmth and depth enabled by the plush acoustics of Symphony Hall — a sound impossible to reproduce electronically. We were finally back in the unamplified, unreproducible world of live music.
The opening Beethoven had a few good qualities, especially the wide dynamic range Nelsons elicited, from delicate strings to huge timpani crashes. Beethoven's climactic fugue — more like Handel and Mozart than like Bach — had exceptional transparency. But there was also some out-of-tune solo work, and occasional thick texture muddied important details. Especially in music from this period, I wish Nelsons would divide the violin sections antiphonally, as the composers intended them to. This was ultimately an undistinguished performance of a striking piece we don't get to hear often enough.
The Williams concerto is a big four-movement opus which Williams, at the age of 89, first conducted at Tanglewood this past summer. At Symphony Hall, he was back (though this fact was accidentally omitted from the program booklet and an apologetic insert had to be included), and so was Mutter. After the performance, Williams called her "one of the greatest instrumentalists on earth." I wonder if a warmer, more emotionally engaged or nuanced soloist than the technically phenomenal Mutter could have moved or excited me more. The most compelling music seemed the complex part for harp, and Jessica Zhou, the BSO's principal harpist, with her harp front and center instead of way over on the side, was a wonder. I wish Williams would write her a new harp concerto (in 2009, he wrote one for the retirement of Zhou's predecessor, Ann Hobson Pilot). The hushed ending for violin and harp reminded me of Brahms. But a good deal of the music seemed an imitation of what big violin concertos sound like. I kept saying to myself "I think this is supposed to be beautiful" and "I think this is supposed to be soulful." But little of my first hearing of this piece was staying with me.
Following the concerto, Williams returned to the stage to announce the very first performance of his new arrangement for Mutter and the orchestra of some old movie music of his: the love theme he wrote for Robert Altman's 1973 neo-noir version of Raymond Chandler's "The Long Goodbye" (lyrics by Johnny Mercer). That score had one of film's wittiest uses of music — the score is practically a character. Wherever Philip Marlowe (Elliott Gould) goes — a night club, an elevator, a supermarket, or even when someone is just turning on the radio — that's what's playing, arranged in a dazzling variety of appropriate styles. That super-saturated theme is so lush, even a player as cool and hard as Mutter couldn't diminish its romantic charge.
More applause, then intermission. Old friends and much-missed staff-members, all masked and happily hugging. In the Cabot-Cahners Room, a classical bust in a glass case seemed pleased to be looking out at the crowd from behind her own mask!
Then, back inside for the Bartók.
Serge Koussevitzky, the legendary music director of the BSO from 1924 to 1949, commissioned Bartók's Concerto for Orchestra for the BSO in1943. Between its premiere on Dec. 1, 1944 and this opening night performance, the BSO and Boston Pops have played it nearly 200 times. And it still sounds fresh.
It's a "concerto for orchestra" because practically every player is a soloist. Especially outstanding (and not for the first time) were Elizabeth Rowe (flute) and John Ferrillo (oboe) — phrasing with imagination, charm and rhythmic zest.
This Bartók is a Nelsons specialty, and he began well, with a sense of mystery in the opening strings. His tempos were a little slow, but that decision allowed us to hear some intricate details. But then the tempos began to drag. In the fourth of the five movements, the Intermezzo interrotto ("interrupted intermezzo"), one of Bartók's most soaring melodies seemed more sluggish than sweeping. What "interrupts" the intermezzo is a sudden satirical quotation from Shostakovich's Seventh Symphony, in which Shostakovich himself quotes the popular party song from Franz Lehár's operetta "The Merry Widow" ("I'm Going to Maxim's") and turns it into a relentless military assault, music depicting the hateful German invasion of Russia. We know Nelsons knew that Bartók was joking because the passage began with a loud raspberry from the trombone. But then the satire evaporated. The presto Finale was certainly fast, but this time the speed blurred rather than energized.
Nelsons lingered to give each player his or her own moment to bask in the applause.
So here's to a new season at Symphony Hall. For future concerts, don't forget your proof of vaccination or negative test results (very skillfully and efficiently handled by the people at the door). And your own mask.