Wu and Essaibi George clash one last time on the debate stage
Play
This article is more than 1 year old.
Michelle Wu and Annissa Essaibi George engaged in a sometimes contentious exchange Monday night in the third and final debate before Boston voters choose a new mayor next week.
As in previous debates, Essaibi George challenged Wu's plans to make the MBTA free and to bring back rent control. Essaibi George also said Wu's response to  homelessness and addiction at Boston's Mass and Cass neighborhood lacks urgency.
"So, I've got a message first for Michelle: Because she's been stuck in conversation, she doesn't understand the crisis that is Mass and Cass," Essaibi George said.

But Wu pushed back.
"Every conversation that I have is about taking urgent action," Wu said.
With recent polls suggesting Wu has a commanding lead, last night may have represented the last, best chance for Essaibi George to shake up the race.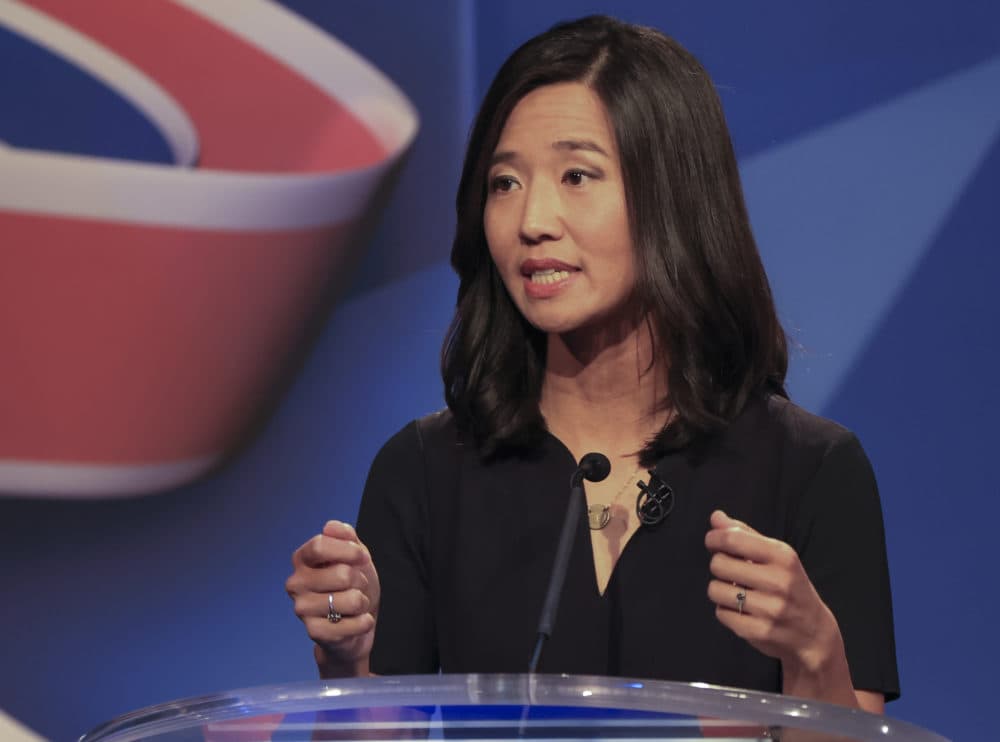 The debate was presented by WBUR, The Boston Globe, UMass Boston's McCormack Graduate School of Policy and Global Studies and WCVB.
The city's election will be held on Tuesday, Nov. 2.
The debate was moderated by:
WCVB anchor and On The Record host Ed Harding
WCVB On The Record host Janet Wu
Tiziana Dearing, host of Radio Boston
Adrian Walker, columnist for The Boston Globe
For more, here's our voter guide to the race, which includes candidates' positions on key issues and information on how to vote in the election. And, see our complete coverage of the 2021 mayoral race here.
---
WBUR's Todd Wallack wrote this post. WBUR's Anthony Brooks spoke to Morning Edition about the debate, and the audio from that could be listened to by clicking the player button atop this post.