Wu and Essaibi George sprint around Boston in final days of campaign to be the next mayor
This article is more than 1 year old.
Boston mayoral candidates Michelle Wu and Annissa Essaibi George visited as many neighborhoods as possible in the final weekend of campaigning before Tuesday's election.
Both of the city councilors made appearances Sunday at the 70th annual North End Halloween children's parade, organized every year by the Madonna Della Cava Society, to speak to parents and neighbors.
Essaibi George handed out candy to kids in costume, each piece wrapped in a pink campaign sticker. It was her first official stop of the day before she began a 24-hour campaign blitz, pulling an all-nighter at T stations, diners, and the emergency room at St. Elizabeth's Medical Center.
"Boston is a city that has people that are working late into the night, businesses that are opening early in the morning, and lots of things happening," she said. "So we figure, going into Election Day, making sure that we are touching every single one of our residents across our city, when and where they need us to be — that's what we're looking forward to doing."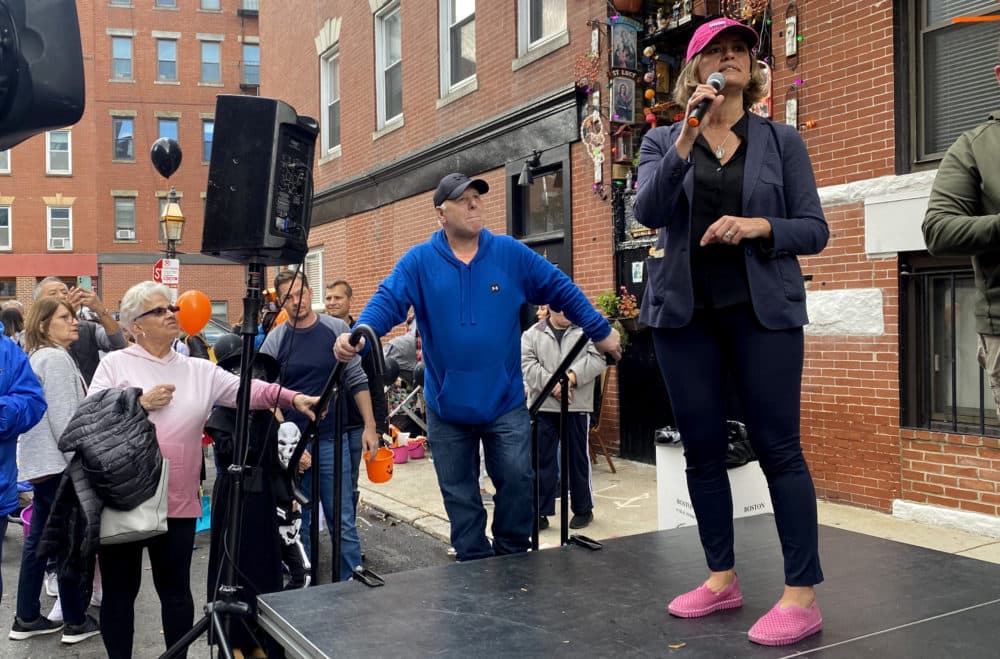 With polls finding Essaibi George consistently behind, she is attempting to draw a sharp line between herself and Wu.
She accuses Wu of over-promising on policies like rent stabilization and free public transit, without concrete action plans to back them up on a city level.
"Day one of my administration, unlike my opponent, I am prepared to do this work for and with the people of Boston," she said.
Wu defended herself against the criticism after showing up at the Halloween event about an hour after Essaibi George arrived.
"There's a clear choice in this race. About whether City Hall will continue to nibble around the edges of the status quo, or take on the big bold solutions that we need to meet this moment," she said.

Wu, who has already been endorsed by both U.S. senators from Massachusetts, Rep. Ayanna Pressley, and current Acting Mayor Kim Janey, picked up another endorsement from former Gov. Deval Patrick on Friday.
The campaign has taken a negative turn as the election approaches. Wu's camp sent a cease-and-desist letter to TV stations last week, warning them not to air an ad produced by a super PAC supporting Essaibi George alleging Wu received a "sweetheart deal" on her two-family Roslindale home. The Boston Globe has found that Wu paid a fair market value for the property.
Wu said Sunday she's letting her legal team handle it; Essaibi George has consistently disavowed the PAC, which is heavily funded by New Balance chairman and Trump campaign donor Jim Davis.
Wu says she will also campaign until the final minute.
"Two days left, we are trying to be in as many neighborhoods as possible, our teams are out knocking on doors three shifts every single day, all weekend, all through Monday, and we're feeling the energy out in the community," she said.
Wu and Essaibi George did not cross paths at the North End event — Essaibi George left minutes before Wu arrived at the parade's end-point.
She was off to Charlestown, a neighborhood she split with Wu in the preliminary election.