How this weird weather could affect the state's maple syrup harvest
Interested in food and climate news? If so, you'll like our soon-to-come environmental newsletter. Sign up now; get your first email this spring.
---
The recent spate of weird weather comes at an important time in Massachusetts: the start of the annual maple syrup harvest. But while climate change has affected maple sugaring overall, the last couple weeks of warm spells won't necessarily hurt the 2022 harvest, experts say.
Maple trees need cold nights, warm days and a certain amount of daylight to get a good run of sap. In Massachusetts, that usually happens in late February and early March — and tapping has already begun this year.
The huge temperature swings we've seen in 2022 so far are "not a big deal," says Joshua Rapp, a conservation scientist with Mass Audubon. But if it gets warm and stays warm, especially at night, it'll mean a short season. "That's when you run into a problem, because the season ends when it gets warm."
Rapp says climate change has already moved the sugar season earlier in the year, and as warming continues, that trend will, too. The sugar season will also get shorter, and the sap may even become less sweet — possibly because of heat stress on the trees in the summer.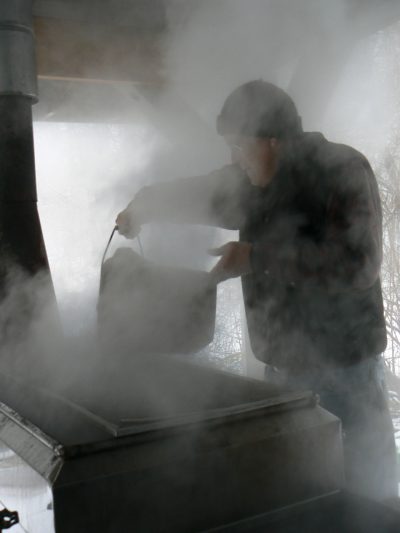 Winston Pitcoff, coordinator of the Massachusetts Maple Producers Association, says climate change has already increased the variability of sugar season.
"The main effect is that it's inconsistent," he said. "We've had years where some people who tapped early were boiling in January. We do have people that are boiling now and we've had years where it didn't thaw well enough to really have a good solid run until very late March."
"Our research suggests that by the end of the century, we'll still be able to tap trees here in Massachusetts, but we'll be on the southern edge of that commercial production," Rapp said. "You could still do it in your backyard if you want to, but at some point the variability from year to year — if some years you don't make very much or we can't do it at all — it becomes becomes non-viable as a commercial venture."
Despite the uncertainty, Pitcoff remains hopeful for a good harvest this year. Massachusetts has more than 300 maple producers, who make about 60,000 gallons of maple syrup annually, worth about $5 million.
"We've got a lot of really good sugar makers around the state and they're ready," Pitcoff said. "They've been preparing all year and we'll have a great crop."