In one-woman play 'Sea Sick,' a science journalist shares her experiences with the ocean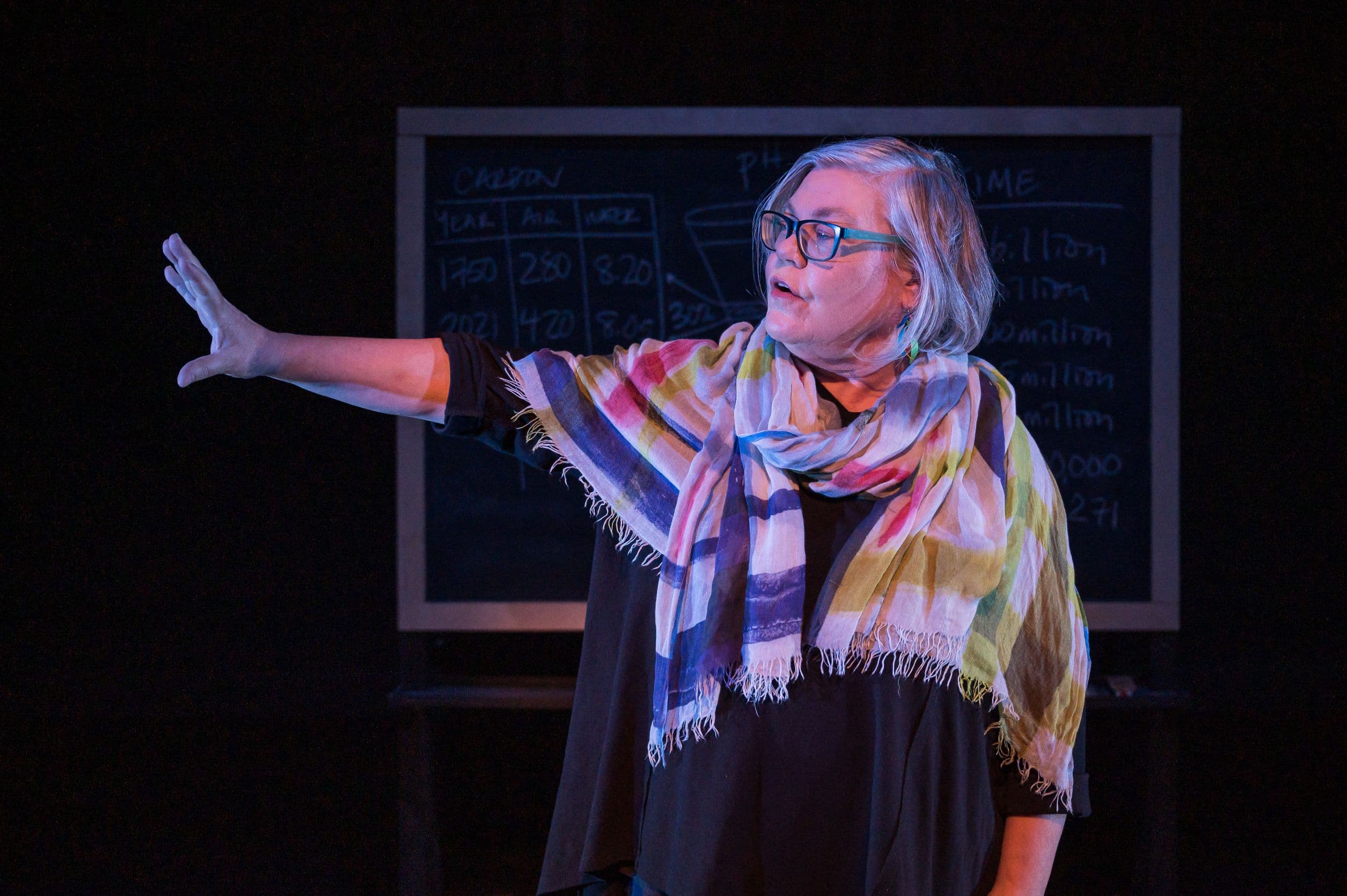 Storytelling has been used for millennia in ancient Greece, Rome, Africa and other places to share tales of superhuman achievement, spark hope, admonish and more. In science journalist Alanna Mitchell's "Sea Sick," presented by ArtsEmerson through May 22, Mitchell tells a fascinating tale of the mysterious ocean—the holder of the "switch of life"—stuffed with curiosity, trepidation and optimism that highlights our impact on the sea, and how without it, we'll cease to exist.
Staged in Emerson's Jackie Liebergott Black Box Theatre in the Paramount Center, Mitchell stands in what appears to be a drawn circle on the ground. There's a clean chalkboard with a small table to its right with a pitcher of water and a glass on top. With only the occasional projection and minimal music, Mitchell engages the audience for a little over an hour with stories about her life, articles she's written and what she's learned about the ever-warming ocean. Though she uses the chalkboard to sketch out an important-to-understand diagram, Mitchell is more than a lecturer. She engages the audience with vivid memories and ripe chronicles that elicits laughter at some points and grave concern at others.
Mitchell grew up in the prairies of western Canada, where the bright green grass and azure sky seemed to stretch on for eternity. In her household, Darwin was a hero, and her father was a scientist who "wreathed in [cigarette] smoke," she says, wanted to document and study the animals nearby. Her mom, an artist, often painted prairie scenes. Mitchell's father's curiosity and her mother's sensibilities show up in her work as a journalist chasing stories and onstage as she spills what appears to be her most poignant narrative yet. In "Sea Sick," a one-person show commissioned by The Theatre Centre of Toronto with the help of Franco Boni and Ravi Jain, Mitchell shares in shimmering detail her deep descent of 3,000 feet into the ocean on a small vessel, how she witnessed a massive coral spawning in Panama and how she accidentally drank a water sample tainted with a red algal bloom. She even tells a hilarious tale about how some things didn't come out the way she hoped aboard the tiny submarine-like ship.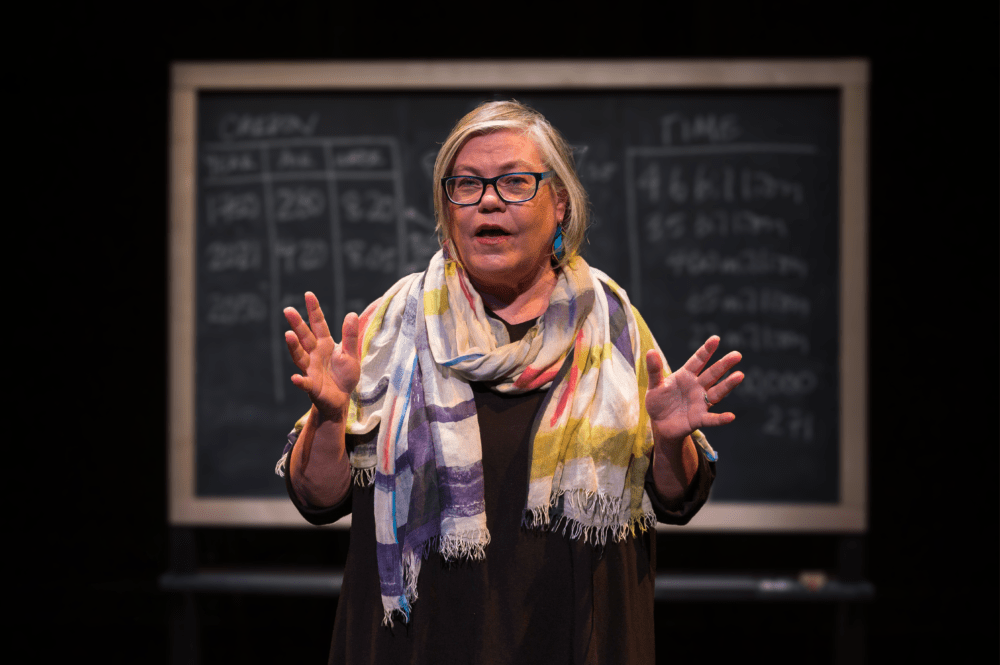 For years, the avid writer zig-zagged across the world to learn more about the ocean with some of the world's leading scientists, including Dr. Sylvia Earle, a marine biologist and oceanographer who spends so much time in the ocean that she's been dubbed "Her Deepness," scientist and conservationist Tim Flannery, and Nancy Knowlton, founder of the Center for Marine Biodiversity at the Scripps Institution of Oceanography of the University of California, San Diego.
There are some startling statistics Mitchell shares about how the ocean is dying. There are dead zones around the world where the lack of oxygen makes it impossible for plants and marine animals to thrive, red tides or overgrowths of algae that can be toxic, and an explanation about how the change in the ocean's pH levels can impact everything in it. Much of what's mentioned is familiar. However, Mitchell expertly connects the dots with simple explanations and eye-opening demonstrations. For instance, to show ocean acidification (the reduction of the ocean's pH levels), she drops a piece of chalk into a pitcher of what turns out to be vinegar, not water. We watch as the liquid slowly pulverizes the white stick. She points out that the ocean's pH level isn't this acidic currently, but if we don't do something about it, the sea will dissolve the shells of sea scallops, oysters, muscles and other mollusks at a faster clip. But it could also dissolve coral reefs, bones, and teeth.
Mitchell is part of a growing group of writers, artists and activists angling to show us the wonders of our world and why we should work to save it, from V's (formerly Eve Ensler) musical fable "Wild" to Lisa D'Amour's  "Ocean Filibuster." It's the second ocean-centered play to premiere in Boston in less than a year. Despite the latter's use of music, costumes and other effects, "Sea Sick's" simple approach fares far better. The message isn't lost in an overly long production, with so much science it makes the head spin. Rather, Mitchell's offering mixes science with real emotion. The play feels like a conversation one would have with a friend over dinner that spurs you to think more deeply about the world in the car ride home. And maybe even do something about it.
She brilliantly conveys her fascination with the ocean, which she describes as "warm, breathless and sour." Still, Mitchell is beguiled by its glory. Thousands of feet below the surface, she describes her view from a porthole as a "splendidly desolate landscape. It reminds me of the prairies I grew up in. You really have to pay attention to find the beauty of it...it's sparse and ancient and terribly exciting."
Mitchell avoids preaching a doomsday script despite sharing the harrowing truths of the impact of climate change on the world. She balances fear with marvel and eschews judgment for facts and sanguinity. She does not offer an end for her tale but rather a charge: to do whatever possible to ensure the best possible outcome. Mitchell implores us to become our own heroes in the epic journey to save the world.
---
"Sea Sick," presented by ArtsEmerson, runs now through May 22.