Historic MLK breakfast is back in Boston for first time since pandemic shutdowns
Politicians, activists, teachers and clergy braved the snow Monday morning to attend Boston's annual Martin Luther King Jr. Memorial breakfast for the first time since the pandemic.
The breakfast — held for the 53rd year in a row — was hosted virtually for the past two years.
Boston Mayor Michelle Wu was visibly moved when she took the podium. She abandoned her prepared remarks and reflected on the vitriol that still runs through American politics, five decades after Dr. King's assassination.
"We're battling not just two sides, or left or right," she said. "But a growing movement of hate, abuse, extremism and white supremacy."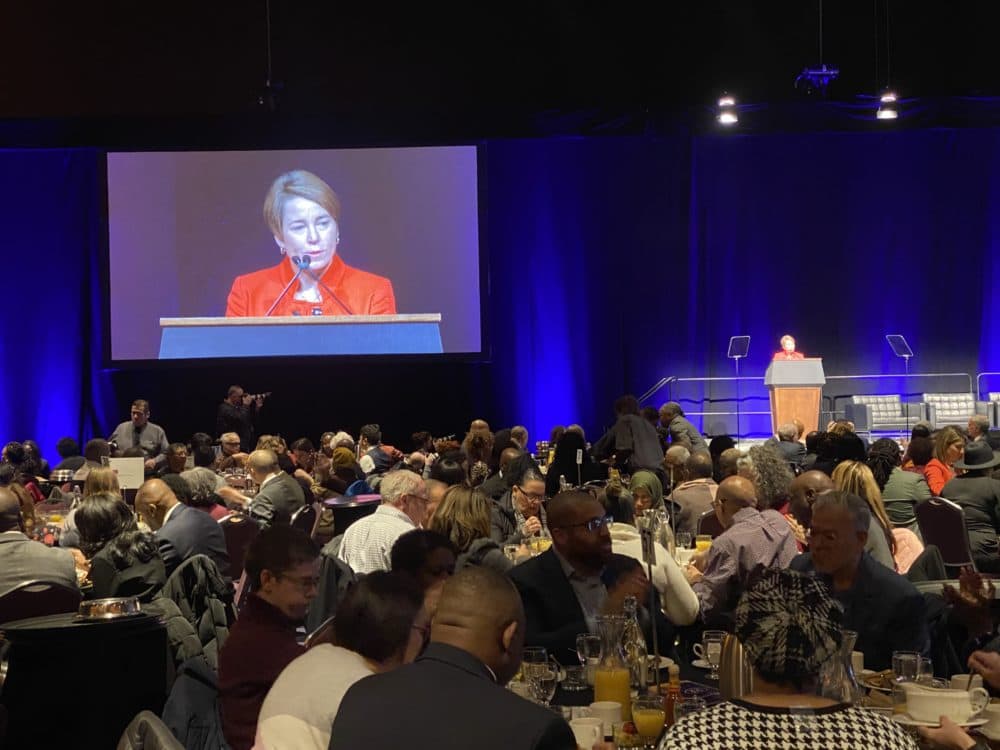 Congresswoman Ayanna Pressley reflected on King's commitment to public education and called for more state and federal funding.
"I don't want to romanticize resilience, that our teachers are dipping into their own pockets to resource their classrooms or to feed their students," she said. "And then we lift them up and say how extraordinary this is? That is an outrage."
Newly elected Gov. Maura Healey said she often turns to the civil rights leader's words for inspiration and guidance.
"In his name we will stand up for racial justice, for equality," she said. "We will root our actions in love. We will listen, respect and embrace every person in this state."
King attended divinity school in Boston and met his wife Coretta Scott in the city.
A new memorial to the Kings called the "Embrace" opened on Boston Common earlier in the weekend.