Your guide to this weekend's Boston Pride parade and festival
Editor's Note: This is an excerpt from WBUR's Saturday morning newsletter, The Weekender. If you like what you read and want it in your inbox, sign up here. 
---
LGBTQ+ pride is celebrated all through the month of June, but Saturday is the official return of the Boston Pride parade.
And this year, it's "for the people."
The vibrant festival hasn't been held in Boston since 2019 due to the pandemic and a boycott against the event's previous organizers. The new group behind this year's celebration, Boston Pride for the People, is planning much more than a parade. There will be opportunities for attendees to learn how they can support the LGBTQ+ community in Boston, time to commemorate those present at the Stonewall riots and, of course, plenty of fun to be had.
Looking to join in? Here's a quick guide to navigating this year's festivities.
When: The official Pride parade doesn't start until 11 a.m., but like the Boston Marathon, you'll want to get there early to secure a spot on the parade route. Parade-goers should also remember to bring water bottles and sunscreen, Jo Trigilio, the vice president of Boston Pride for the People, told WBUR's Amy Sokolow. (And maybe an umbrella, too — there might be a bit of afternoon rain.)
Where: If you're eager to watch the festivities as they kick off, get to Copley Square (specifically Boylston Street, from Clarendon to Massachusetts Avenue) where the parade will begin to form. Here's a map of the full route: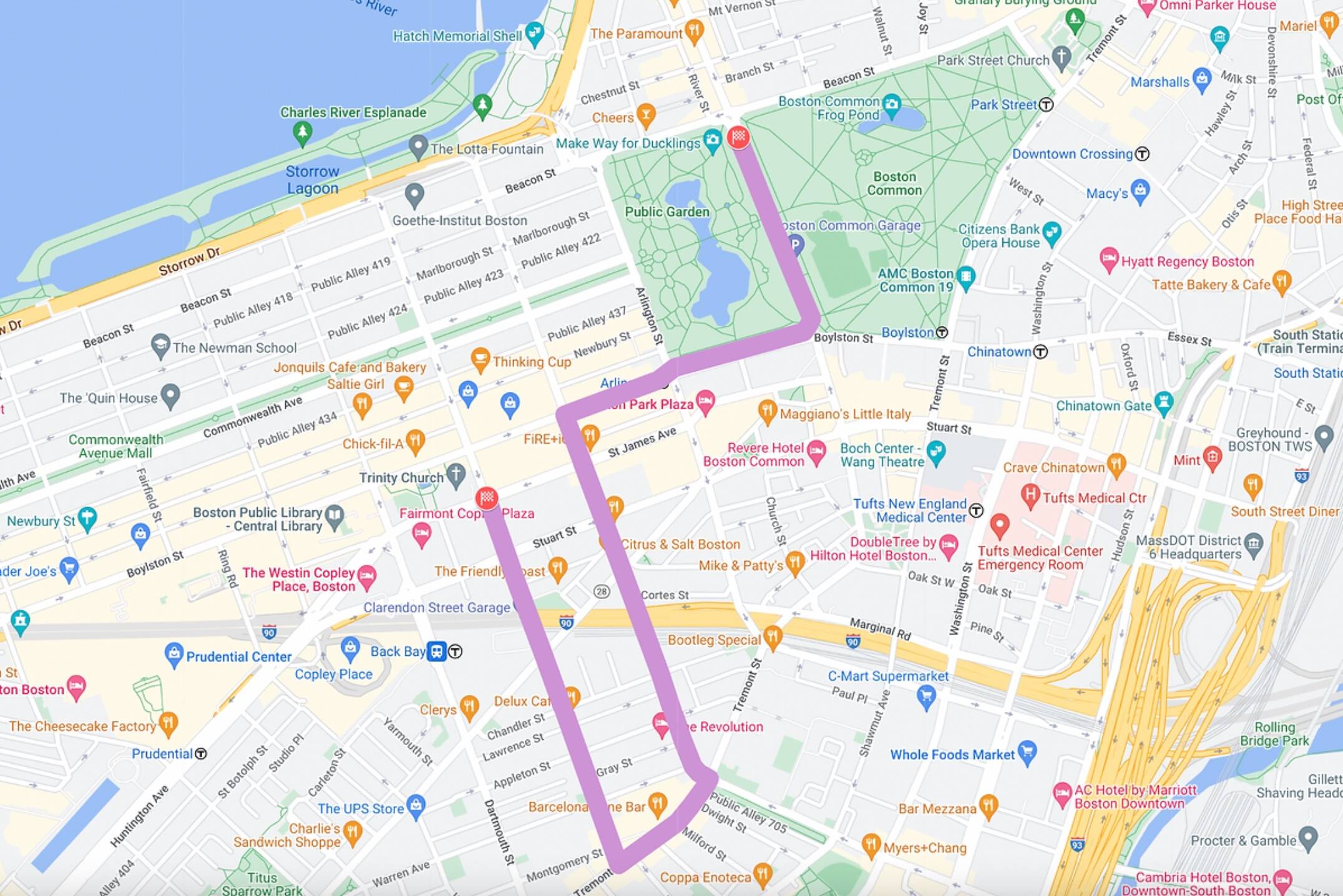 What… else?: Boston Pride for the People's community calendar outlines all kinds of events celebrating LGBTQ+ pride this month, including yoga, a movie night, and more parades across the Greater Boston area. And today from noon to 6 p.m., you've got the option to go to either of the two free Pride festivals being held in the city:
Festival on the Common: The festival on the Common promises fun for all ages. There will be live music performances, food trucks, vendors and educational booths spread across the park. And if you need to take a break, there will be quiet zones and spaces outlined for families, seniors and youth to rest.
Festival at City Hall Plaza: This festival is for the 21+ crowd. The day party features a DJ, drinks, dancing, vendors and food trucks. Just be sure to leave your pets at home if you're planning on attending.
For first timers: There isn't much more you need to do to in order to thoroughly enjoy this year's Pride. "Put on your happy Pride outfit and just show up," said Trigilio. "Bring your friends and bring your fabulous outfit."
If we're lucky, we might even get to see the return of Sen. Elizabeth Warren's giant rainbow boa.
P.S.— This year's pride seeks to be more inclusive than those past. To learn more about how Boston Pride For The People reimagined the parade to do just that, listen to WBUR Morning Edition host Rupa Shenoy's interview with the organization's president, Adrianna Boulin.