Boston Medical Center ends policy that allows migrant families to shelter overnight
Resume
Boston Medical Center is ending a policy that for many nights over the past year has allowed dozens of families without housing, mostly newly arrived migrants, to stay at the hospital overnight.
The hospital is now barring families from seeking shelter there, unless they need medical care. Instead, the hospital redirects them to other facilities after a record spike in the number of people staying there, according to Markeisha Marshall, a spokesperson for BMC.
Advocates say the hospital gave some of the families one-way transportation to Logan Airport, because it is always open and has security, restrooms and options for people to buy food.
"We had numerous conversations with State, City, and community leaders, informing them of the very real safety risk that sheltering so many people was posing, the disruption to normal hospital operations, and the impact on our ability to respond to emergencies," said an internal email sent by BMC CEO and President Alastair Bell to staff on Monday night and obtained by WBUR.
One night this past week, more than 130 people slept on the floor in one of BMC's lobbies. The hospital says it is providing transportation vouchers for families to go to relatives, churches and other secure places that are open all night. Many of the families are new arrivals from Haiti and have nowhere else to go. It was not immediately clear how many families were sent to the airport.
"People do not want to see an ICE agent or people in uniform with those big dogs. So those are situations that are going to create more traumatic experiences for those families who have already gone through so much."

Geralde Gabeau
La Colaborativa, a social services organization in Chelsea, is now supporting some of them. "Our first family arrived from the airport [on Wednesday]," said Dinanyili Paulino, chief operating officer at La Colaborativa. "State troopers dropped off some of the families [that] were in need of shelter."
The hospital's choice to send families there is "out of desperation," said Geralde Gabeau, executive director of the Immigrant Family Services Institute, a social services agency based in Mattapan that serves many Haitian families. She added the airport is a "worst-case scenario" solution for refugees, asylum seekers and other immigrants.
"People do not want to see an ICE [Immigration and Customs Enforcement] agent or people in uniform with those big dogs," Gabeau said. "So those are situations that are going to create more traumatic experiences for those families who have already gone through so much."
On Tuesday, a couple dozen health care and community workers rallied on Boston Common to demand a swifter response by state and federal agencies.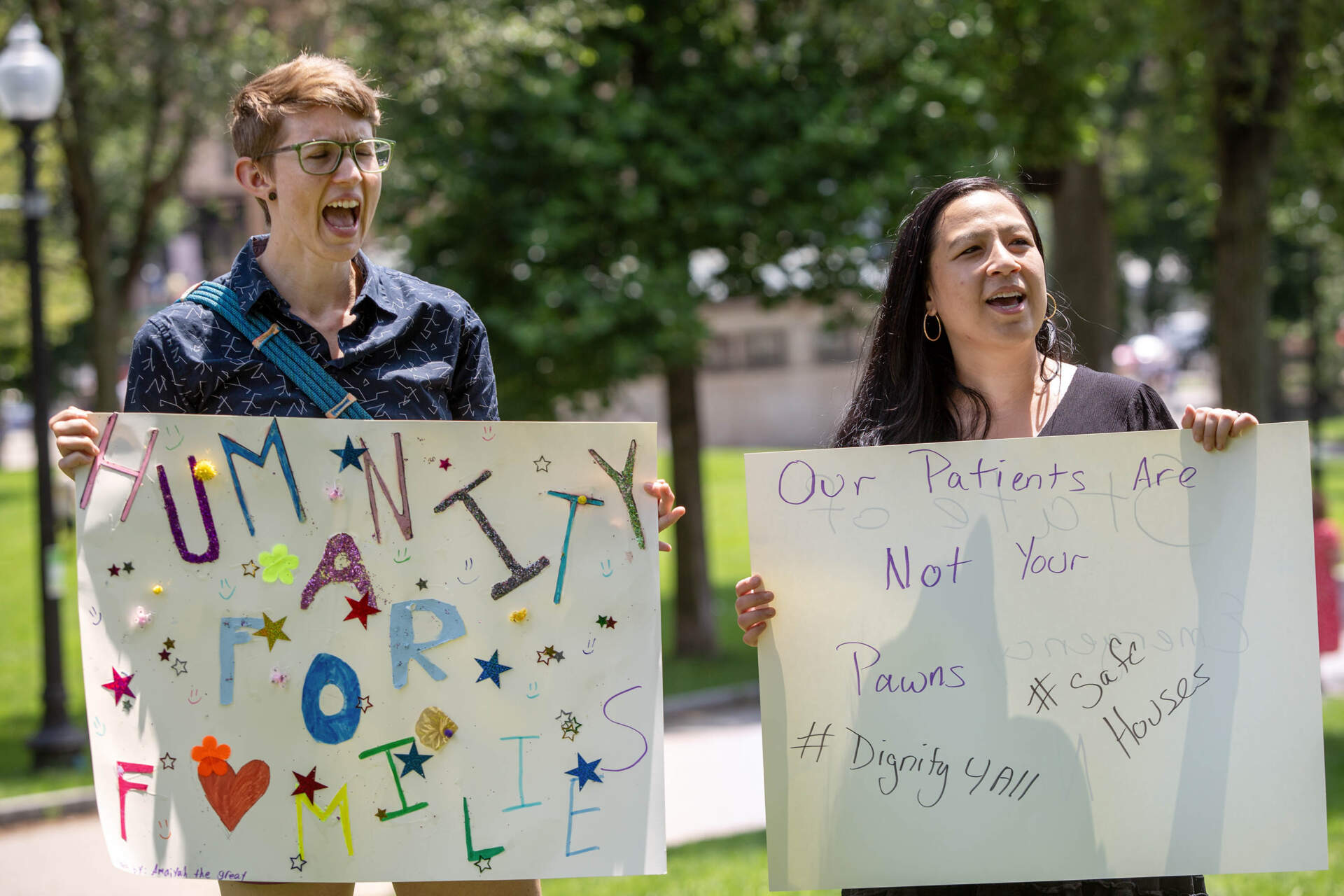 "We are here to tell the state that the current solutions are insufficient, unrealistic and unsustainable, leaving hospitals, public spaces, shelters, clinics and community organizations to crumble under the weight of demand," Emily Swisher-Rosa, a midwife at BMC, told the small crowd.
She said BMC has been put in a very hard place.
"They've been doing their best, but the state really needs to step it up," she said.
Several advocates focused on homelessness, including the Massachusetts Coalition for the Homeless, have previously called for the state to open an intake center that operates at all times.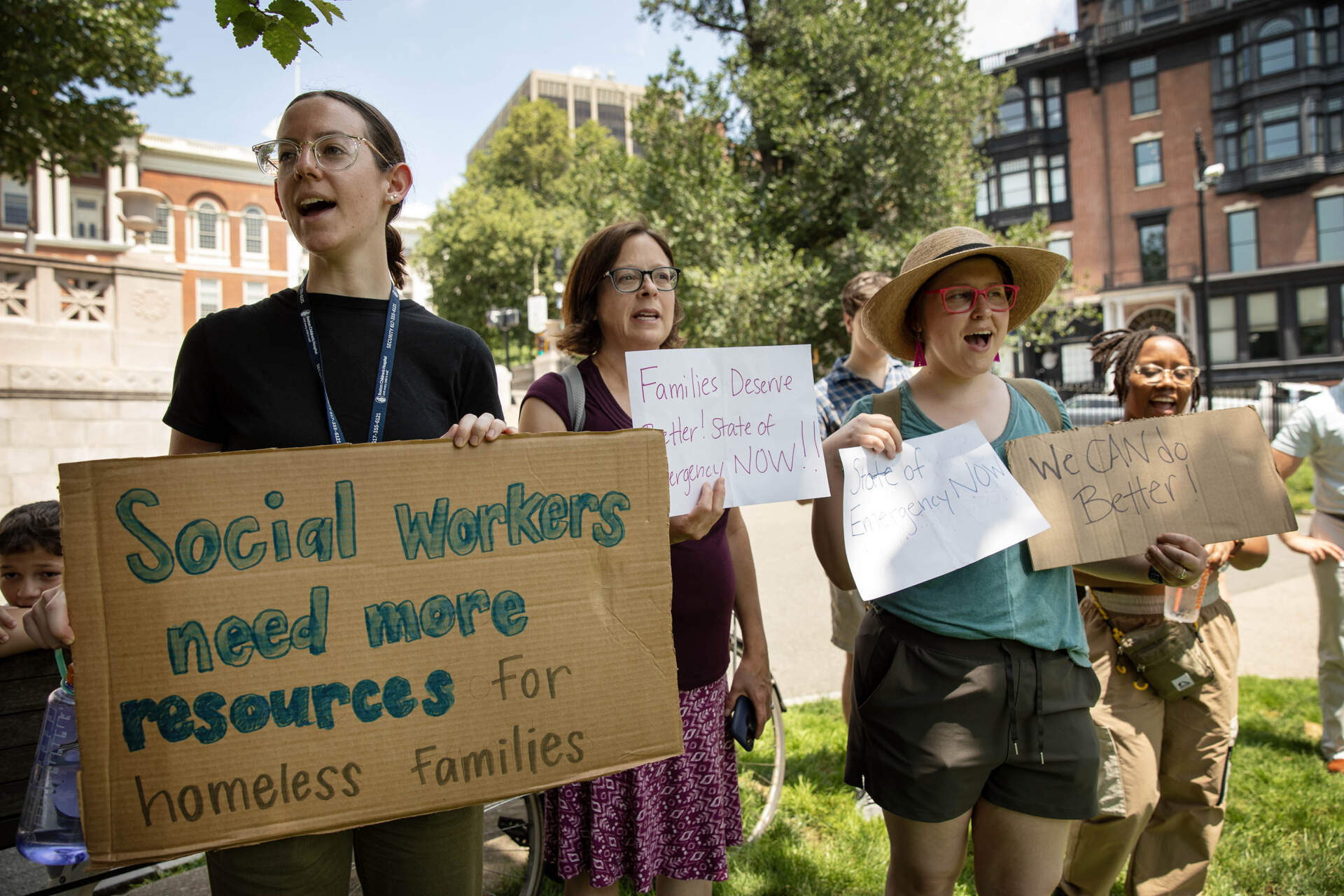 Others at the rally, including Karen Cullen, also a nurse midwife at BMC, urged Gov. Maura Healey to declare a state of emergency.
"It can open up funding that may not otherwise be available so that the hotels in our area, near the hospital, could open up floors," Cullen said. Her patients often struggle to access care, she said, once they leave BMC.
State officials say they're "actively evaluating options for expanding shelter and intake capacity to meet the growing needs of families experiencing homelessness," according to a statement from Karissa Hand, press secretary for the governor.
Jennifer Mehigan, a spokesperson for Massport, which operates Logan, was initially unaware that the hospital sent migrants to the airport of the situation. She said, as of Tuesday afternoon, a couple of families had been seen at Logan.
"The airport would not be an appropriate place to house people," she said.
Boston City Councilor Ruthzee Louijeune met with several Haitian families who earlier were sent to the airport and are now being helped by La Colaborativa in Chelsea.
"They're asking questions. They're trying to figure out how to navigate, how to understand our systems," she said. "I think folks are grateful to be getting some level of assistance to say nothing of the trauma that they're living with every day."
Massachusetts is the only state with a legal obligation to provide shelter for eligible families. However, the application process for state-run family shelter can be long and difficult to navigate.
As of July 10, 4,790 households are in shelters or hotel rooms through the state's shelter system. An additional 54 households are staying in a temporary shelter at Joint Base Cape Cod. Demand for shelter has risen sharply over the past year, given the high cost of housing and an increase in the number of families arriving in the state from other countries. It can take multiple days, and sometimes longer, to get placed in a shelter or hotel room.
Thus, in record numbers, families have shown up in hospital emergency rooms solely because they need shelter. Clinicians and hospital administrators have said this arrangement is bad for families and places substantial strain on the medical system.
Yet, until recently the situation had become the norm as hospitals adjusted to provide food for the families as well as bedding and social work services. All the while, hospital leaders repeatedly impressed upon the state the magnitude of the homelessness crisis and the need for more action.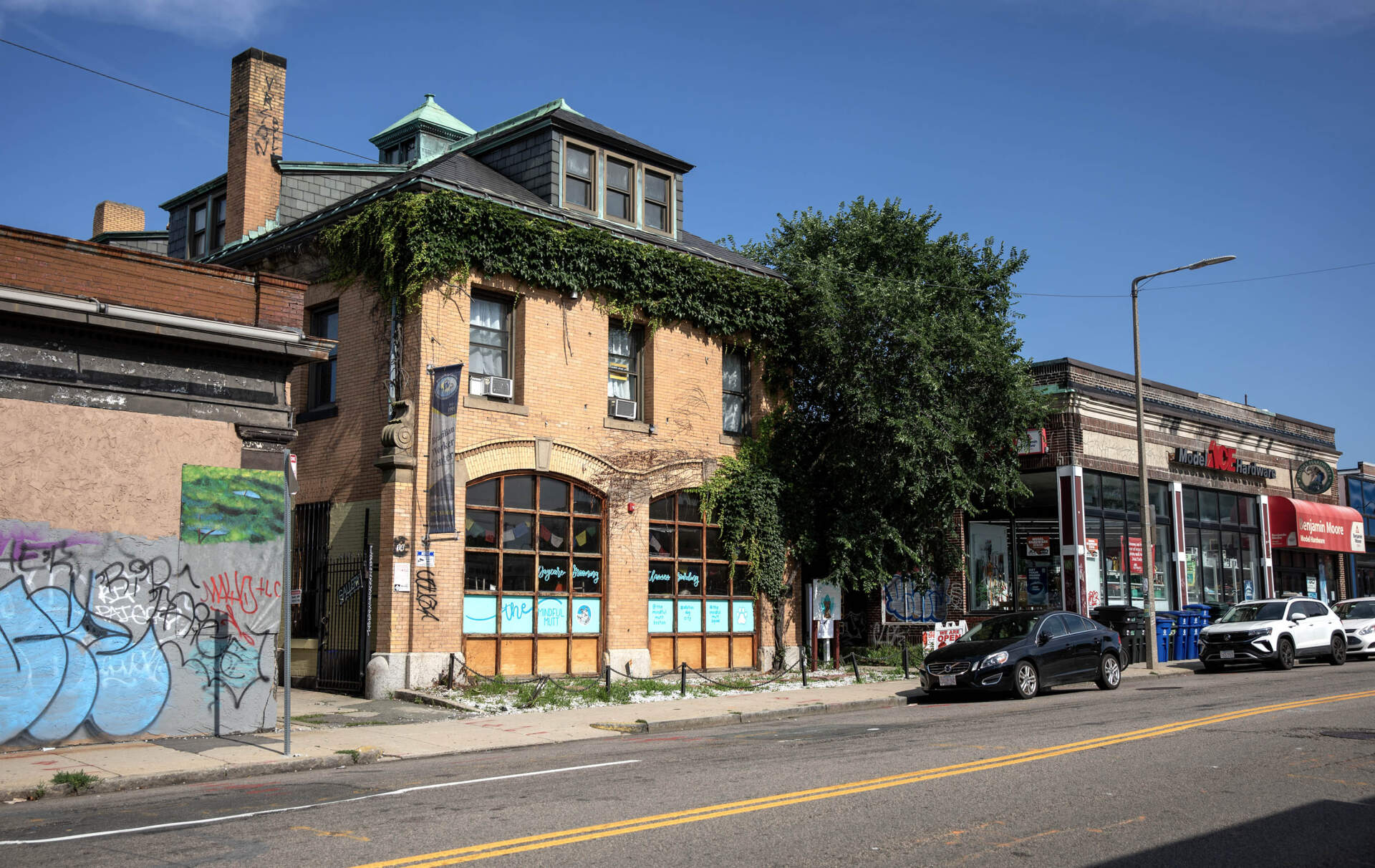 In late June, the state opened a new Family Welcome Center in Allston, but it offers no overnight shelter, closing at 8 p.m. on weekdays and 7 p.m. on weekends.
"We appreciate the actions the State has taken to-date," Bell said in the internal memo, "but unfortunately short and longer term shelter resources continue to fall substantially short in the face of this growing humanitarian crisis."
---
With reporting from WBUR's Christine Willmsen and Steve Brown
This article was originally published on July 11, 2023.
This segment aired on July 11, 2023.