Heat, long commutes don't dampen BPS spirit on first day back to school
The first day of school for tens of thousands of Boston Public School students started bright and early Thursday — even before it was bright, for some.
Classes at the John D. O'Bryant School of Mathematics & Science in Roxbury, one of Boston's three exam schools, began at 7:25 a.m.
But Sara Blanco, who is entering ninth grade at the school, had to make her way in from East Boston. So she and her mother were up by 5 a.m. for the drive in.
Around the same time, a sprawling bus yard in the Readville neighborhood of Hyde Park rumbled to life. It played host to Mayor Michelle Wu and BPS Superintendent Mary Skipper, who touted progress in hiring drivers and cooling classrooms as she marked the official start of the new school year.
Around 6:30, as the O'Bryant's campus started to fill with students, Malcolm X Boulevard began to burble with hellos, hugs and high-fives. Eighth grader Aziza Daniel-Davis got there early, and welcomed the start of the school year for its social component: "Chatting with my friends, you know."
Like Daniel-Davis, Blanco was concerned about the district's plan to move the school from its current location near Nubian Square to the former West Roxbury Education Complex seven miles away.
"I already wake up early — having to wake up earlier is hard for me because I won't be getting enough sleep," Blanco said. "I'll be getting home late too," she added, due to cross-country practice after school.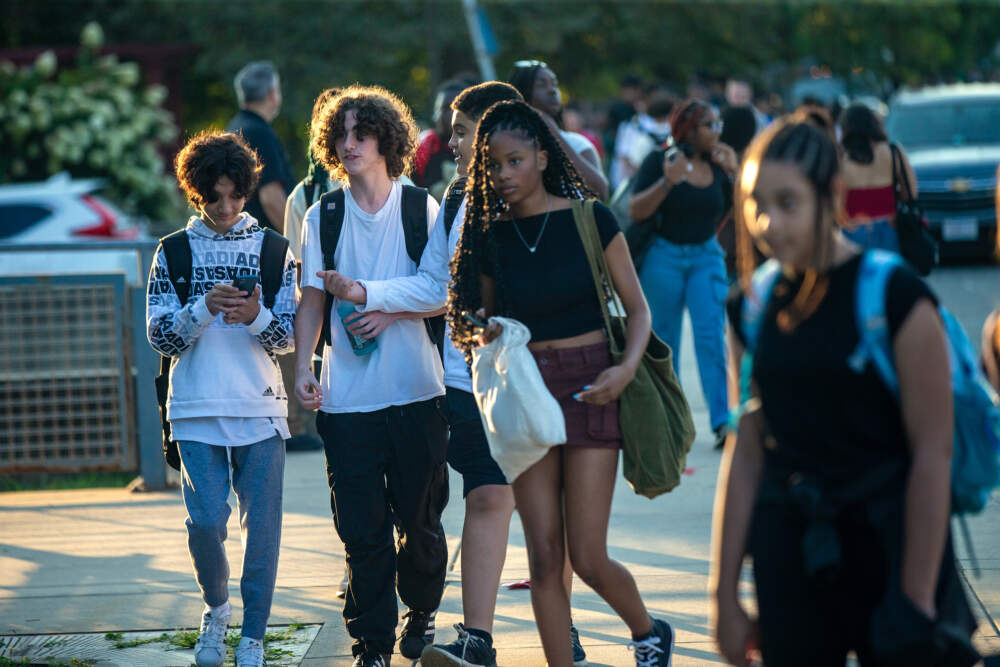 If the relocation is approved, BPS would begin a "gut renovation" of the new site in 2025, meaning longer commutes for O'Bryant students are still several years away.
Back-to-school coincided with a sweltering early September heat wave. Though the morning began with sunny skies and temperatures in the 70s, conditions rapidly heated up to the low 90s by midday. With a heat index approaching 100 degrees Fahrenheit in the Boston area, Wu declared a heat emergency for Thursday and Friday.
That didn't affect school operations. But it meant muggy travel for the more than 40,000 BPS students in Grades 1 to 12 who took cars, buses, subways and traveled by foot to get to school Thursday. (The district's pre-kindergarten and kindergarten students start school September 11.)
The O'Bryant School, home to nearly 1,600 students in grades 7 to 12, is equipped with air conditioning — but, despite a recent $7 million investment, 14 BPS schools will still be weathering the present heat wave without proper cooling.
During a press conference Thursday morning at the Mildred Avenue School in Mattapan, Skipper said officials are working hard to make sure those 14 buildings — located in such neighborhoods as East Boston, Dorchester and Roslindale -- stay as comfortable as possible.
"I know the heat has been on everyone's mind," Skipper said. "Last night we made sure there were ample fans. We have lots of water, we're opening the windows in the morning to let the cool air in."
Over the last two years, the BPS facilities department has installed roughly 4,000 air conditioning units in more than 70 schools.
Skipper also emphasized BPS's investment in upgrades to its fleet of school buses. Officials say the transportation system is fully staffed with bus drivers this year, thanks to 200 additional hires since last year. There were also 20 new electric school buses on the roads Thursday morning.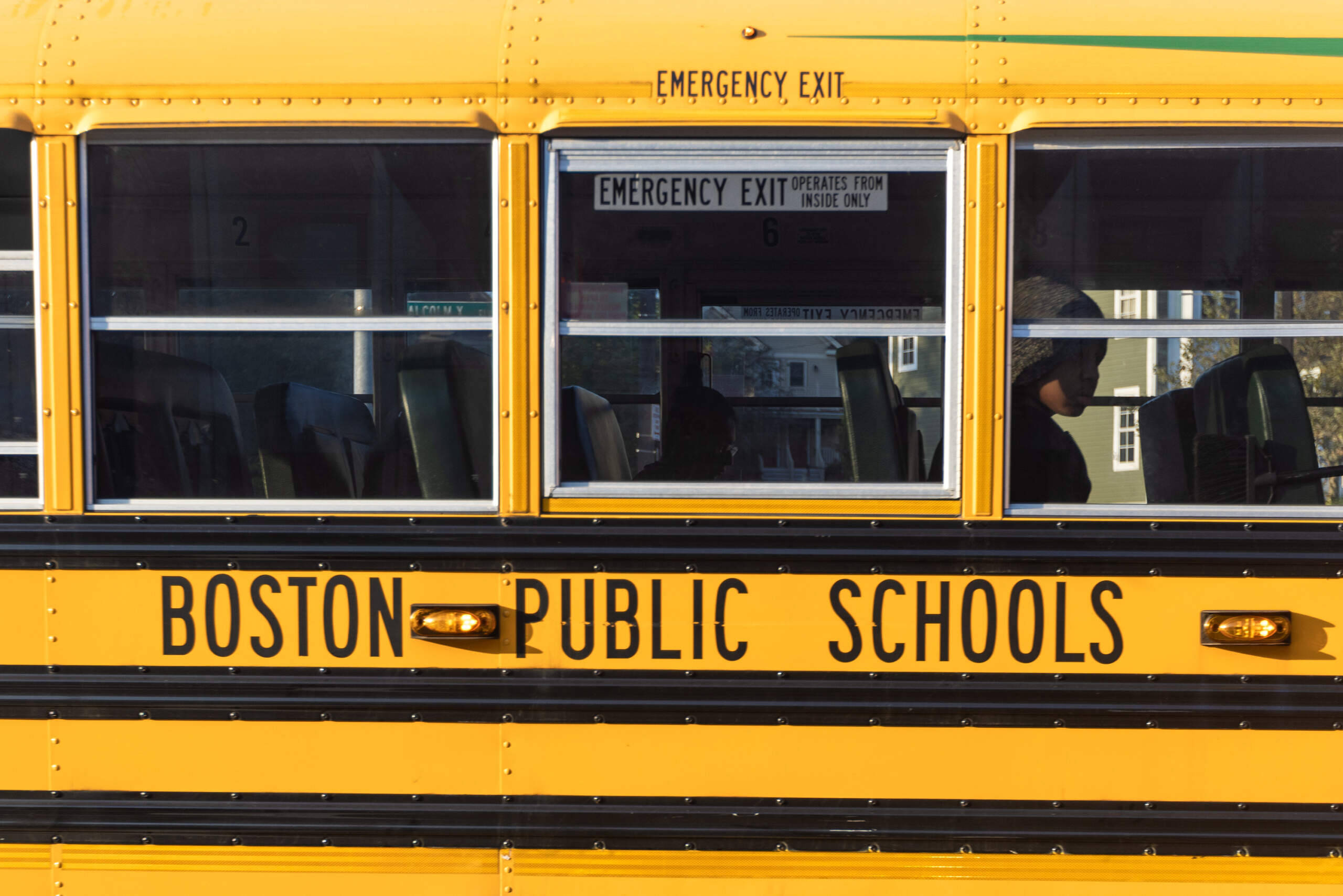 Boston's school bus operations will be closely watched by state officials again this year: the district is entering its second school year under a systemic improvement plan signed with the state to avoid receivership.
That plan requires, among other things, that 95% of school buses get kids to class on time each month. BPS did not reach that goal last year, but earlier this summer, the district received limited praise from Jeff Riley, the state's education commissioner, for its progress.
"We are in a really, really solid place," Wu said at the bus yard Thursday morning. "I remember last year the Orange Line was still shut down at this point, and we were still coming back from hiring efforts after the pandemic."
BPS has also been making progress with reducing a shortage of bus monitors, who provide supports in particular to students with disabilities. According to the mayor, the district is starting the school year with 200 more bus monitors compared to last year.
Despite the progress in staffing, some Boston families, like Fitzgerald Allen and his grandson, Harley, say buses were still late to arrive Thursday morning. The pair were waiting for the school bus at a stop in Mattapan long after it was due to arrive.
"We might as well just walk to school, or go back to the house and drive there," said Harley, who is entering the fourth grade at the Henderson School in Dorchester. His bus was supposed to arrive at 7:49 a.m., but he and his grandfather were still waiting at 8:10 — with about 20 minutes left before the opening bell.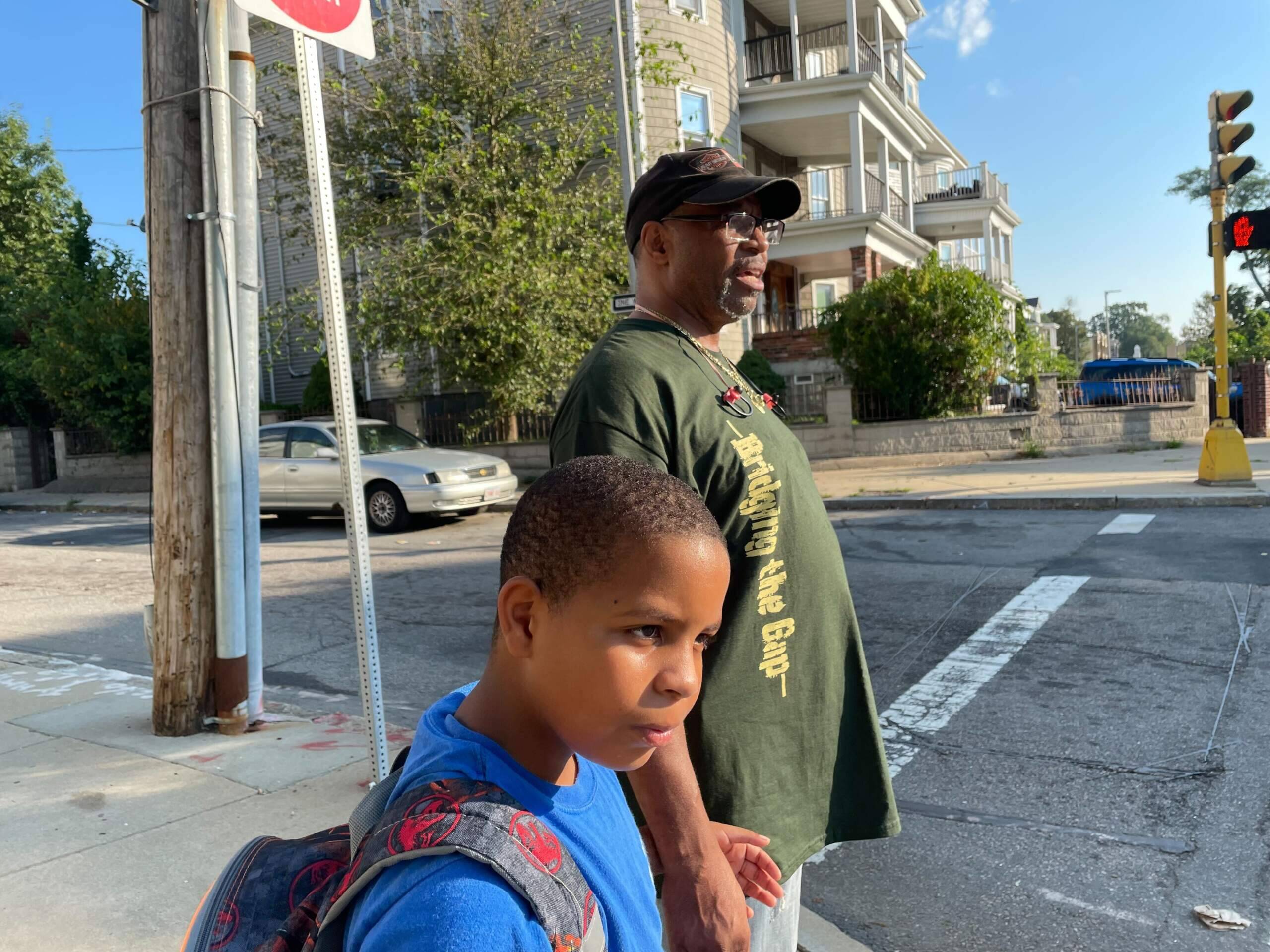 School bus delays for the first few days of the school year are common in many districts, as bus drivers and families get used to new routines, according to district transportation officials.
Allen said he's accustomed to lengthy waits at the start of the school year, but hope the service improves soon.
"I take it in stride, but I do look for us to do better," said Allen, himself a 35-year veteran of the trucking industry.
By day's end, 61% of BPS buses arrived at destination schools on time, compared with 50% last year. And 84% of buses arrived within 15 minutes of the starting bell, up from 77% last year, according to BPS spokesman Max Baker.
"We are constantly monitoring our performance and are making adjustments as needed," Baker said in a statement. He added that "all scheduled trips had bus driver coverage this morning, a significant improvement compared to day 1 last year when 3% of scheduled trips did not have a bus driver."
Fewer teacher vacancies
The transportation system isn't the only division of BPS that will begin the year with higher staffing levels. The district has fewer teacher vacancies this September. About 2.7% of classrooms will start the 2023-2024 school year without a full-time teacher, compared with a near-5% vacancy rate at this time last year.
While there was a lot of excitement in the air over the first day of classes, there was a bittersweet feeling at the P.A. Shaw Elementary School in Dorchester. The Shaw is set to merge with the nearby Taylor Elementary next school year.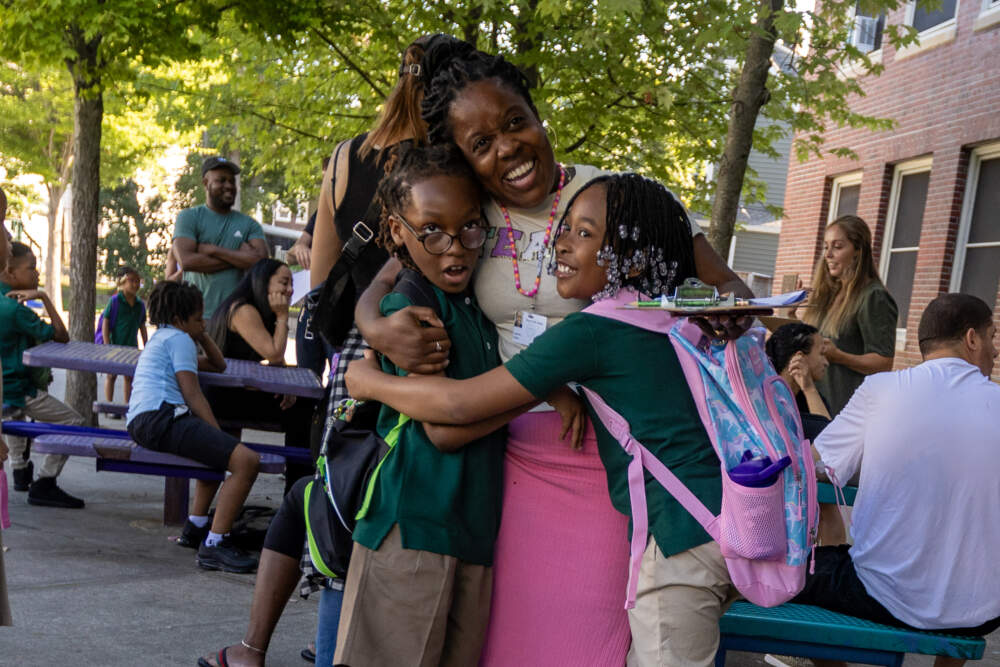 The Shaw is small, with just around 20 students per grade. Some families fear a loss of community with the upcoming merger.
Before classes began at 9:30 a.m., the Shaw staff set up an impromptu photo booth for returning students — complete with props, like a sign reading "When is lunch?" — in the schoolyard.
As the heat set in mid-morning, the Shaw's principal, Tinu Arowosegbe, confirmed that as of last year, the small school building on the corner of Morton and Norfolk Street is, thankfully, one of the 108 BPS schools that can count on at least some air conditioning for the year ahead.
Leaving the Shaw's schoolyard, one mom noted she was unexpectedly "ugly-crying" as she dropped off her third grader, adding: "I just hope she has a great day."