New Rep stages a timely production of 'A Raisin in the Sun'
Something is eating at Walter Lee Younger.
Walter — a Black father, husband, son and brother living in Chicago's southside — is restless with want. Played by Damon Singletary, Walter spends his day working as a chauffeur and his nights are spent drinking with his friends and dreaming of a better life. But he's misguided in his attempts at socio-economic ascension, and the systemic racism at play ties him down. Walter's mind buzzes with business ideas that no one listens to, and soon, his unbridled, volcanic anger threatens to rip his family apart in Lorraine Hansberry's "A Raisin in the Sun." The New Repertory Theatre production of this seminal work runs now through Oct. 1.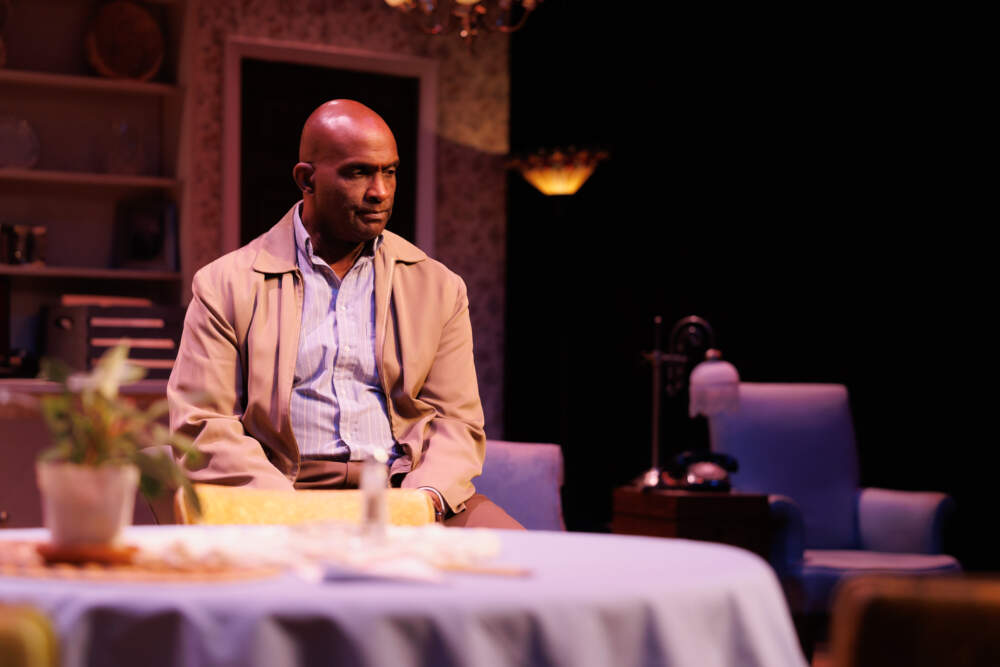 In the Younger family's apartment — a well-done replica of a 1950s living room and kitchen with linoleum floors, mustard-colored dining chairs and flowered wallpaper courtesy of scenic designer Janie E. Howland — there's laughter, dancing, conflict and an undercurrent of sadness that often bubbles to the surface when Walter is around. Everyone in the family yearns for something: Walter's dutiful wife Ruth (a perfectly restrained Lorraine Victoria Kanyike) and his mom Lena (a superb, natural performance from Juanita Rodrigues) want a home. His non-God-fearing, headstrong sister Beneatha (a memorable Valyn Lyric Turner) wants to be a doctor. Walter and Lena's sweet-tempered son Travis (Joshua McKenna) aims to be a bus driver. And Walter, well, he wants to win at something, preferably business, but anything will do. But he doesn't care much for or consider the preciousness of others' dreams. He treads upon and pokes fun at them while simultaneously stewing in anger when the world mocks his own.
Hansberry was the first African American woman to get her work on Broadway with "A Raisin in the Sun," making her a star in 1959. Hansberry, who hails from Chicago, also wrote "The Sign in Sidney Brustein's Window" six years later that had a short Broadway run, too. Still, "A Raisin in the Sun" remains her best-known work and was turned into a film in 1961 and again in 2008 with accomplished performers such as Ruby Dee, Sidney Poitier and Louis Gossett Jr. in the earlier version and Sean Combs, Audra McDonald, Phylicia Rashad and Sanaa Lathan in the latter.
Over the last couple of years, New Repertory Theatre has offered a variety of programming including virtual and moving plays, musical storytelling events and more. This season, the theater, which was closed a little longer than others due to the pandemic, has gotten off to a strong production start with "The Normal Heart," about the AIDS epidemic. Running alongside "A Raisin in the Sun," is "Diaspora!" (Sept. 12-Oct.15), written by former WBUR community arts journalism fellow Phaedra Michelle Scott and directed by 2021 ARTery 25 cohort member Pascale Florestal. "Diaspora!" focuses on the journey of Sunny, a writer searching history to find a long lost grandparent and features some of the actors from "A Raisin in the Sun," including Kanyike and Turner along with the design team.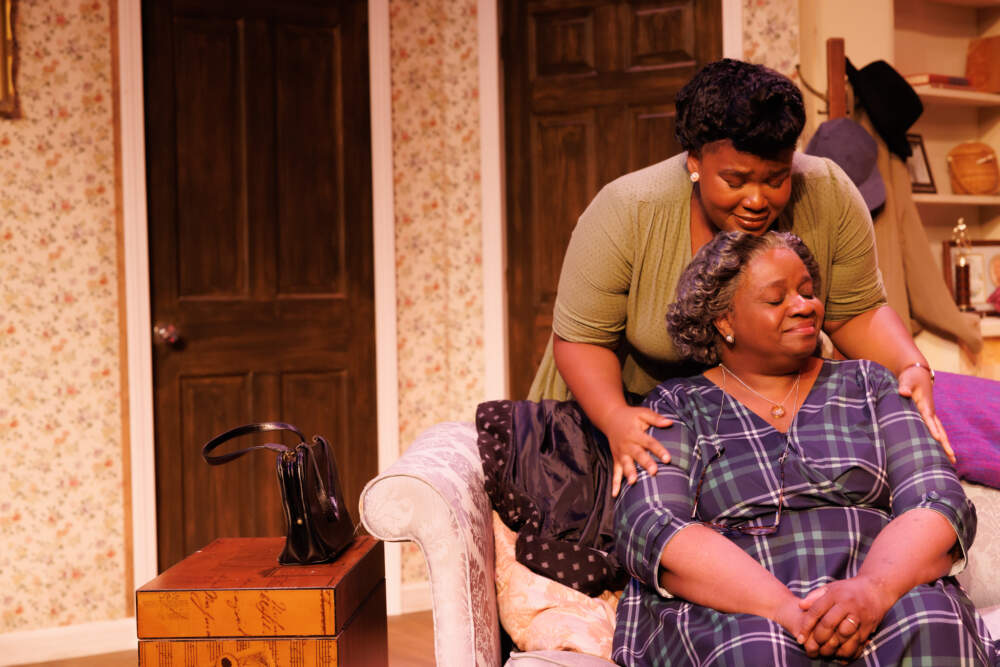 The show's title, "A Raisin in the Sun," is a nod to Langston Hughes' famous poem "Harlem," where Hughes elegantly talks of what occurs when potential isn't reached, and hope is scant. Hansberry's script — augmented by apropos musical choices by sound designer James Cannon, direction by Lois Roach and costuming designed by Becca Jewett — mirrors this plight when the family receives an insurance check after the death of Big Walter. For the Youngers, it represents an opportunity for all, but who decides whose vision matters most?
Hansberry's poignant tale has some dated language and deplorable stances — lots of utterances of "golly, mama" from Travis and self-loathing talk (full of admonishment of Black people) from Walter that's hard to hear — but some of the themes, hopelessness, poverty, sexism and injustice persist today. For instance, Beneatha could absolutely be a doctor, but the odds are still not favorable today. A 2021 study published in the Journal of General Internal Medicine analyzed representation and incomes for Black physicians from 1900-2018.  In 1940, 2.8% of physicians were Black, 2.7% were Black men and 0.1% were Black women. By 2018, the number of Black doctors rose to 5.4%, 2.6% of whom were Black men and 2.8% of whom were Black women.
Turner's Beneatha chides her brother in the narrative, calling him a titan of industry. Walter becoming a business leader (complete with the offices he talks of) could happen. Still, in 2023, only eight Black CEOs lead Fortune 500 companies, according to Yahoo! Finance. While Black homeownership (Lena and Ruth's goal) and wealth are on the rise, Black people still lag overall in owning homes, according to a 2022 National Association of Realtors study and there is still a gap in wealth (which is needed to purchase those properties) also according to CNBC reporting.
The stats both then and now are dismal. Beneatha knows the chance of affecting significant change are against her, but her crush, Joseph Asagai, a student from Nigeria, gives her a loving but firm talking to about persisting anyway, about being the answer to the swirling questions plaguing her mind. Joshua Olumide's Asagai soars in this potent scene, quaking as he embodies the hardworking, idealistic character. He demonstrates how much he cares for her by pushing her to see the bigger picture and to figure out what's next. He delivers a searing and lingering line that asks what kind of world we live in when everyone's dreams are tied to the death of a man?
Nevertheless, what anchors the play is that it's essential to hold fast to dreams and dignity, to forgive those you love with grace, and to persist despite the odds.
---
New Repertory Theatre's production of "A Raisin in the Sun" runs through Oct. 1.