'Half-God of Rainfall' at A.R.T. gets halfway to paradise — but not all the way
Inua Ellams' sweeping epic poem, "Half-God of Rainfall," embraces Greek and Yoruba mythology, as well as basketball gods and those most powerful beings in the universe, mothers.
Capturing so many characters, locations and themes within a 90-minute, theatrical setting might be daunting, but director Taibi Magar and her creative team allow the beauty of Ellams' language to take center stage, choosing elegant simplicity for their American Repertory Theater co-world premiere with the New York Theatre Workshop, now playing in Cambridge through Sept. 24. The challenge Magar and team can't quite overcome is that while on the page, Ellams' poetry soars, on the stage it becomes tangled and, well, earth-bound. Separately, the many plot and character zigs and zags are compelling, and beautifully staged, but without a coherent throughline, they never come together as a unified dramatic experience. (A.R.T. previously staged Ellams' "The Barber Shop Chronicles.")
That is no fault of Magar's stunning ensemble or her creative team. The seven actors on stage open the play by introducing themselves and the characters they are playing ­— only Mister Fitzgerald as Demi plays just one character. As the story unfolds these gifted performers morph from one character to another, acknowledging the oral tradition of storytelling by addressing the audience directly to move the story forward in the third person before adding a hat or an accent and shifting into first person narration. With so many people shifting from narrator to character, keeping everyone straight can be challenging, especially when we are slipping back and forth between time, space, even mythologies. (Magar has previously directed "Twilight: Los Angeles 1992," "Macbeth in Stride" and "We Live in Cairo" at A.R.T.)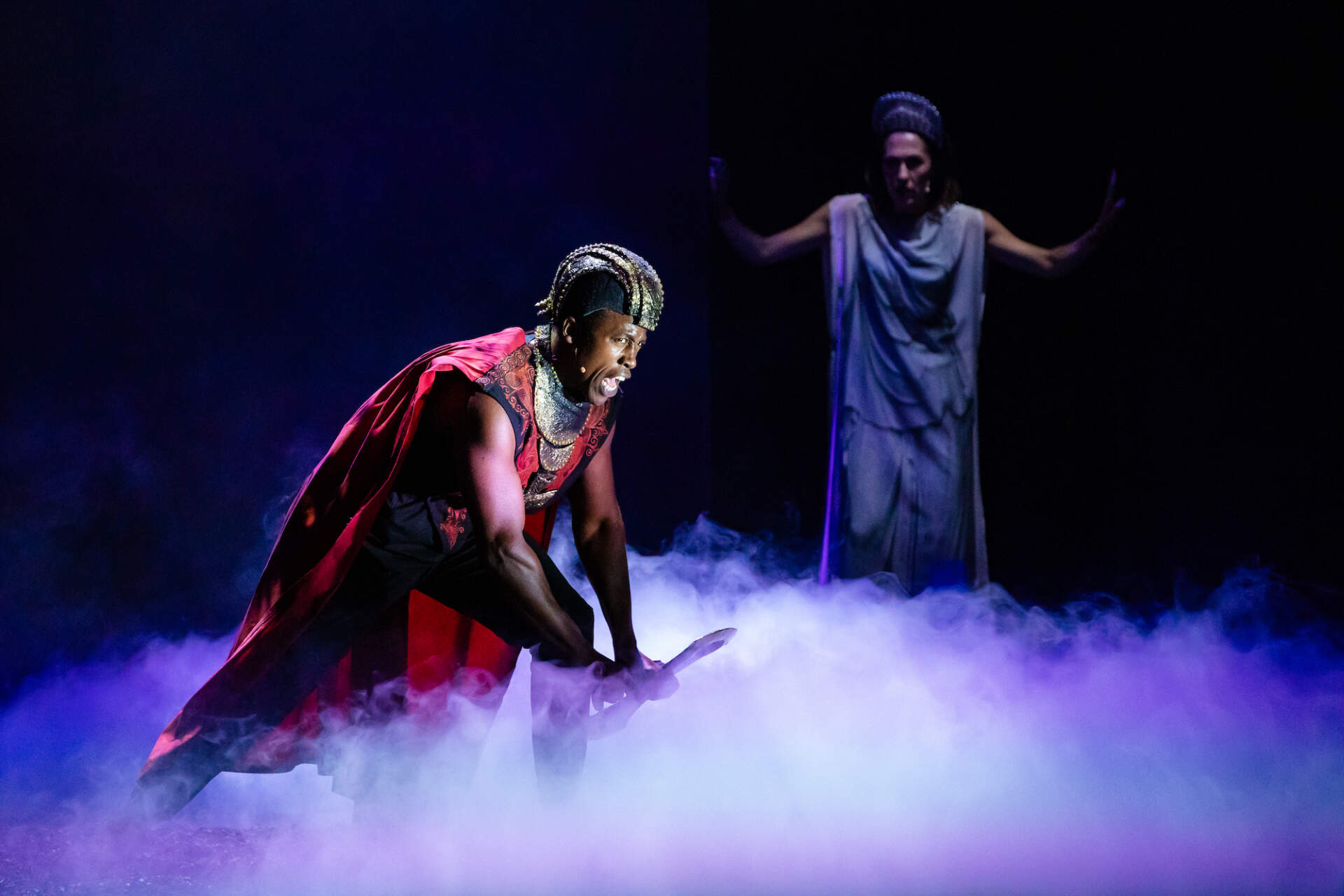 On the surface, Ellams' story traces the journey of Demi, a young Nigerian whose mother Modúpé (Jennifer Mogbock), a favorite of the Yoruban goddess Osún (Patrice Johnson Chevannes), was conceived when Zeus (Michael Laurence) raped Modúpé. One of Demi's more unfortunate god-like qualities occurs when he is sad – his tears cause rivers to overflow and turn his schoolmates' basketball court (the favorite game) into mud. He's banned from playing and taunted by his peers until he accidentally gains control of the ball and — swoosh! — he can't miss.
Taken under the wing of a coach (an outstanding Jason Bowen, onetime Actors Shakespeare Project company member) who uses Sun Tzu's "The Art of War" as his playbook, Demi becomes an NBA star for the Golden State Warriors, where he meets the former Nigerian NBA superstar Hakeem Olajuan. Olajuan patiently explains that several NBA stars were also demigods who were banned from the sport after Michael Jordan flew across the court. By defying the rule, Demi must face his father's wrath, but he sees this as an opportunity to revenge his mother's rape. When things don't go as planned, his mother must confront Zeus, and she gathers the anguish of all the women who have been abused by men to end his tyranny.
It's a lot, I know, and on the page, Ellams' lush poem careens from playful to muscular and aggressive, from language that summons heroic traditions to intimate moments of a mother's love. On stage, however, the left turns can produce a bit of whiplash and keeping the players straight can be confusing. Still, Majar and her team provide such a sumptuous backdrop for the proceedings, it almost works. Riccardo Hernández's spare set makes room for a series of potent battlefields – on makeshift basketball courts in Nigeria, at a Yoruban goddess's lakeside altar, in an NBA basketball arena and in the halls of Mount Olympus — all brought to vivid life with Tal Yarden's gorgeous projections.
Linda Cho's flexible costume pieces, accented by character-defining headpieces and the exquisite use of fabric, denote props and set pieces depending on the mood or the moment. A simple cloth ripples like the waves of a river, another represents a woman's power, her life force and her connection to her son. The depiction of a rape, only suggested by the terror in Modúpé's eyes, is more horrifying for what it does not portray.
The simple, precise movements directed by Orlando Pabotoy, along with movement consulting and choreography by Beatrice Capote outline actions that range from a goddess's command of the water to the layups and shooting drills that make Demi a basketball star. And Stacey Derosier's lighting, along with the effective use of smoke, provide the otherworldly atmosphere that let us know we are among gods, no matter how badly the male gods behave.
Despite Magar's heroic efforts at effective transitions between scenes,  the play's ambitions are too much for the boundaries of the dramatic stage. Until Ellams can commit to a more unified dramatic structure, the story, like its hero, is caught between two worlds.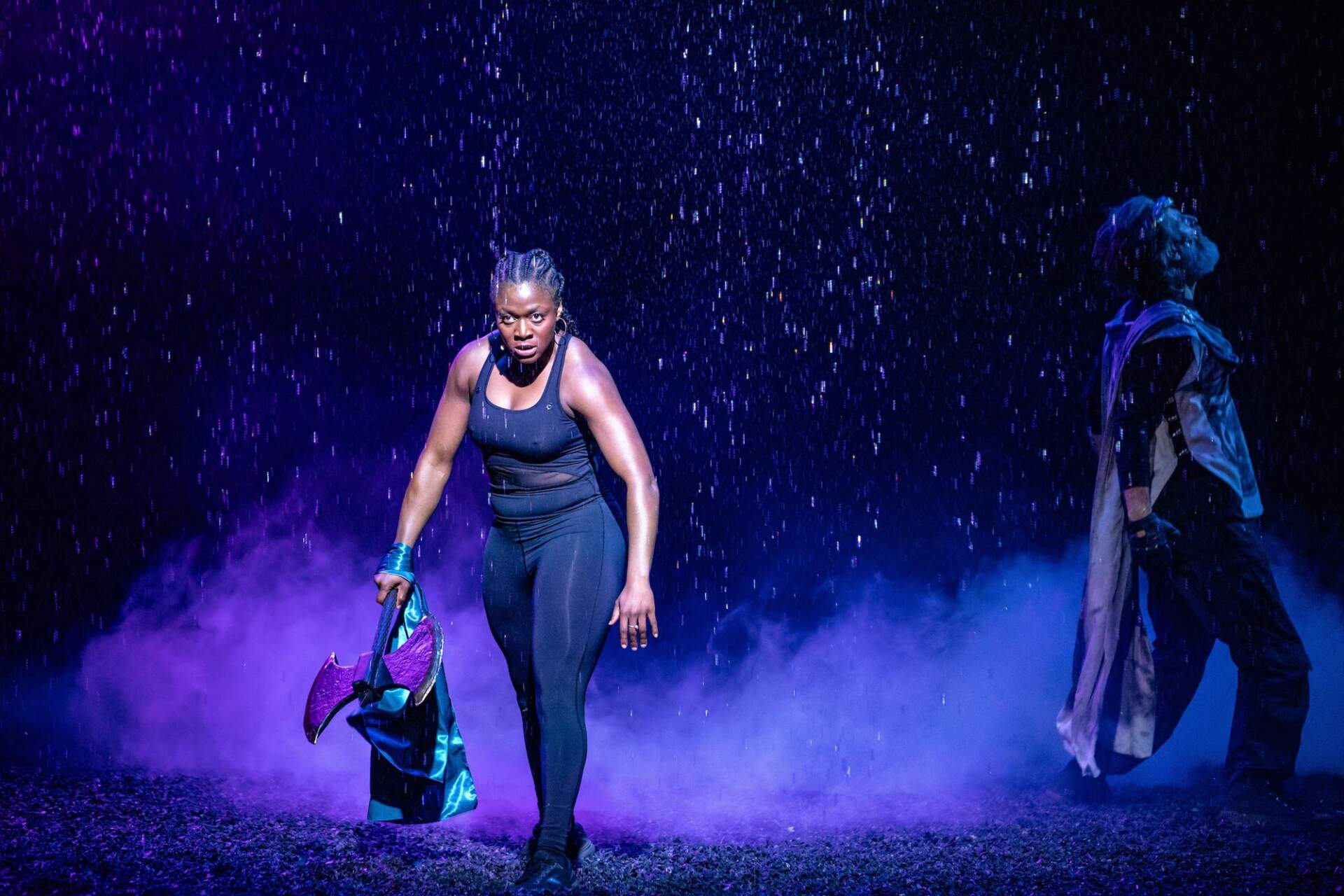 ---
"Half-God of Rainfall" continues at the American Repertory Theater's Loeb Drama Center through Sept. 24.