Healey declares state of emergency as Hurricane Lee churns north, bringing high waves and wind to coast
Resume
Gov. Maura Healey declared a state of emergency on Friday as Hurricane Lee moves past Massachusetts.
Though Lee will likely make landfall somewhere near the western tip of Nova Scotia, ultimately bypassing Massachusetts a couple hundred miles to the state's east, emergency officials say they want to be prepared.
The governor announced at a press conference that she is activating up to 50 members of the National Guard to aid the coastal communities expected to the bear the brunt of Hurricane Lee's impacts. These units will be able to operate specialized high-water rescue vehicles capable of navigating flood waters, a service requested by at least 10 towns, she said.
"As we've seen in recent weeks, severe weather is not to be taken lightly. Flooding, wind damage, downed trees — all of these things create real hazards and problems for people," Healey said, noting there have already been reports of power outages.
Sen. Ed Markey said this brush with Hurricane Lee is the latest in a series of extreme weather events to hit the state. In July, flash flooding led to major crop loss in over 100 western Massachusetts farms. Flash flooding also led to millions of dollars in damages to homes, businesses and infrastructure in Leominster and North Attleborough on Tuesday.
"This extreme weather isn't a coincidence. It's the climate crisis announcing its arrival. It's not bad luck. It's years of deliberate obstruction of the changes we need to make to stop the climate crisis and secure a livable future," Markey said.
As of Friday morning, Hurricane Lee is 490 miles south-southeast of Nantucket and has picked up forward speed, moving north at 16 mph. Parts of the Massachusetts coastline, including Boston, remain under a tropical warning.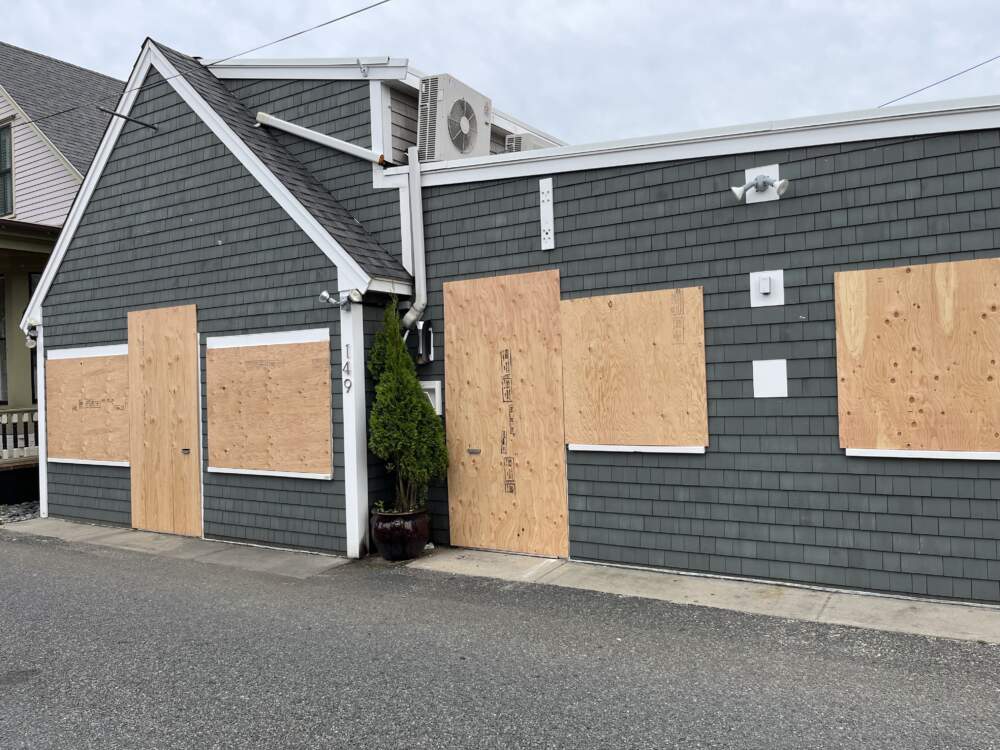 Massachusetts residents on the Cape and Islands will face the most severe Lee impacts Saturday, while the majority of the state will see little to no significant damage from the storm.
Lee remains a Category 1 hurricane, as of Friday morning. However, the system is expected to gradually weaken and transition to an extra-tropical storm.
Chip Reilly, an emergency preparedness specialist in Barnstable County, said the latest track of the storm shows it heading farther east than originally projected. That said, coastal communities should still remain on alert.
"We still will be in the wind field," he said. "We're expecting some coastal flooding on the north-facing beaches, but every model run seems to be getting a little bit better for us.
"We never count on that until the storm gets here, and we really see what we have."
---
Coastal impacts
Waves near Lee's center have reached incredible heights, with 30- to 40-foot seas reported by offshore Atlantic buoys.
While Massachusetts won't see surf anywhere near that extreme, waves will build 6 to 12 feet by Friday's end, with 8- to 16-foot seas (or even higher offshore of the outer Cape) through Saturday.
The entire coast of Massachusetts is under a high surf advisory. Large breaking waves are expected to create a high risk of rip currents and significant beach erosion. Anyone hoping to watch the waves during the storm should exercise extreme caution and avoid getting too close to the water.
Minor coastal flooding will occur during high tide around midnight and once again at around noon Saturday.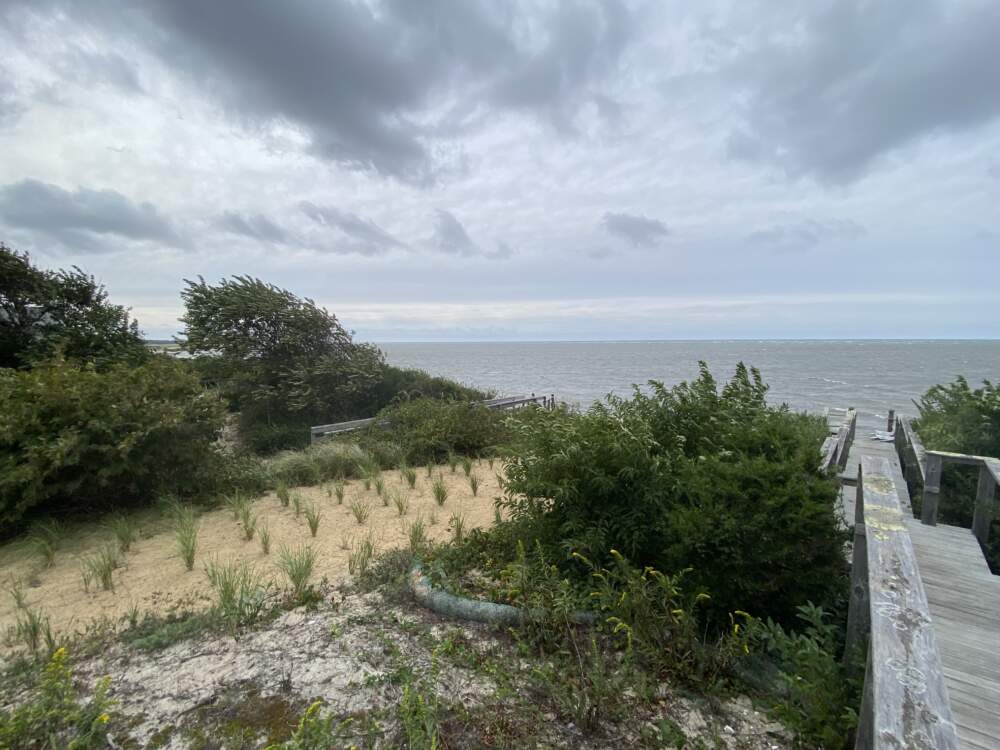 Cape Cod, particularly areas near the bay, will see some moderate flooding. On Nantucket, residents should expect some waters to wash to over onto coastal roads.
MBTA ferries are facing service disruptions due to the oncoming storm. The agency is canceling all ferry trips on Saturday, with a series of cancelations Friday night.
All inbound and outbound trips on the Lynn ferry are canceled Friday. Trips on East Boston ferry are canceled after the 6:45 p.m. outbound trip to Lewis Mall Wharf on Friday. Ferry rides to Charlestown will be canceled after the Friday 6:30 p.m. trip to Charlestown Navy Yard. Hingham/Hull Ferry rides will be canceled after the 8:25 p.m. outbound trip. Winthrop Ferry and Hingham-Rowes Wharf Ferry services will run as usual on Friday.
The Steamship Authority, which runs ferries to and from Martha's Vineyard and Nantucket, said it expects it will cancel both routes Saturday. It added that the length of the service disruptions will depend on how fast Lee moves through the area, sea and wind conditions and how its facilities are operating.
---
Isolated wind damage
Winds from the north will increase throughout Friday, peaking after midnight into Saturday midday. Wind won't be an issue for most of Massachusetts.
Gusts of 50 to 60 mph are likely for Cape Cod, with isolated squalls up to 70 mph possible on the outer Cape and Nantucket. Boston will see winds between 40 to 45 mph, with isolated gusts of 50 mph possible.
For the remainder of the eastern Massachusetts coastline, gusts to 45 mph will be common, and shouldn't be strong enough to cause more than some pockets of outages or damage. But fully-leafed trees and an already-saturated ground from storms earlier in the week will make it more easier for trees to blow over. Away from the immediate shore, wind is not a concern.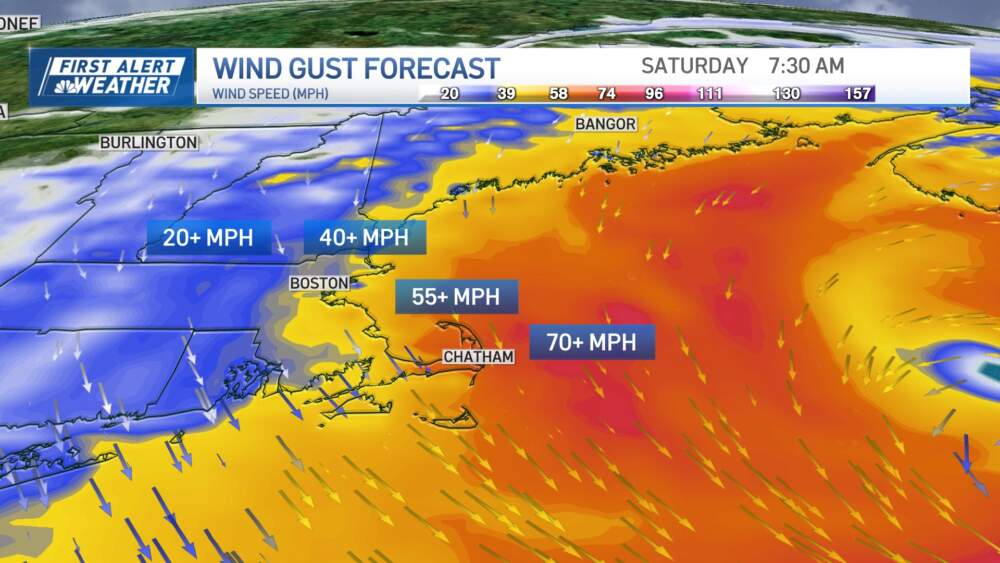 ---
Not much rain
Rain will begin on the Cape and Islands Friday evening, pressing northwestward overnight into Saturday morning, perhaps making it to the 495 belt of central Massachusets briefly. The heaviest bands of and tropical downpours will be confined to Cape Cod Saturday morning.
Rain will taper in intensity and coverage around midday Saturday, lingering as some showers on Cape Cod until mid to late afternoon.
It's uncertain how far west the edge of the rain bands will extend. Rainfall totals will range from 1 to 2 inches on the mid and outer Cape and Nantucket, 0.5 to 1 inch near the Cape Cod canal and 0.1 inch or less in and around Boston and the rest of eastern Massachusetts.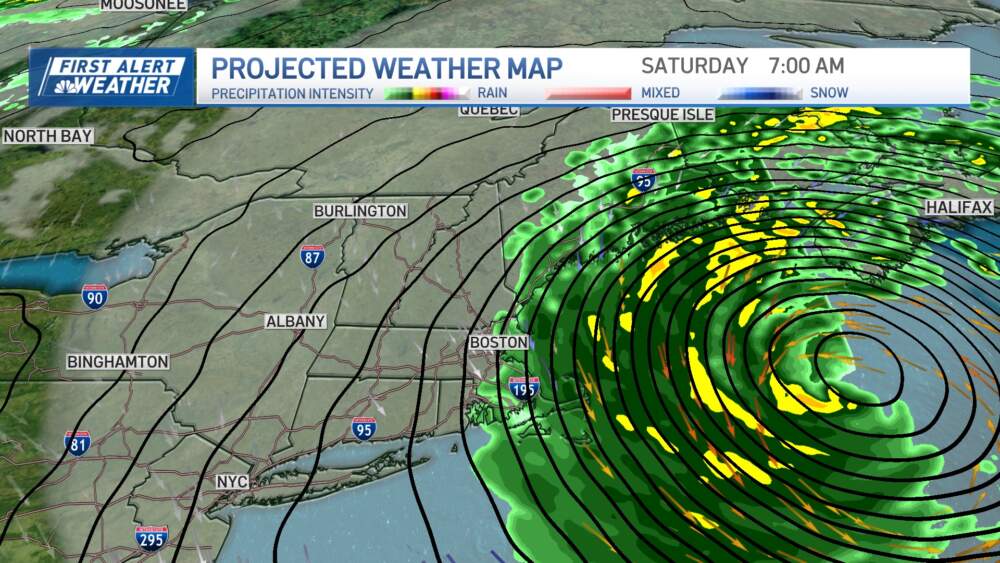 ---
Long gone by Sunday, quiet next week
Lee will approach Newfoundland by Sunday. Some Massachusetts residents may actually see breaks of sun (particularly inland) by Saturday afternoon and evening. Skies clear out Saturday night. And, Sunday looks like an awesome day, with highs in the 70s, low humidity and a blend of sun and clouds.
Aside from showers on Monday, a quieter weather pattern takes hold for next week with a fantastic stretch of days featuring bright skies, cooler nights and dry conditions. In fact, it looks like the great weather will last into next weekend.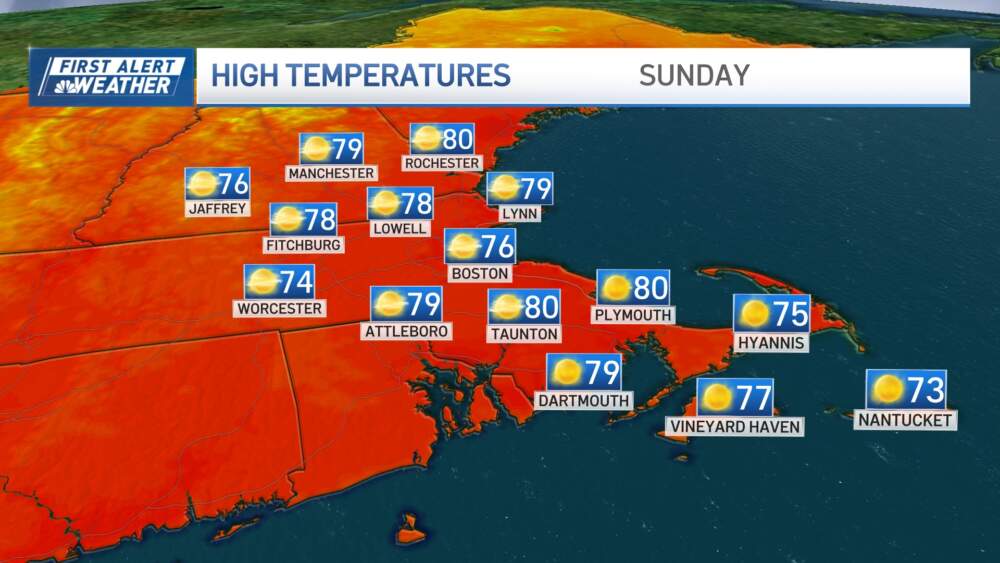 ---
With additional reporting from WBUR's Newscast Unit
WBUR's Steve Brown spoke with Barnstable County Emergency Preparedness Specialist Chip Reilly Friday afternoon about Hurricane Lee's expected effect on the region. You can listen to that conversation above.
This segment aired on September 15, 2023.