'We started getting just planes of people': Logan Airport team scrambles to help newly arrived migrants
Resume
Each night, workers at Logan Airport provide cots for travelers with canceled flights. But lately, they're also providing temporary beds for immigrants seeking refuge in Massachusetts. Since July 11, Logan's Crisis Response Team has assisted over 1,600 new arrivals.
"We'll have people that haven't eaten in days. And so, we've had troopers or [Logan] employees buy 15 pizzas," said Kate Moore, director of emergency services for North Suffolk Community Services, an organization that provides social workers for the crisis team.
For the past decade, Moore and her colleagues have worked alongside state troopers to care for anyone in distress passing through Logan. Typically, they help people who are suicidal, drank too much, or are traveling because of a personal loss. This summer, their mission expanded significantly.
"We started getting just planes of people coming from Texas and other border states being flown up to Massachusetts and not knowing what they're supposed to do once they get to the airport," she said.
Logan, the largest international airport in New England, is the latest spot to feel the effects of the southern border crisis. Immigrants who arrive at night with nowhere else to go are sleeping at the airport. The numbers can vary from half a dozen immigrants to 70 on one especially busy night.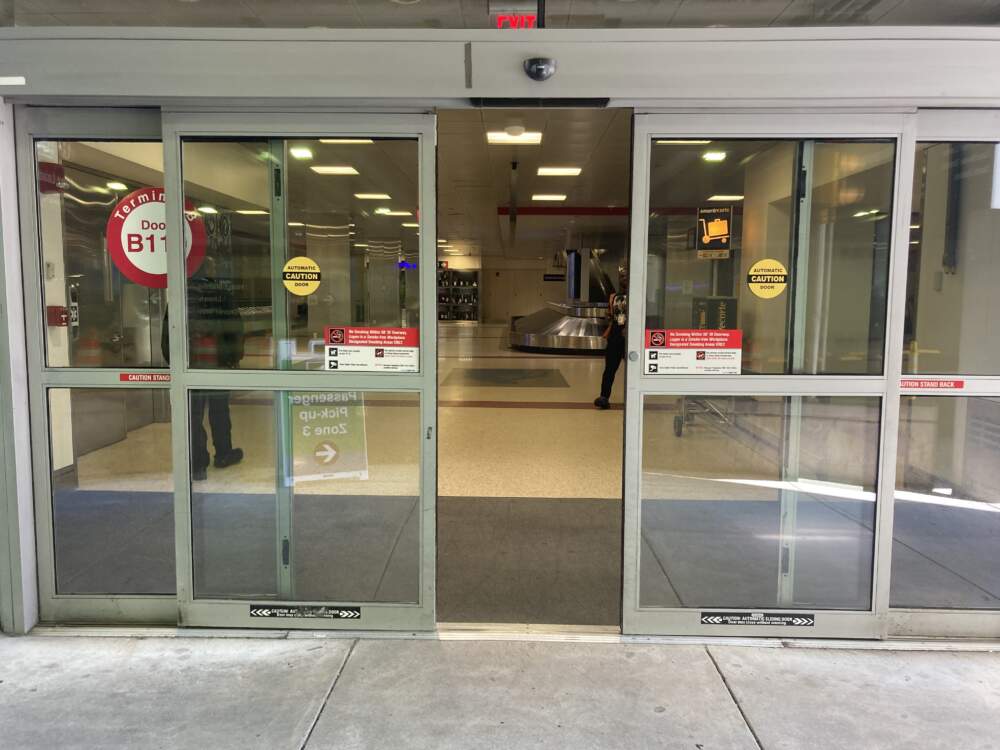 In response, Moore's team has developed a new routine. As the sun comes up every morning, they do a sweep.
"Just literally walking around the airport looking for families," Moore said.
Many of these families are likely to end up in the state-run family shelter system. A Massachusetts law guarantees many families a right to shelter, and the state-funded system has seen a rapid increase in recent months. Over the past year, its caseload has doubled to a record 6,453 families, as of Friday.
This rapid rise in family homelessness is partly driven by newcomers, many of whom have been on arduous, years-long journeys from Haiti to the U.S.
Over the summer, Gov. Maura Healey announced a state of emergency in the shelter system, calling the situation unsustainable. She later activated up to 250 National Guard members to help manage overflow shelters that don't have the usual shelter staff.
School districts and cities and towns with shelters have struggled to figure out how best to respond. But so far, the situation at Logan Airport has largely flown under the radar.
'Happy to see fruit'
As the Crisis Response Team stepped up to assist families at the airport, Moore said communication was a particular challenge. At first, the team used a translation app to piece together information and asked airport staff to help translate for the many new arrivals that didn't speak English.
"We were grabbing other workers from the airport, like the people that work at Dunkin' Donuts or cleaners," Moore said.
Now, several troopers who speak Haitian Creole have been assigned to Logan, and the Crisis Response Team has printed fliers to explain who they are and how they can help. Through a contract with the state's Department of Mental Health, Moore's team will be expanding from a single clinician to two clinicians and two caseworkers. Volunteer organizations have also been helping out.
On weekends this summer, the Boston Immigration Justice Accompaniment Network, or BIJAN, sometimes brought breakfast for the immigrants.
"They were most happy to see fruit," said Judy Wolberg, a volunteer with BIJAN, which coordinated its efforts with the state's Office of Refugees and Immigrants. "And they were very happy to get toothbrushes and toothpaste, and deodorant and sanitary napkins and diapers."
Wolberg said she was "incredibly impressed" by what the families have endured for the chance of a better life.
"They were exhausted looking, and they really weren't clear about what was going to come next," she said.
"We'll have people that haven't eaten in days. And so, we've had troopers or Massport employees buy 15 pizzas."

Kate Moore, North Suffolk Community Services
The Massachusetts State Police did not respond to multiple requests for comment for this story.
Massport, which oversees Logan, declined to provide details on how much it is spending on the effort to help new immigrants. In a statement, airport officials expressed concerns that Logan lacks the resources and services needed for new arrivals.
"Logan is not an appropriate place to house people," the statement said. "We continue to work with our partners in state government on other solutions."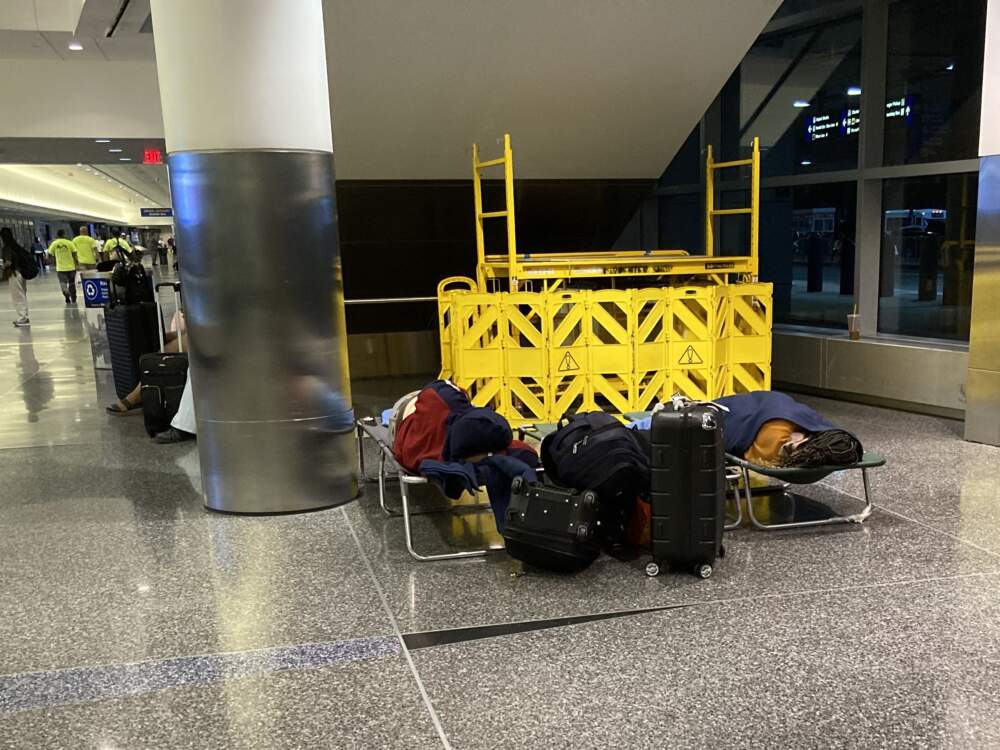 Sleeping on cots near a baggage claim is few people's first choice, but the airport became a go-to as other local sites became overwhelmed earlier this summer.
'We're a side door'
Before new immigrants began sleeping at Logan, they were going to hospital emergency departments.
For about a decade, many families experiencing homelessness in Massachusetts have turned to hospitals for help. Often, they stayed in emergency room lobbies, sometimes for days, while applying to enter the state's unique family shelter system.
The number of families arriving at hospitals solely because they needed a roof over their heads was steady for years, but it shot up in 2022 — and in 2023 it ballooned even more.
"It was profound," said Melissa Deane, who runs the ER social work team at Boston Children's Hospital.
She says one night this past July, there were 77 parents and children sleeping in her hospital's lobby. Boston Children's activated the emergency management team, organizing shower schedules, activities for the kids and psychological support, among other services. The kitchen crew worked extra hard, as did the custodial team.
"If we're giving everyone Cheetos for lunch, you can imagine what the carpet's going to look like," Deane said.
She estimates that 70% of the unhoused families helped by Boston Children's over the summer were newly arrived immigrants.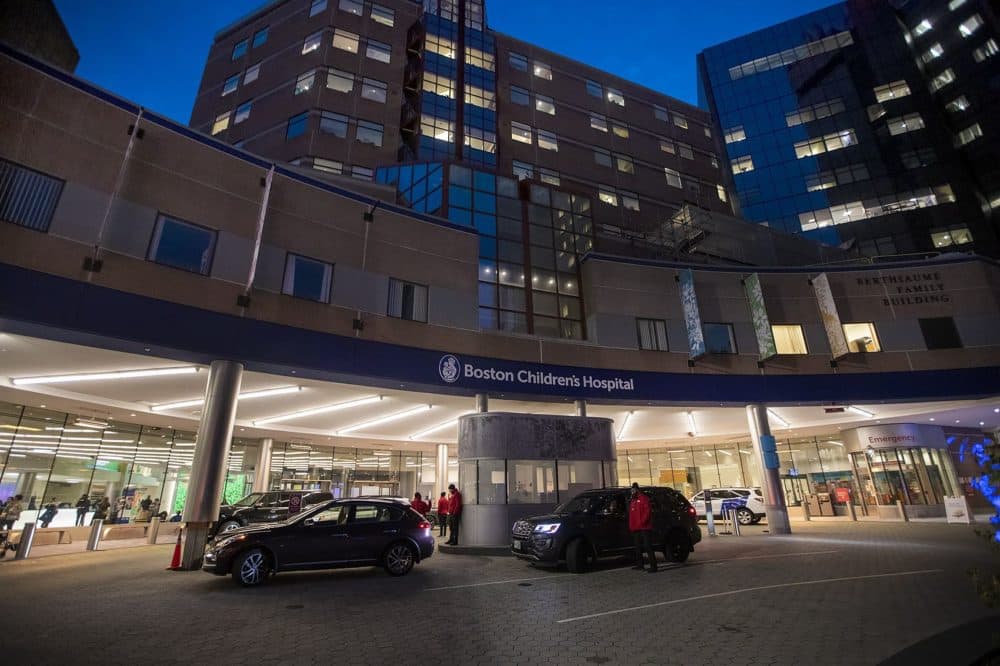 At the same time, Boston Medical Center saw a sharp rise in the number of families coming to its doors. After more than 130 people slept on the lobby floor in a single night, hospital administrators decided to make a change. They stopped allowing families to stay overnight, and started providing taxi vouchers for families to go elsewhere, including Logan airport because it is open 24 hours a day.
In June and July, the state took steps to ease the crush on emergency departments, opening two welcome centers for newly arrived immigrant families. The centers in Boston and Quincy provide some basics like food and diapers. They also give families a place to sleep while they apply for shelter.
"This is not a smooth system. It's not to say that we are out of the woods," said Kate Walsh, secretary of health and human services for Massachusetts. "But we have a process where people who are newly arrived to our country can get basic health care screening, connection to the services that they need and a roof over their heads."
As of Friday, the centers have served 1,618 families.
After the centers opened, Boston Children's saw its numbers ease. Deane realized that hospitals were no longer the front door to the state's family shelter system.
"We're a side door," she said. "We have maybe 13 people today that we're sending out."
"This is not a smooth system. It's not to say that we are out of the woods, but we have a process."

Kate Walsh, Secretary of Health and Human Services for Massachusetts
While the family welcome centers do connect people to resources, the system remains imperfect.
Family shelters are not available for individuals. Plus, many newly arrived families still need help finding the centers and getting transportation to them — and they need a place to sleep if they arrive when everything is closed. That burden increasingly falls to Logan.
'A chartered bus'
On a typical morning, a state trooper makes his way around the airport's terminals, gently waking people up. He takes pictures of their passports and asks the new arrivals where they came from. In Haitian Creole, he explains the state system. Then, he helps arrange taxi vouchers to take newcomers to state offices to apply for shelter.
"When we have enough people — because sometimes we have upwards of 60 people at one time — they'll get a chartered bus and send them," explained Kate Moore.
She said she's been impressed by the response at Logan, both from airport officials and workers. "The humanity that we've seen in this crisis has been incredible," she said.
But, she quickly added, the situation is "completely unsustainable. We worry — how long can this go on for?"
As the newcomers head out of the terminal and into an uncertain future, a recording plays overhead. From speakers in the ceiling, Gov. Healey's voice welcomes vacationers, business travelers and others: "In Massachusetts, no matter who you are or where you're from, we welcome you."
This article was originally published on September 18, 2023.
This segment aired on September 18, 2023.