Mavs Coach Carlisle On DeAndre Jordan, Becky Hammon And Sharknado 3
04:17
Play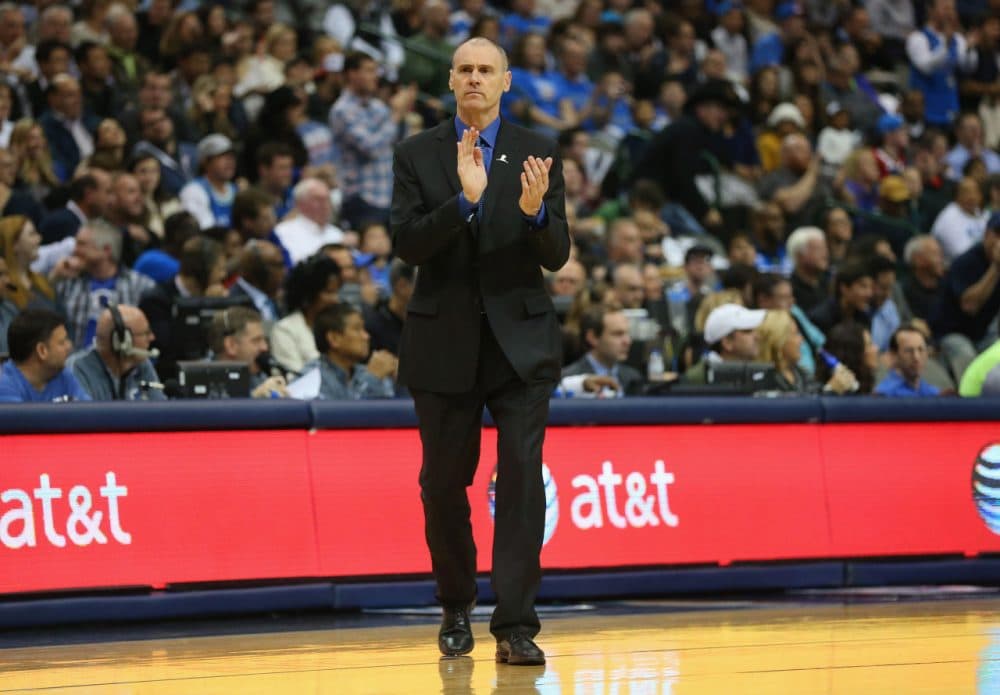 This article is more than 5 years old.
In the NBA's summer leagues, rookies and other young players try to show off their skills. This year there were three leagues – one in Orlando, another in Utah – but the biggest by far was in Las Vegas with 24 teams. Summer league stats usually fade from memory quickly, but Becky Hammon's debut as the NBA's first female summer league head coach made history.
Dallas Mavericks head coach and NBA Coaches Association President Rick Carlisle spoke with Only A Game guest host Shira Springer.
---
Highlights from Shira's conversation with Rick Carlisle:
SS: Rick, before we get to Becky Hammon and the Las Vegas summer league, I want to ask you about the biggest story of the off-season so far – one that involves the Mavericks. L.A. Clippers center DeAndre Jordan agreed to sign with Dallas, but before he put pen to paper he backed out and returned to the Clippers. What was your view of that situation?
"I've got an 11-year-old daughter who's going to have big dreams. I want her to be able to see people like Becky Hammon."

Rick Carlisle, Mavs Head Coach
RC: It was a difficult thing for us, because it was a signing that would have really changed our present and future. The interim period, that passed, a lot of other free agents came off the board, so it was tough. We had some bad luck with it. When someone changes their mind, you hope they're doing it for the right reasons. You hope that they're forthright and honest about it. And then we gotta move forward, which we have. And we recovered well. We picked up a couple of other very good free agents and made a couple of trades and so, we're moving forward.
SS: OK, let's turn to Becky Hammon. She's is an assistant coach for San Antonio. Assistants usually coach summer league teams, and the Spurs made Hammon the first female summer league head coach in history. And she made the most of it — guiding her squad to the league title. You were in Vegas. Were you impressed with her work on the sideline?
RC: Oh yeah, very much. When she got the position last fall, you know, there was a lot of attention given to it. I really admire the sort of class and dignity with which she handled the entire thing. For me, I've got an 11-year-old daughter who's going to have big dreams. I want her to be able to see people like Becky Hammon. And I don't think we should overlook Nancy Lieberman. She was the first woman to coach a professional men's team in any sport. She coached the Texas Legends D-League team four years ago, and coached them to a playoff berth. I do think it's very important as an NBA head coach to be open to the possibility that you could learn a lot of things from a lot of different kinds of people.
"The Perfect Shot" Trailer: 
https://www.youtube.com/watch?v=eDgRMdT1QVI
SS: I'm not sure if you like movies. But if you had to pick one to see — Mavericks owner Mark Cuban as U.S. president in the new "Sharknado 3" --- or Mavericks franchise player Dirk Nowitzki in his biographical movie "The Perfect Shot" which one would it be?
RC: Well, I've already seen "The Perfect Shot." I actually was with a small group that traveled over on our team plane last year to Cologne, Germany to see the opening. And it is fantastic.
The Sharknado thing, I don't know much about it. But if I know my owner, that will be entertaining, too.
This segment aired on July 25, 2015.