Going On 50: Don Crisman And The 'Never Miss A Super Bowl Club'
Play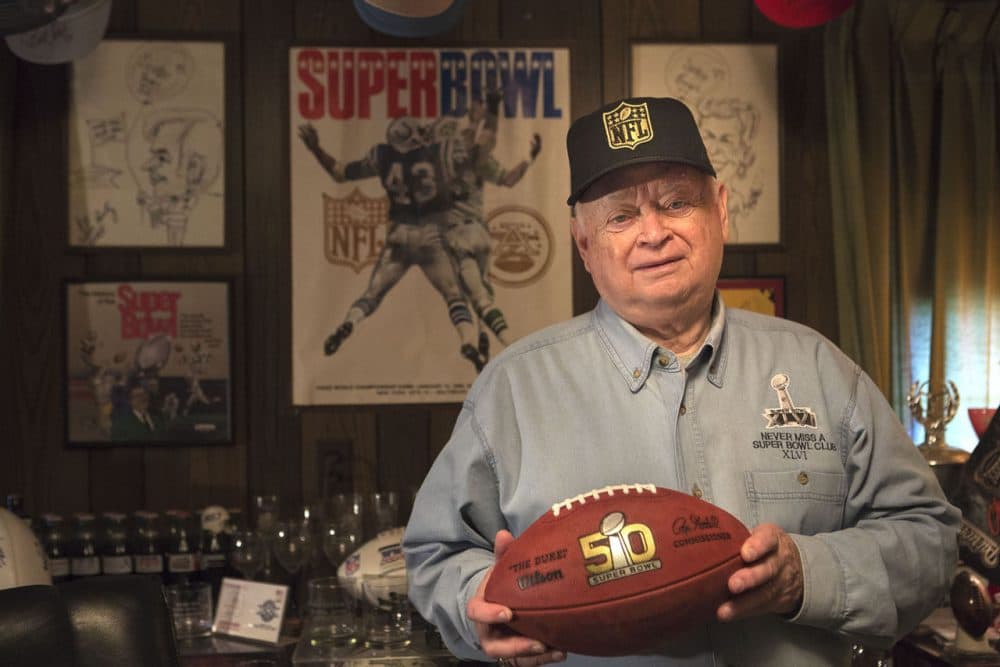 This article is more than 6 years old.
Don Crisman leads me into his living room, crammed with Super Bowl memorabilia — hats, pennants, signed footballs and jerseys. He brushes the dust off of a glass frame — he says his wife refuses to clean this room — and points to the three older gentlemen in the photo.
"This is myself, Tom Henschel of Pittsburg and Larry Jacobson of San Francisco," Crisman says.
My streak almost ended before it began.

Don Crisman
"And have you always known each other?" I ask.
"No, we met along the way."
We'll get to Henschel and Jacobson in a bit.
Crisman started the Never Miss A Super Bowl club with a different group of men in Denver, Colorado.
'It Was Like A College Game'
It was back in 1967. Crisman was new to town. He and his wife had started attending Air Force Academy and Denver Broncos games with four other couples.
"Then along came the Super Bowl," Crisman says, "and tickets were pretty easy to come by in the beginning. In fact, the stadium was not even two-thirds full. It was very much like a college game. I think at Super Bowl I it was the Grambling band and the Arizona State band. And I think Al Hirt did a trumpet solo."
"Who was Al Hirt?" I ask.
"Well, he was a famous New Orleans jazz trumpet player," Crisman says.
That first game was a blowout, with the NFL's Green Bay Packers beating the AFL's Kansas City Chiefs, 35-10. Crisman and his friends pledged to attend every Super Bowl game for as long as they could. But they knew that if the AFL didn't become more competitive, they wouldn't be attending for long. Crisman says at first he only gave the Super Bowl a 50-50 chance of surviving.
"But the world changed, was turned upside down, by Joe Namath," he says. "And the Super Bowl, I felt, became super."
Quarterback Joe Namath wouldn't lead the AFL's Jets to victory over the NFL's Colts until Super Bowl III.
But the first challenge to Crisman's pledge came before that…at Super Bowl II.
"My streak almost ended before it began," he says.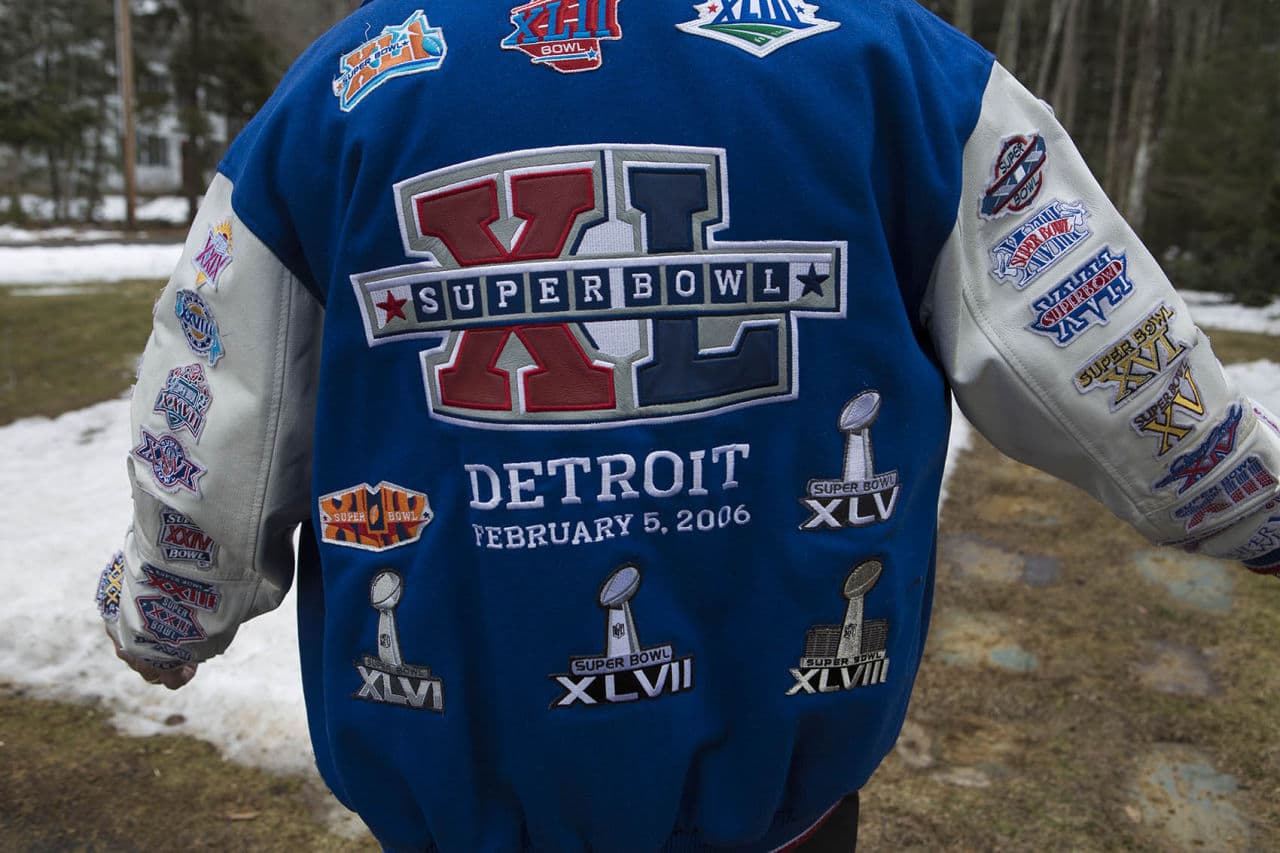 Crisman was on his way to Miami in a private plane when the pilot handed him a book and said, "Find me a place to put this thing down. The wings are icing up."
"So I'm flipping through the pages," Crisman recalls, "and then I look down and said, 'There's a giant runway down there, you know.' So we landed on an abandoned Air Force base, climbed a fence, and, fortunately, a state trooper came along and, after a few questions, took us into Orangeburg, South Carolina."
After a couple failed attempts to de-ice the wings, Crisman took the train to Miami.
His next close call didn't come until 1998 and Super Bowl XXXII when he almost didn't score a ticket. He was deep into that story when his phone rang.
It was a Canadian television station wanting him to go into a studio for a 5 a.m. hit during Super Bowl week. He said no.
The 'Club' Gets More Members
He gets a lot of these requests these days. But it hasn't always been this way. Most of the members of that original group from Denver gave up on attending every game after just two years. All that was left was Crisman and a man named Stanley Whittaker. Whittaker was afraid of flying, so he drove to every Super Bowl in a car that had "Never Miss A Super Bowl Club" written in 2-inch letters across the back bumper.
"At Super Bowl XVII, we decided to go see the Johnny Carson show, which really took place at 3:00 in the afternoon in Burbank," Crisman says. "So we parked the car and we got into the line pretty early. And we're in line maybe half an hour and this fella's running up and down the line yelling, 'Who owns that car that says Never Miss A Super Bowl?' So that's how we met Tom."
That's Tom Henschel — the one in Crisman's dusty photograph.
Don Crisman, Stan Whittaker and Tom Henschel met Larry Jacobson — the other man in that picture — at Super Bowl XXXIV in Atlanta.
And finally the Green Bay Packers introduced the group to Bob Cook at Super Bowl XXXVI in New Orleans, and the club was complete.
"So went from five down to two and back up to five," Crisman says. "And now we're going down. Unfortunately going down now usually means they're passing on."
Stanley Whittaker was the first. He made it to Super Bowl XLII before his health failed. A few years later, the remaining members of the group got a taste of real fame.
Morgan Freeman introduced the club to television viewers in 2010. And for the first time, the group didn't have to buy their own tickets for Super Bowl XLV -- Visa would provide them. But Bob Cook wouldn't make it there.
"They'd already packed their bags, him and his wife, and they were scheduled to come," Crisman says. "And he had a stroke of some kind on his way to the airport. So he passed away four days after the game. But he did see his beloved Packers win on TV."
The 'Club' Today
Don Crisman will turn 80 in three months. He promised his wife he'd retire after Super Bowl 50, but he's trying to renegotiate. His New England Patriots have another few good years left in them, Crisman says, and so does he.
"If it was a 50-50 shot that the game would make it to 50," I say, "what would you have put your odds of making it to all 50 games?"
"Oh…I thought of that quite a bit when Stan and I first made the pact," Crisman says. "Nobody in my family had made it past 77, I think, so the odds maybe weren't good, of course. I guess it really hasn't happened until I walk into the stadium. So we take it one step at a time."
More Photos: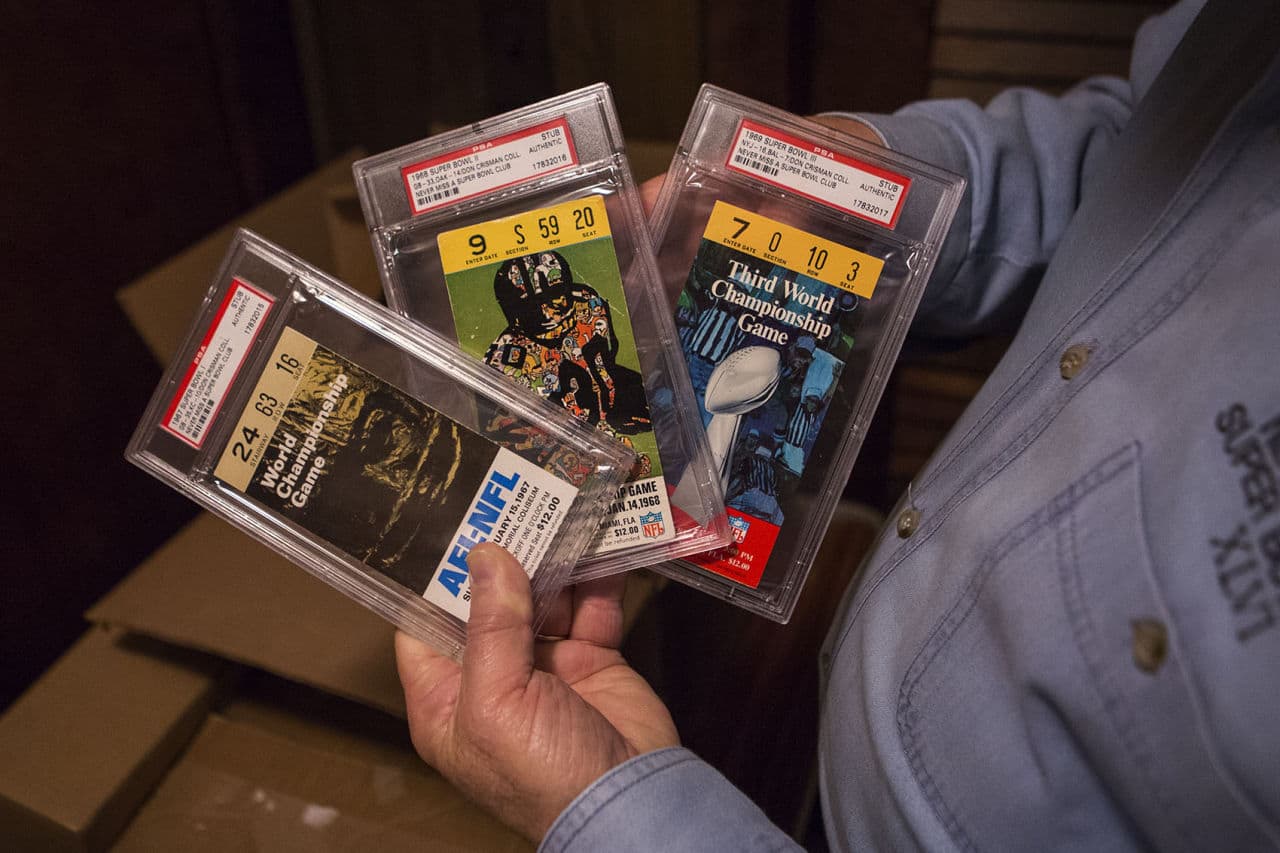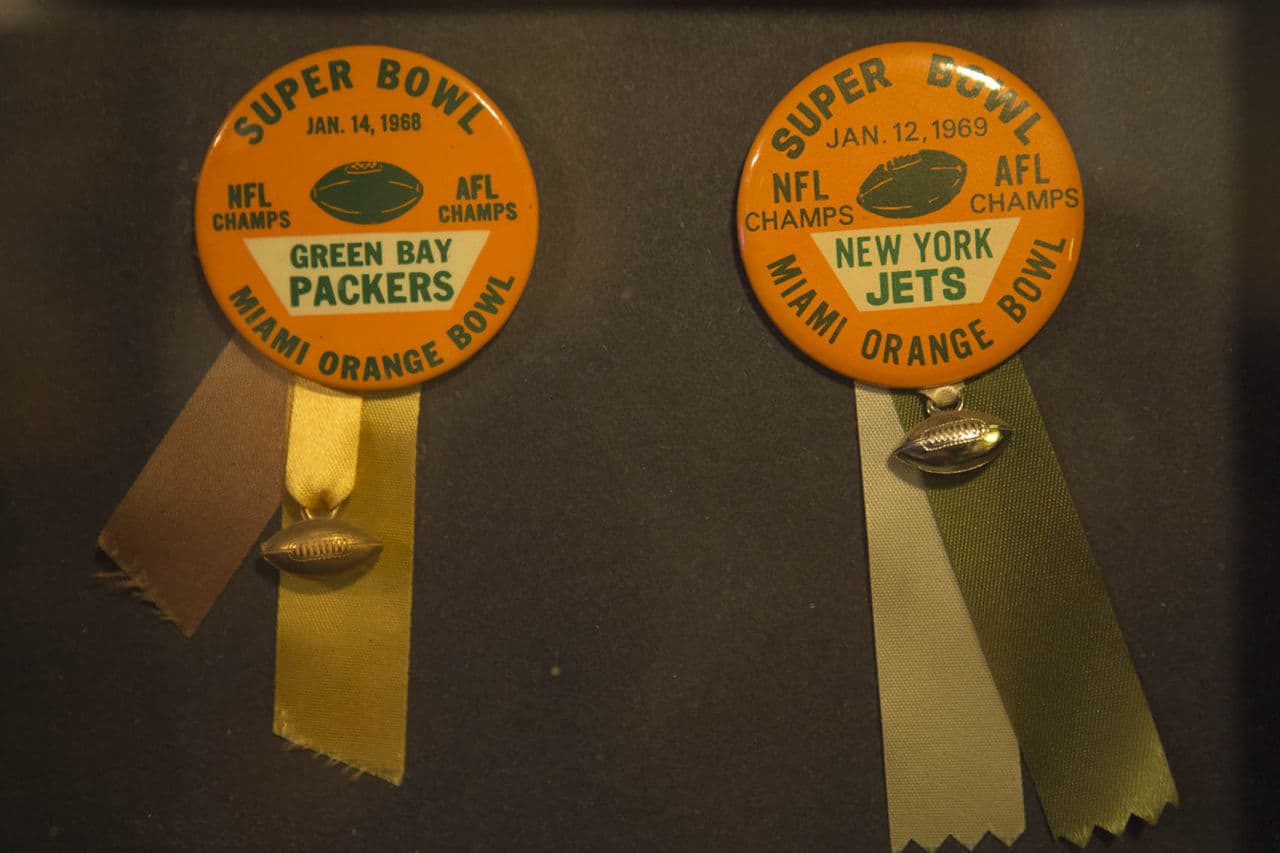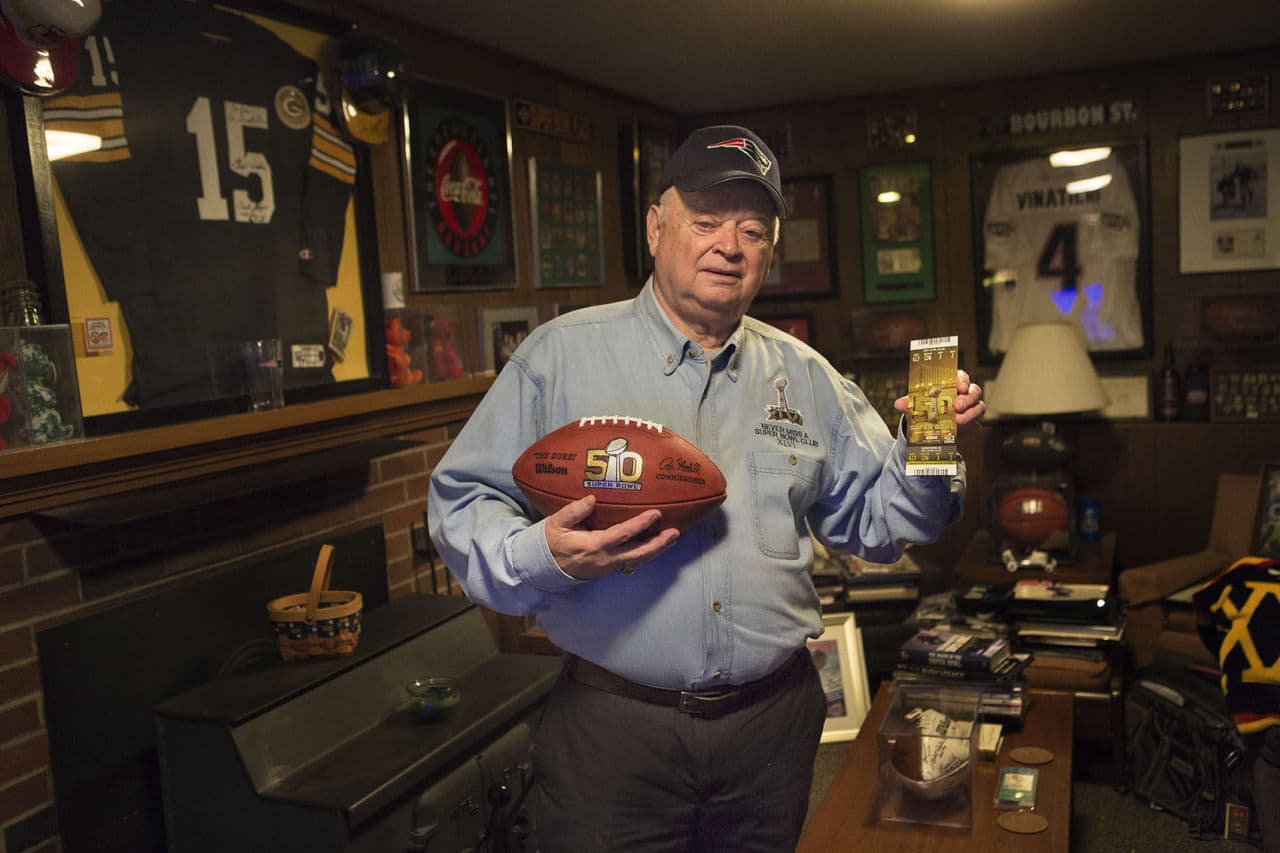 This segment aired on February 6, 2016.