Kenny Sailors: The Long-Forgotten Inventor Of Basketball's Jump Shot
Resume
Sure, the slam dunk is flashy — but three-pointers win games. And to sink a three-pointer, you have to know how to jump.
No one knows who first came up with the idea of jumping in the air and shooting a basketball. But the modern jump shot, the one that's still used today — the one we teach to kids — does have an inventor. And that man is not in the basketball hall of fame. At least not yet. Why?
To answer that question, we have to turn back the clock 84 years.
Two Brothers On A Farm
The year is 1932. The location: a family farm outside Hillsdale, Wyoming. The star of our story is Kenny Sailors. He's 12. And he idolizes his older brother, Bud, the way 12-year-olds often do. And so when Bud starts playing basketball, Kenny wants to play, too.
"And, of course, we didn't have any place to play except he'd put a hoop up. A rim and no net on it, and he fixed a backboard, and we fastened it to the old wooden windmill that we had. Bud and I'd go out there and play around. And I never could get a shot off, and he really enjoyed that because he was 6-foot-5, and I was just about, I don't know, 5-foot-7 probably. He'd laugh and he'd say, 'Kenny, this isn't the game for you. It's for big men. Tall men.'

"It was out there on that packed ground and that old windmill that I figured out a way to get a shot off over that brother of mine. Dribble up to him. He couldn't stop my dribble, and I'd dribble up to him and then jump.  Boy that spooked him. He said, 'That's a good shot, Kenny. You have to get better at that.'"
Kenny Sailors did get better at it. He got good enough to play for the University of Wyoming and good enough to take that team to the 1943 NCAA finals at Madison Square Garden.
"People out East, had heard stories about this team from the West, and their superstar who played this kind of crazy game," says Shawn Fury, author of "Rise and Fire," a book about the many men who've contributed to the jump shot. "They ended up winning the NCAA championship. And then a few days later, they played the winner of the NIT tournament, and they won that as well, so they were kinda the kings of college basketball."
There's an old highlight reel of that game on YouTube. Thing is, even though Kenny was named the College Basketball Player of the Year, he doesn't get a shout out on the highlight reel. A clean view of his jump shot doesn't even make the cut. Fury explains.
"Forever in basketball history, both feet were always on the ground when they took a shot. They'd have the ball with two hands and at their chest and they'd shove it forward, kind of like shoving a boat off into the lake or something. So it makes sense that a sports announcer who has watched hundreds of games but just seen set shots had never seen anyone like Kenny. So he probably didn't have the words to describe it, so he's just going to kind of gloss it over."
Jump For It...Or Don't 
Announcers weren't the only ones confused by Sailors' shot. Defenders didn't know what to do either.
"They would raise a hand to try to block the shot, but a lot of times they wouldn't jump," Fury says.
"You know, that's hilarious," I say. "It seems so logical. He jumps, you jump. "
"Yeah, to us, it sounds so simplistic and it sounds like something that James Naismith himself should've known in 1891," Fury says with a laugh. "But it just wasn't, because the game for 50, 60 years had been played one way."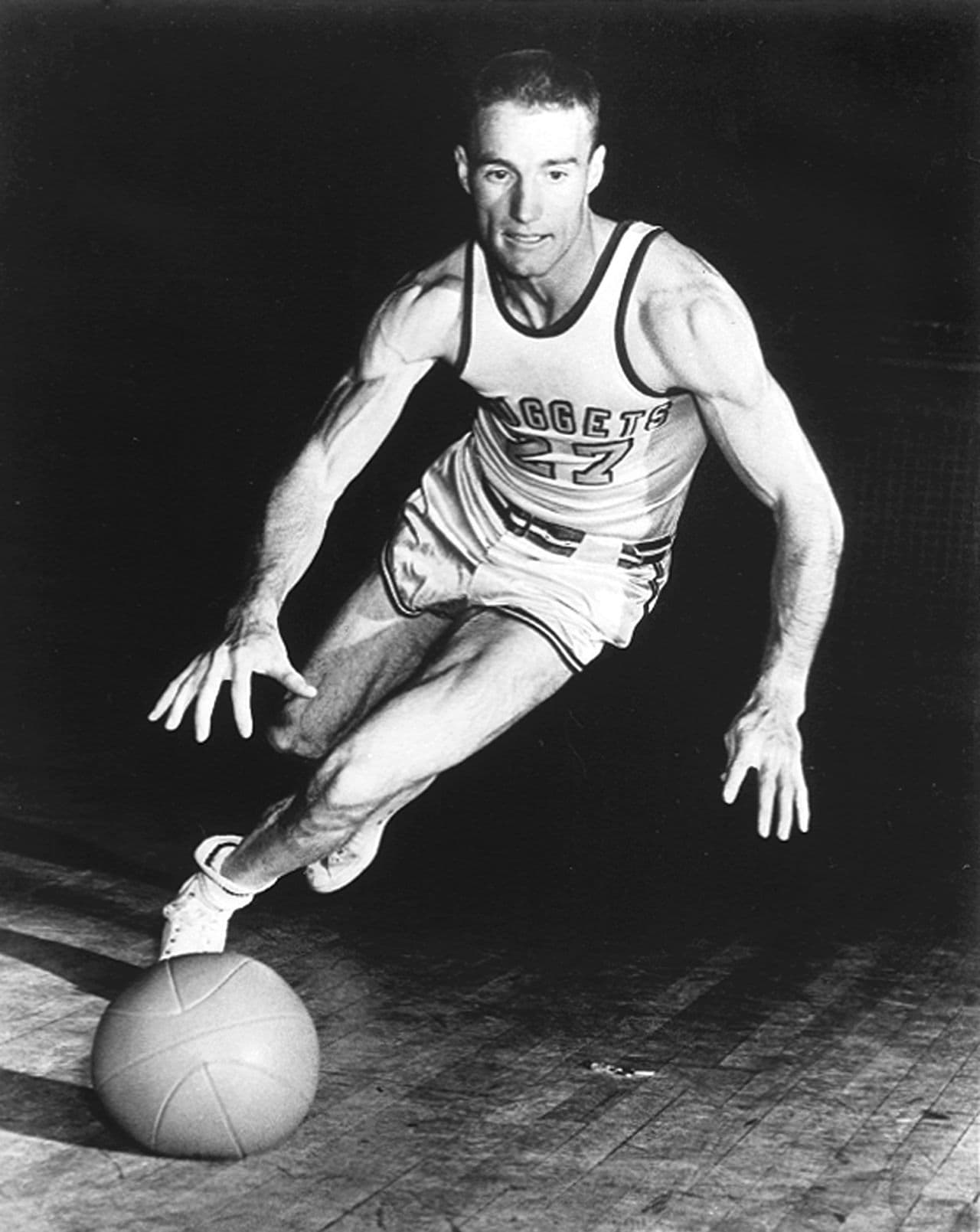 So let's talk about how basketball was played back in 1943. Kenny Sailors is not the only one on that old, grainy highlights film who jumps. Players on both sides jump for rebounds, they jump for layups. On another highlight reel you can even watch a guy dribble down the court, jump in the air and fling the ball at the basket. It goes in.
So what made Kenny Sailors' jump shot different?
"It looked different," says Jud Heathcote. "No one would shoot in somebody's face, as we call it, and he did."
Heathcote would later go on to coach Magic Johnson and Michigan State to the NCAA championship.
He says it's a crime that Sailors isn't in the Hall of Fame.
But back in the 1940s, Heathcote was a college basketball player himself, and he saw Sailors and his jump shot at a tournament in Denver.
"He would get right close, jump over them and release the ball," Heathcote recalls. "And so this was spectacular in terms of my observation."
This is what Heathcote saw. Sailors would stop. (This is important because otherwise he'd plow into the defender — that's a foul.) So he'd stop squared up to the basket, jump, and at the top of his jump he'd release the ball with one hand — using the other hand just as a guide. If you're having trouble picturing it, think the Warriors' Stephen Curry. It's pretty much the shot that's made him — by some measures — the most dominant player in the NBA today.
Got it? Now picture it in the 1940s.
"So when I saw this little guy dribble right up into big guys, just jump and shoot right over them," Heathcote says, "I was mesmerized with the jump shot."
The jump shot took Kenny Sailors to the league that would become the NBA. But when he got there, he found out that not everyone was mesmerized.
"This first coach I had from — Dutch Dehnert was his name. He had that New York brogue, you know.  That — nice old guy, but he just wasn't a coach. He said to me, 'Sailors, where'd youse — 'youse' — where'd youse get that leapin' one-hander?' That's what they called it. Leapin' one-hander. 'Oh,'  I said, 'I don't know, Dutch.' I said, 'I've had that quite a while.' I said, 'That's what keeps me in the game.' He says, 'You just never make it in this league with that kind of a shot.' He says, 'I'll show you how to shoot a good two-handed set shot.' And he says, 'That dribble.' He says, 'We don't dribble in this league.' He said, 'We pass the ball up the court.'"
Luckily, for both Kenny Sailors and the future success of the NBA, that coach was fired and replaced with a guy who put the ball in Sailors' hands and let him do what he wanted with it. And that worked out pretty well for Sailors and for the NBA.
"I think it grew the popularity to a degree that it never would have otherwise," Fury says. "Increased scoring a lot, in college basketball especially. You know, you used to have games in the 40s or the 50s. Now you had games in the 80s and 90s. And fans just enjoyed that more."
But what about Kenny Sailors?
"Kenny's story really has been a forgotten story," says filmmaker Jacob Hamilton. "He disappeared for nearly 50 years after he retired from the game of basketball."
Hamilton is directing a documentary about Kenny Sailors' life, and he provided all of the interviews with Sailors that we're using for this story. But before he started working on his film, he had the same reaction to the story as I did.
"'Wait, this guy invented the jump shot? How is that possible?' And, 'The jump shot didn't always exist?'"
The Jump Shot's Legacy
A few years ago, Hamilton invited Sailors out for breakfast — Sailors ate ham and eggs — and they talked about the movie they wanted to make. Sailors mentioned his time in the Marines, his 15 years as a dude rancher in Jackson Hole, his 35 years in Alaska coaching high school girls basketball and his lifetime as a devout Christian. He seemed more interested in talking about those things than he was in talking about the jump shot.
"'Cause he is very humble, he is very modest and he doesn't like to take credit for it," Hamilton says. "You just look at his life and like, 'Man, that's the way to do it. He didn't waste one second of his life.'"
Kenny Sailors died on Jan. 30, 2016 — just two weeks after his 95th birthday.
"You know, the thing that we feared most was that he would pass away and no one would know and he'd be forgotten, like he was before," Hamilton says.
But Sailors hasn't been forgotten. In the three weeks since his death, the call to include him in the Naismith Hall of Fame has only gotten louder. It was always something that seemed to matter to Sailors' friends more than it mattered to him. He'd like to say that as a Christian, he didn't spend a lot of time worrying about such things.
"You know, these halls of fame that you can get into down here that men select you to get into, they're nice up to a point. I know I belong to the greatest hall of fame that any man or woman can ever belong to. And when you belong to that and you know you belong to it, you don't worry about these halls of fame that men create down here. Don't mean that much to you."
The Naismith Hall of Fame will announce its 2016 class at the NCAA Final Four in April. And even though Kenny Sailors wasn't too concerned about whether he'd get in, Jacob Hamilton says he knows that his friend will be smiling down on the announcement, should his name be called.
This segment aired on February 20, 2016.