Part 1: The Affordable Housing Crisis Across The U.S.
Resume
Want to check out the entire "Where We Call Home" series? Visit our landing page.
---
With Meghna Chakrabarti
Housing prices are through the roof across the country. We take up the affordable housing crisis in Part 1 of our series, "Where We Call Home."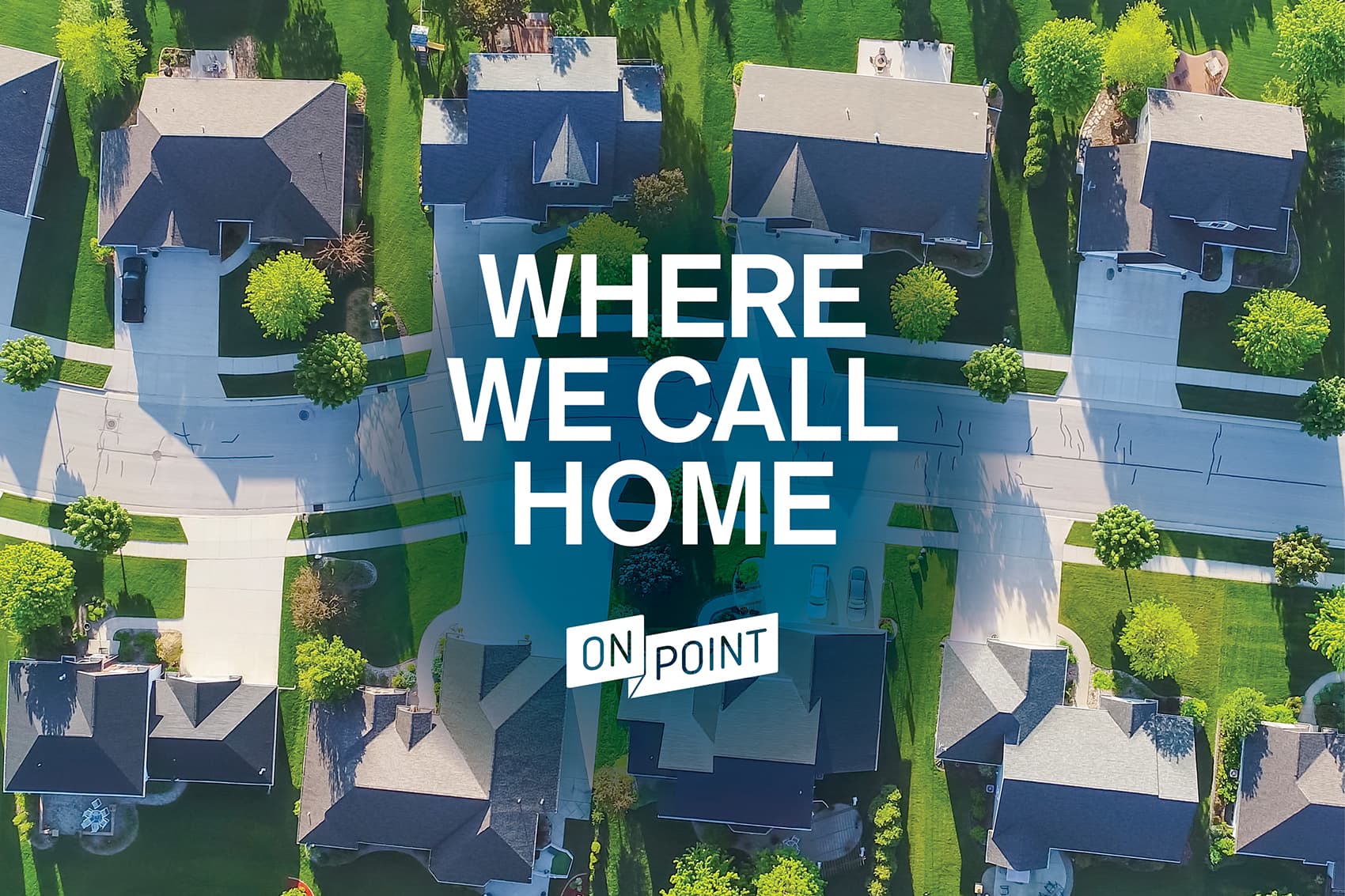 Guests
Mike Rosenberg, reporter covering housing and real estate for the Seattle Times. (@ByRosenberg)
Mollie Fitzpatrick, managing director of Root Policy Research, a national community housing and research firm.
Christiana Foglio, founder and CEO of Community Investment Strategies, a low- and moderate-income housing development firm. Former executive director of the New Jersey Housing & Mortgage Finance Agency (1992-1995), where she was credited with creating the Housing Policy for the State of New Jersey.
Results From The 'Where We Call Home' Survey
From The Reading List
Seattle Times: "Microsoft pledges $500 million to tackle housing crisis in Seattle, Eastside" — "Blessed with a balance sheet that allows for sweeping gestures, Redmond tech giant Microsoft is responding to the region's widening affordability gap with a $500 million pledge to address homelessness and develop affordable housing across the Puget Sound region.
"Most of the money will be aimed at increasing housing options for low- and middle-income workers — workers who "teach our kids in schools, and put out the fires in our houses and keep us alive in the hospital," said Microsoft President Brad Smith — at a time when they're being priced out of Seattle and parts of the Eastside, and when the vast majority of new buildings target wealthier renters.
"Microsoft officials say it's too early to say exactly how much affordable housing will ultimately result from the $500 million. Smith, also Microsoft's chief legal officer, said the company hopes to leverage the fund to help create 'tens of thousands of units,' although to accomplish that it would likely have a small role in many projects.
"The pledge is the largest in the company's 44-year history, and, according to the company, is one of the heftiest contributions by a private corporation to housing. In comparison, it dwarfs the $100 million in annual funding for the state's Housing Trust Fund.
"The initiative comes as Microsoft and other tech giants that have driven the region's economic boom face increasing pressure to help mitigate affordable-housing shortages. Microsoft is coupling its contributions with a call for other companies to step up, and for Eastside cities to facilitate more housing."
USA Today: "Will Google, Amazon and Facebook fix the affordable housing crisis?" — "From atop his gleaming new headquarters, Salesforce CEO Marc Benioff has an inspirational view of mountains, the bay and an endless Pacific Ocean.
"But when Benioff looks down, he's not so happy.
"Some 60 floors below his Salesforce Tower offices is what he calls 'an inequality train wreck,' city streets 'out of control' with thousands of homeless and often infirm citizens who have rendered sidewalks a landmine of feces and drug paraphernalia.
"Many have been destitute for years, but others are newly minted refugees of a housing crisis created in large part by the very technology boom that has made Benioff and other tech entrepreneurs billionaires many times over.
"That's why Benioff, along with some of his tech peers and civic leaders, say it's time for corporations in general, and tech companies specifically, to contribute financially toward fixing a problem that looms large from Seattle to Boston.
"Activists, meanwhile, warn that housing stock has lagged so severely in some cities that even huge infusions of cash will struggle to make an impact.
"San Francisco's woes are particularly acute. Its housing stock is a quarter of its need, which has led to real estate prices that are among the highest in the nation. Some 15,000 tech positions were added in the city in 2016 and 2017, according to a report from brokerage firm CBRE."
The Architect's Newspaper: "Chan Zuckerberg Initiative pledges $500 million for Bay Area affordable housing" — "Hot off Microsoft's announcement that it would be creating what is essentially a $500 million affordable housing bank for the Seattle area, the founder of Facebook has unveiled a similar fund for California's Bay Area.
"Through a group of businesses, nonprofits, and philanthropists, the Partnership for the Bay's Future, which was established through the Chan Zuckerberg Initiative, will invest $500 million to preserve and build affordable housing. That pledge from the Mark Zuckerberg and Priscilla Chan–led charity extends to San Francisco, San Mateo, Santa Clara, Alameda, and Contra Costa counties.
"The move, which the fund estimates will add 8,000 new units of affordable housing while preserving an existing 175,000 units over the next five-to-ten years, comes at a dire time. As Fast Company points out, only 58,000 new units were built in the Bay Area from 2012 through 2016 even though the region added 373,000 new jobs. From that perspective, it looks like the fund won't make much of an impact, but the backing groups are hoping that they can lay the groundwork for long-term tenant protections, rent reform, and future investments."
Allison Pohle and Karen Shiffman produced this hour for broadcast.
This program aired on March 4, 2019.