Latest: House Democrats' Impeachment Inquiry
12:28
Play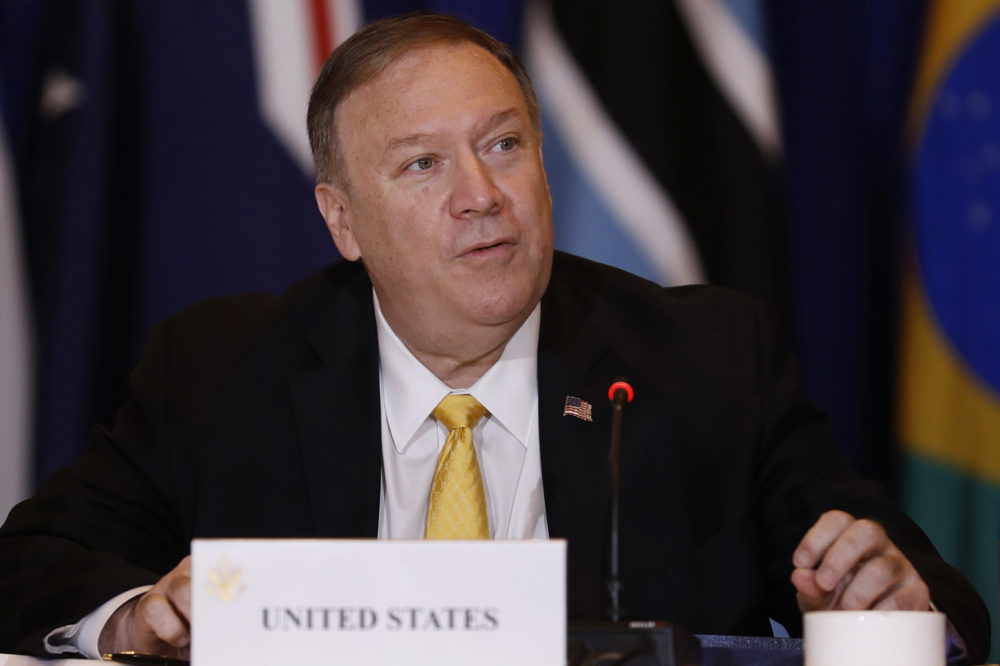 With Meghna Chakrabarti
The latest news on the impeachment inquiry.
Guest
Melanie Zanona, congressional reporter for Politico. (@MZanona)
From The Reading List
CBS News: "Pompeo accuses Democrats of trying to 'bully' diplomats" — "Secretary of State Mike Pompeo accused House Democrats of trying to 'bully' and 'intimidate' State Department officials by scheduling depositions about their involvement with President Trump's call with the Ukrainian president on short notice.
"On Friday, three House chairmen wrote to Pompeo informing him they had set dates for joint depositions of five State Department officials named in the whistleblower complaint about the Ukraine call. The first officials were scheduled to be deposed this week.
"Pompeo responded on Tuesday, writing in a letter to House Foreign Affairs Committee Chairman Eliot Engel that the committee had not given the officials adequate time to prepare.
"'I am concerned with aspects of your request, described more fully below, that can be understood only as an attempt to intimidate, bully, and treat improperly the distinguished professionals of the Department of State, including several career Foreign Service Officers,' Pompeo wrote."
Wall Street Journal: "Tense Relationship Between Barr and Giuliani Complicates Trump Impeachment Defense" — "Attorney General William Barr called President Trump in April with a question: What was Rudy Giuliani doing?
"Mr. Trump had just avoided criminal charges with the release of former special counsel Robert Mueller's report on Russian electoral interference. But Mr. Giuliani was on television attacking former White House counsel Don McGahn, a longtime friend of the attorney general who had testified to investigators about some of the most notable incidents in the report, including Mr. Trump's efforts to seek Mr. Mueller's dismissal.
"Why, Mr. Barr wanted to know, was the president's private lawyer making a spectacle of himself rather than declaring victory in the Mueller investigation and moving on, according to a person who paraphrased the conversation. Mr. Barr wanted the president to tell Mr. Giuliani, in effect, to knock it off.
"Five months later, Mr. Trump's two highest-profile lawyers are again struggling to get on the same page, this time in the face of an impeachment inquiry launched by congressional Democrats last week. The president's relationships with his private lawyer who once aspired to be his attorney general and the man who currently has that post are complicating White House efforts to build a legal and public-relations strategy to keep Mr. Trump in office."
The Atlantic: "Bill Clinton Had a Strategy. Trump Is Doing the Opposite." — "Donald Trump may have no impeachment war room, but he does have an impeachment strategy. He deployed it this past weekend.
"It's the same strategy he brought to his presidential campaign, then to his presidency: all base, all the time. In 1998 and '99, Bill Clinton directed his anti-impeachment messaging to voters who did not necessarily approve of him, but who feared impeachment as disruptive. Trump's message is aimed only at his most all-in supporters, those who see him as a victim of plots and persecution by shadowy, unseen forces.
"On December 19, 1998, the day the House voted to impeach Clinton for perjury and obstruction of justice, he read a short statement at the White House. He urged the Senate to adjudicate the impeachment in a 'reasonable, proportionate, and bipartisan' manner. He tried to appeal to a greater good, saying, 'We must get rid of the poisonous venom of excessive partisanship, obsessive animosity and uncontrolled anger. That is not what America deserves. That is not what America is about.' "
Allison Pohle produced this segment for broadcast.
This segment aired on October 2, 2019.