'Rehab Racket': High Costs Of Addiction Treatment And Questions Over Efficacy
Play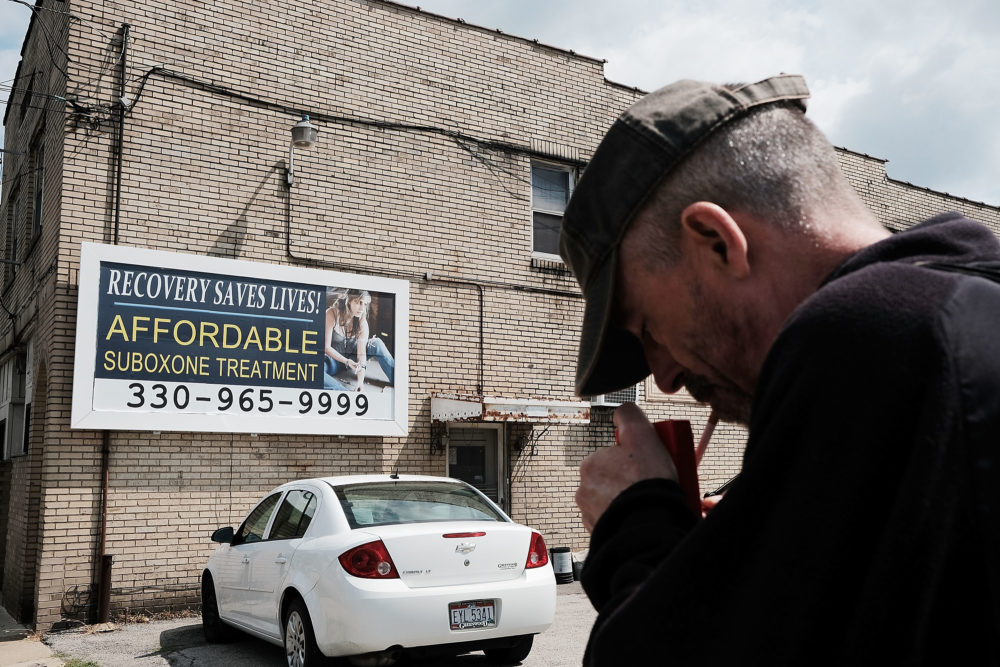 This article is more than 3 years old.
Editor's Note: This hour discusses topics of drug addiction that some listeners may find disturbing or offensive.
If you or anyone you know is living with addiction and depression, there are resources available for help. Visit the Substance Abuse and Mental Health Services Administration's website or call the helpline at 1-800-662-HELP (4357). Also, visit the American Society of Addiction Medicine or American Academy of Addiction Psychiatry to find a list of qualfied physicians by zip code or by state.
---
The high cost of addiction care. Is it a rehab racket? We ask the Vox reporter who investigated.
Guests
German Lopez, senior correspondent for Vox. He is working on a series on America's addiction treatment industry called "The Rehab Racket." (@germanrlopez)
Christina Delos Reyes, co-director of Addiction Recovery Services and director of the Addiction Psychiatry Fellowship at the University Hospitals Cleveland Medical Center. Professor of psychiatry at Case Western Reserve University School of Medicine.
Interview Highlights
One family's story of addiction treatment, and what it says about addiction treatment in the U.S.
German Lopez: "I talked to the family of Kimberly Blake. And she and her husband spent about $110,000 — or more — on addiction treatment. And their son still overdosed and died. And one of the facilities that they would go to — so there was 'New Found Life' in California, or there was the '[Little] Creek Lodge' in Pennsylvania. And these places, they would go to them, and they would seem like they were good at first. They would promise all these nice things. The amenities, at times, seemed nice. But, they would find that these places were doing only 12-step treatment. And for Sean, for whatever reason, that just did not work out.
"And I've heard the story now, time and time again, as part of this reporting. Where if somebody goes to these facilities, they're really trying to get into recovery. And when they tell the person like, 'Look, this approach just isn't working for me.' The people will respond with like, 'Wow, maybe you're just not ready for treatment.' Or, even if they try to find something else, they just won't have the training, or expertise, to actually guide them. Whether it's that they need cognitive behavioral therapy, or whether they need medications, or something else. Really, they'll be so focused on this 12-steps approach, that everything else will kind of fall by the wayside. And that seems to be what happened with Sean, in this case. He would go to these places; he would get 12-step-dominant focus. It just wouldn't work for him. And, ultimately, actually, when he asked about medications — or what medications were offered to him — they would be cut off quickly, or they would be stigmatized, or he would be discouraged from staying on them. And over time, he just didn't get better. And ultimately overdosed and died."
What is the regulatory structure — if any — around these addiction treatment centers? 
Lopez: "You have to pull back, and find out how this treatment system came to be, to begin with. And, for a long time, addiction was not considered a disease, it wasn't considered a medical condition. That started to change in recent years. But in that context, where it wasn't considered disease, the model that took off in the U.S. — where they really started treating addiction, to begin with — was this 12-step model. So we're talking Alcoholics Anonymous, Narcotics Anonymous. And the system kind of grew out of these community groups — I would call them — doing that kind of approach. That 12-steps approach. And that's what a lot of addiction treatment today, in the U.S., is based off of. Sometimes, it's called the Minnesota Model, where you go to a place for 28 days. It's based predominantly on the 12-steps. And you go through that.
"And that's really what the addiction treatment system has grown out of. And, as a result, what's actually happened is governments — whether state, federal or local — have really just been playing catch up. And, especially as we get into the opioid epidemic, they've been trying to regulate it more. But the industry … first of all, it's unlike other places in health care — where you have this model where you find research, prove this treatment works, and then hospitals start adopting it. It's actually the opposite here. Where people, kind of, just made this model — the 12-step model — as best as they could. Because the health care system wouldn't take them seriously, or their condition seriously. And then regulators are coming in, and trying to make sure that evidence-based practices are followed. So, as a result, the big thing here is there really aren't that many regulations, in some states. I mean, in some of these facilities, they don't have a single doctor, or nurse, on staff. And that's not even required under the law for them. Because, frankly, nobody's really been watching. Until, I think, this opiate epidemic really took off."
"The big thing here is there really aren't that many regulations, in some states. I mean, in some of these facilities, they don't have a single doctor, or nurse, on staff."

German Lopez
On the ideal addiction treatment situation
Christina: "In an ideal situation, a person would be getting a combination of biological, psychological and social interventions. And, so, under the biological interventions would be medications such as buprenorphine, methadone or naltrexone. Under the psychological interventions, would be things such as Cognitive behavioral counseling, or Motivational interviewing, or other types of talking therapies. And then under the psychosocial interventions would be things like creating a sober network, using 12-step programs and other programs that are similar."
On why few treatment centers combine biological, psychological and social interventions
Christina: "I think that there are a number of reasons, and it is quite complex. Part of it is historical, as Mr. Lopez alluded to. … Treatment centers came into being, in America, separate from the medical system. And, so, there are a lot of treatment centers, as he already stated, that do not have a doctor on staff. And the subspecialty called 'addiction medicine,' as well as the subspecialty called 'addiction psychiatry' have really only been around since the early '90s. So this is a relatively new field — or sub-specialization — in American medicine. So, I think there's that. I also think that besides the historical thing, there is a lot of stigma about opioid addiction. And, so, historically, people haven't thought that this is something that could be treated by a doctor, or could be treated by medicine. And, so, until that changes, it's going to be difficult to find treatment centers that will be willing to do all three things."
Caller Highlights
Kylie, from Charleston, South Carolina: "My partner, about over a year ago, became addicted to intravenous heroin and cocaine use. He tried outpatient detoxes, where he was prescribed Suboxone and methadone. [He] ended up kind of misusing those drugs, as well. So, we decided that we should try and find a facility that would let him go through his detox without any medicine. Luckily, our insurance was able to cover an inpatient stay at a hospital. But, the conditions were just filthy — and their treatment was so spotty — that he ended up leaving, and coming home, where he quit cold turkey. And, I was able to fortunately take some time off, and really give him the care that I felt he wasn't able to get anywhere else."
Noel, from Frederick, Maryland: "My brother was addicted to heroin. And we come from an upper-middle-class family. When the family found out about this addiction, we looked for the best treatment that money could buy. We found a facility, out of state. We had an interventionist fly in, and help us with the family intervention. And he agreed to go. He did not finish the treatment. He came home, and tried an outpatient treatment center. That also failed for him. He recounted driving by the same places that he had scored heroin before, and it was just too difficult. And he was basically kind of back in the same living situation he had then. So my husband and I, who were living in Vermont at the time, invited him to come and live with us. And he came out, he decided he wanted to do it cold turkey. He knew in the detox center they had done it cold turkey, without medication. So, he knew what to expect. And, once he was done with that, he started working part-time. But, he says that it was really just being completely out of any environment that reminded him of where he had been before. And just being part of a normal-type of family situation. And it's always made me wonder if there could be some kind of volunteer-like 'Foster an Addict' type system that could be designed. Because it was just so critical for him. But, not everybody has somebody living in a remote place."
From The Reading List
Vox: "She spent more than $110,000 on drug rehab. Her son still died." — "Kim Blake keeps a folder in her house, swollen with papers. Each document represents yet another try at helping her son Sean recover from a decade of drug addiction.
"Some papers are certificates of graduation from rehab, one telling Sean that "you are no longer alone." Some are letters by Sean marking his progress, going back to his late teens, writing about getting better.
"And there are many, many bills. I verified the bills and that the Blakes paid for them. The total cost: $110,000.
"That's the minimum that Kim and her husband Tim, Sean's dad, estimated they spent on addiction treatment. The Blakes said they also spent thousands on other treatments that they no longer have bills or receipts for. (Their insurance provider made additional payments, as well.)
"Through it all, the Blakes drained their savings for retirement, along with college funds for both Sean and his younger brother.
"Kim told me, through tears, that there was one outcome that would have made it all worth it: 'If he had survived, we would have said it was money well spent. There's no question.'
"But none of the treatments stuck. In August 2017, Sean died of a drug overdose involving alcohol and fentanyl, a synthetic opioid. He was 27 years old."
Gallup: "Substance Abuse Hits Home for Close to Half of Americans" — "Close to half of U.S. adults, 46%, have dealt with substance abuse problems in their family: 18% have had just alcohol problems and 10% have had just drug problems, while 18% have experienced both.
"These findings are based on combined 2018-2019 data from Gallup's annual Consumption Habits poll, conducted each July. Overall, across the two polls, 36% of Americans reported that drinking has been a cause of trouble in their family and 28% said the same of drug abuse.
"Both questions are lifetime measures, asking Americans if drinking or drug abuse has ever been a problem in their family. It might be expected that the rates of reported problems would increase by age, given that older Americans have had more time to accumulate life experiences, but that is not the case."
Vox: "How to find good addiction treatment, according to experts" — "Looking for drug rehab? It can be extremely difficult — and horribly expensive. In some cases, families spend years and thousands of dollars before they find treatment that works.
"Michel Cote, whose two daughters are now in recovery from opioid and meth addictions, said it took his family 10 years and $200,000 to find a small clinic that finally helped.
"'I got to a point where I didn't think anything would work,' Cote, who lives in Silicon Valley, said. 'I actually thought that this was probably hopeless, and it was just a matter of time until the big disaster hits. But we had to keep trying.'
"For Vox's drug addiction treatment project, The Rehab Racket, I reached out to experts to figure out how to make this process a little better for people seeking treatment.
"Above all, experts emphasized that patients should go for the most comprehensive and individualized treatments possible. It's crucial not to settle for a one-size-fits-all approach, even if those worked for someone you know. Addiction is a complicated illness that varies from individual to individual, so different approaches can work better for different people. Programs should assess patients and adapt based on their needs."
This program aired on October 28, 2019.