Colorado Sen. Michael Bennet's Presidential Push Carries On
Play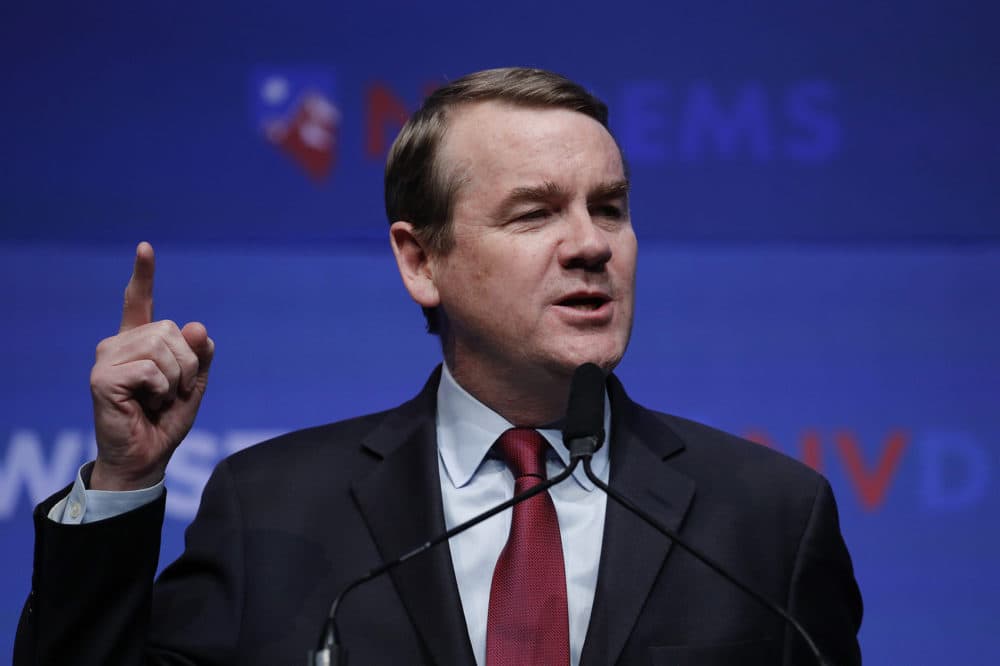 This article is more than 2 years old.
Despite low poll numbers and no time on the debate stage recently, Sen. Michael Bennet's 2020 bid continues. He joins the show.
Guest
Sen. Michael Bennet, Democratic senator for Colorado and candidate for the 2020 presidential nomination. He serves on the Senate Intelligence Committee. (@MichaelBennet)
From The Reading List
The Denver Post: "U.S. Sen. Michael Bennet discusses Trump, impeachment and 2020" — "One thing, more than any other, appeared to be on the mind of Colorado's senior U.S. senator as he spoke with constituents Friday evening in Denver: The defeat of President Donald Trump next year.
"'Whatever our job is between now and next November, we have to do everything we can to defeat Donald Trump,' Democratic Sen. Michael Bennet told perhaps 200 people at Montview Boulevard Presbyterian Church, 1980 Dahlia St.
"The senator also called the evidence mounting against Trump in the House of Representatives' impeachment hearings 'quite damning' and ventured his position should the matter shift to the Senate.
"'If the facts don't change, I think that I'm likely to vote to convict,' Bennet told a member of the audience."
The Colorado Sun: "Michael Bennet says he's shifting national health care debate. But even in his home state, there's pushback." — "Michael Bennet is predicating his improbable presidential campaign on the issue of health care — more specifically, the need for a public insurance option and not a 'Medicare for All' system.
"The Colorado senator has lambasted Medicare for All as a 'lousy policy' with no chance for passage and enough political baggage to doom the Democratic Party's chances up-and-down the ballot in 2020.
"His moderate voice struggled to register in a campaign dominated by far-reaching policy ideas, but now as the first early-state caucus approaches, Bennet believes his message is starting to take hold. The problem: So far his big ideal is not translating into more support for his campaign.
"The dynamic plaguing the 55-year-old Bennet's White House bid arrived on his own doorstep Friday in Denver when he hosted a town hall, his first in more than a year. The audience included Democrats who are vocal critics of his public option plan, known as Medicare X, as well as those who don't think he should be in the presidential race."
Colorado Public Radio: "Low Polls? No Debates? No Problem. Michael Bennet Is Still Running For President" — "Five Democratic candidates have left the 2020 presidential race since the start of November — and billionaire Michael Bloomberg got in.
"Colorado Sen. Michael Bennet is not one of the quitters. His long-shot presidential push continues to chug along like the little engine that could.
"Bennet's outlasted fellow Coloradan John Hickenlooper. He's outlasted candidates with higher name recognition and fatter war chests, like former Texas Rep. Beto O'Rourke. And he's outlasted candidates still earning spots on the debate stage, like California Sen. Kamala Harris.
"Bennet hasn't made a televised debate appearance since the second debate in July."
This segment aired on December 16, 2019.