The risks and rationale of expanding NATO
Play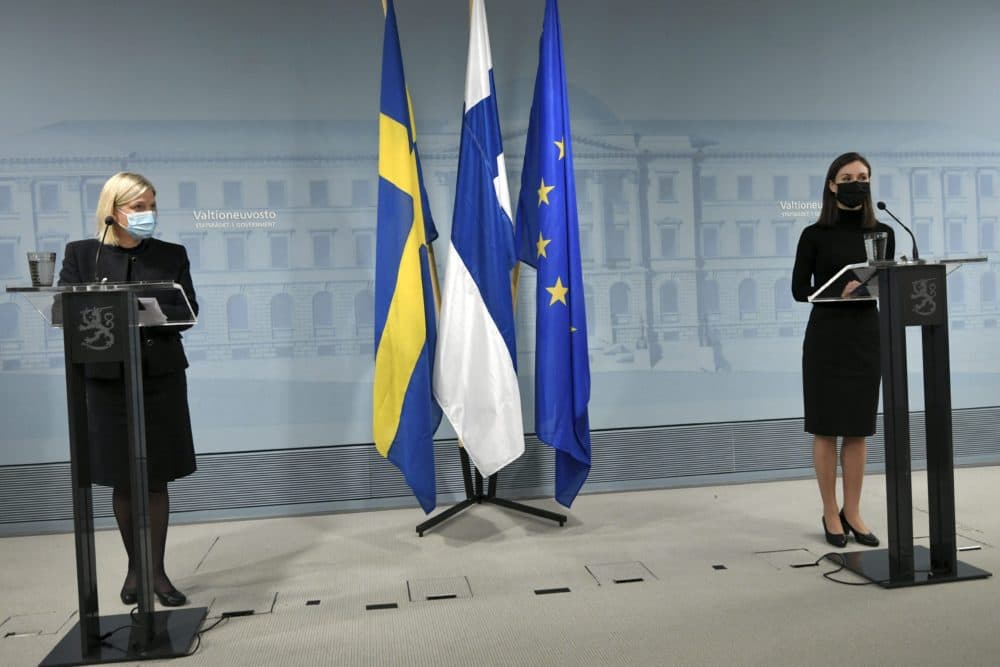 Listen to our hour on how NATO expansion happened in the '90s here.
---
For 75 years, Kremlin threats kept Finland and Sweden out NATO.
"I think he said something like, 'Now, when we look over the border towards Finland, we see a friend. If Finland joins NATO, we will see an enemy,'" Finnish diplomat Heli Hautala says.
Vladimir Putin's invasion of Ukraine changed that overnight.
"It's startling the change in public outlook in these countries," Wess Mitchell, former assistant secretary of state for Europe and Eurasia, says. "And the calculation is that if they don't come into NATO, they're worried that they could be a tempting target."
However extending NATO's tripwire right up to Russia's borders isn't risk free.
"It makes a lot of sense for states that have fears about Russian aggression to want to come in, particularly under the American nuclear umbrella," Emma Ashford, a fellow at the Atlantic Council, says.
"But it does then obligate all of us to risk escalation to a broader war, for not very much in terms of military commitments from these states."
Today, On Point: The risks and rationale of expanding NATO now.
Guests
Emma Ashford, senior fellow at the Scowcroft Center for Strategy and Security at the Atlantic Council. (@EmmaMAshford)
Heli Hautala, Finnish diplomat. Visiting fellow at the Center for a New American Security. (@heli_hautala)
Wess Mitchell, principal at The Marathon Initiative. Former assistant secretary of state for European and Eurasian Affairs. Co-author of a 2020 'reflection' report on NATO's future.
Transcript Highlights
MEGHNA CHAKRABARTI: Russian President Vladimir Putin has seen NATO expansion as a threat to Russian security and an inexhaustible source of fuel for his personal grievances. Putin's war on Ukraine is, in part, a violent effort to end Kyiv's desire to join NATO and to push back the alliance from Russia's borders. But by that measure, Vladimir Putin has failed. Because NATO is not shrinking. It is on the cusp of expanding yet again. Finland, which shares a long border with Russia, and Sweden next door, have stayed out of NATO for 75 years. But both countries are now poised to join the alliance.
Sanna Marin, Finland's prime minister, made that much clear at a press conference last week.
SANNA MARTIN [Tape]: I won't give any kind of timetable when we will make our decisions. But I think it will happen quite fast. Within weeks, not within months.
CHAKRABARTI: Finnish and Swedish opinion polls show a recent surge in support for NATO membership. It's a sudden and significant change.
Sweden's prime minister, Magdalena Andersson, is also leader of Sweden's Social Democratic Party, which has opposed NATO membership for its entire existence. But to her, Putin's Ukraine invasion reflects an era-defining shift.
MAGDALENA ANDERSSON [Tape]: I think, as I have said so many times, this is a very important time in history. There is a before and after 24th of February. The security landscape has completely changed, both with the demands from Russia in December, and then the invasion of Ukraine. And given that situation, we have to really think through what is best for Sweden, and our security and our peace in this new situation.
CHAKRABARTI: Today, we'll be talking about this new situation. NATO now and in the future, what impact will NATO's expansion have on European security and Russia's military posture? How will a decision now made in the midst of a terrible war influence what it will take to achieve a new lasting peace on the European continent?
Well, Heli Hautala is a Finnish diplomat. She served in the Finnish embassy in Moscow and led the NATO team at the Finnish Foreign Ministry. She's currently a visiting fellow at the Center for a New American Security, and she joins us now from Washington. Heli Hautala, welcome to you.
HELI HAUTALA: Hello. ... Thanks for having me.
CHAKRABARTI: I was wondering if you might first tell us in the days after February 24th, when the world witnessed Russian tanks roll into Ukraine. How quickly did your thoughts turn to the implications of Putin's Ukraine attack, potentially on Finland?
HAUTALA: Obviously the Russian aggression, was a huge shock in Finland. There were obviously warning signs. People were worried, but still it was hard to believe that Russia actually decided to invade Ukraine. And obviously, due to our historical experiences, we fought twice with the Soviet Union during the World War II. So an attack by Russia on its neighbor, I mean, it brings back those memories and it made people worried.
CHAKRABARTI: Did it make you worry?
HAUTALA: No, because I still think that the the position of the Ukraine and the position of Finland is vastly different from historical reasons. For instance, Finland was never part of the Soviet Union. And also there is a big difference that Finland is part of the European Union and Ukraine is not.
So the assessment in Finland has basically been that the threat of a direct military attack by Russia to Finland, I mean, it's not very likely. So there was not fear of a Russian invasion. But there was a deep worry about what will happen in Europe next. ... How is the Europe security situation, is Europe going to look like from now on?
CHAKRABARTI: Okay. I want to come back to what you just said in a moment, but if I may. It's fascinating to know that you served in the Finnish embassy in Moscow and also obviously have deep experience as leading the NATO team at the Finnish Foreign Ministry. But can you tell me a little bit from your personal experience?
What was it like being a Finnish diplomat in Moscow while you were there? I mean, how did you experience the particular relationship that Russia until February 24th of this year had with Finland and other Nordic states?
HAUTALA: I mean, I've served there basically three times. 2005, then 2011, 2013, and then a couple of years ago. And Russia has changed during those 17 years since I first lived there. So I don't see that the Russian attitude towards Finland and the Nordic state has been pretty constant. Because the Russian position has been that they do not want, they don't wish to see Finland and Sweden joining NATO. That has been the position that they have constantly been saying, also publicly, the message has been that you are free to join, but there will be a price to pay.
But they have never specified exactly what that price will be. And now recently in December, when they submitted those draft agreements, which basically said that NATO shouldn't enlarge further and it should actually retrench from what it has been doing after the the big enlargement. So then they started talking about military political consequences.
But the message has constantly been that 'we appreciate,' they use the term neutrality which is not correct. I mean, Finland and Sweden are militarily nonaligned. We cannot be neutral because we are member of the EU. So their message has been that, you know, stay neutral, be a constructive member. By staying outside alliances, you will kind of guarantee the security and stability in northern Europe.
CHAKRABARTI: Okay. So let's talk about that history for a moment and the distinction that you make between the concept of neutrality and Finland and Sweden being militarily nonaligned. So can you tell us the origin of that stance, though, that Finland in particular had. And the balance essentially that it struck between being an EU member nation and having Russia as literally a neighbor that shares a border.
HAUTALA: Yes. Because Finland was in a position of forced neutrality before the collapse of the Soviet Union. We had a friendship treaty with the Soviet Union. ... The situation was that we have friend relations with Russia. We had limitations, how well we can integrate with the West. And Finland tried to make the best of the situation, declaring itself neutral. But the Soviet Union had even difficulties accepting that. But that was the position of Finland that we are a neutral country. Sweden had a long history of neutrality, you know, goes back 200 years. But the neutrality ended then when both countries acceded to the European Union in '95.
So we were no longer neutral, but we were military nonaligned. But EU membership doesn't prevent individual countries of having bilateral relations with third countries, such as Russia. So Finland and Sweden both have their bilateral relationship with Russia, but that obviously happens in the context of EU membership. I mean, Finland is part of the group, when positions regarding Russia formulated. And when those have been accepted, Finland fully stands behind those positions, which obviously means that we cannot be neutral. We are part of the EU. We fully support the EU line, which we have ourselves been involved in making. And then we kind of work within those frameworks.
CHAKRABARTI: It's not clear to me based on what you said a minute or two ago, if you think that Finland should join NATO.
HAUTALA: At this point, my personal view is that in this situation, that is the only kind of logical and a wise move. Previously, Finland's aim was to have good bilateral relationship with Russia. And basically avoid provoking Russia unnecessarily. The thinking was that joining NATO then would cause a serious crisis in those relations and would be an unwise move. But now, after February 24th, that past doesn't exist anymore, and we cannot go back to that.
Related Reading
Foreign Policy: "Putin United the West—but Now Comes the Hard Part" — "Security will require painful trade-offs Western governments may not be ready to make."
Center for a New American Security: "Russia Is Driving Sweden and Finland Closer to NATO" — "In December, Russia published two draft agreements that seek security guarantees from the United States and NATO and aim to change the European security order."
This program aired on April 28, 2022.