Remarkable science: Why aging might be reversible
Play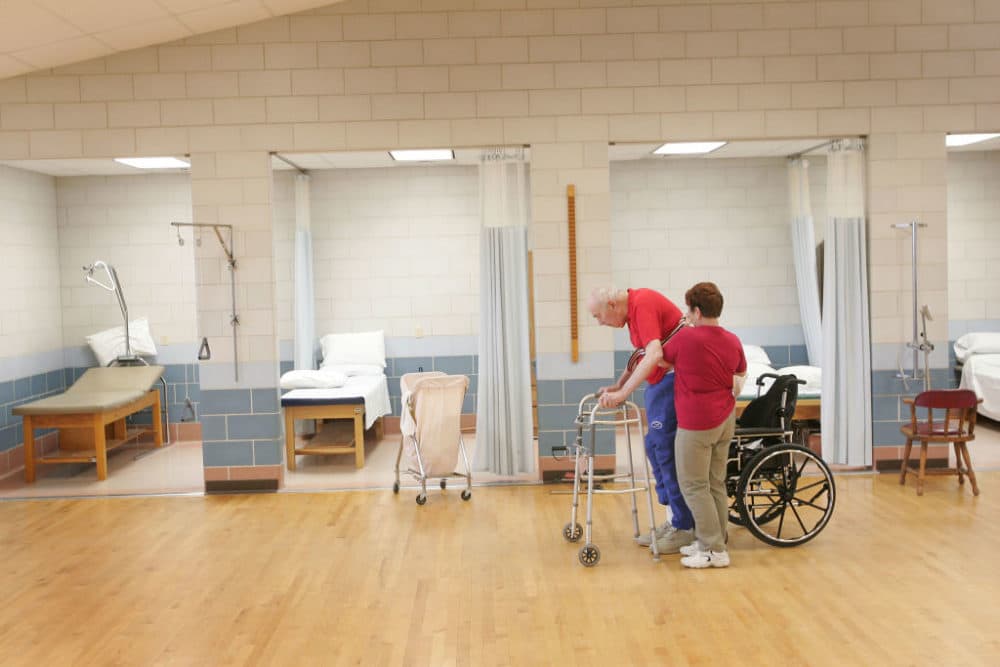 This is the fourth installment of our podcast-only series Remarkable Science — conversations with scientists about their work, recorded in front of an audience at WBUR's CitySpace venue in Boston. Listen to part I, II and III.
Sign up for the On Point newsletter here. 
In this episode: Understanding lifespan and why aging might be reversible.
Harvard researcher and biotech founder Dr. David Sinclair theorizes in his New York Times best-selling book "Lifespan" that aging doesn't have to be inevitable.
Interview Highlights
On how average human longevity might change
Dr. David Sinclair: "It's changing every day. In fact, every year you stay alive, you get another three months of life. Because technology is advancing, and it's been going up across the world in advanced nations continuously over the last 200 years. And there's no sign that it's slowing down. If anything, it's going to speed up. And so I think that there is a chance that the first person to live to 150, is already with us on the planet.
"And not only that, even if technology doesn't go exponential, which I think it's about to. Even with today's march of science, someone born today has a 50/50 chance of getting to 100, as opposed to right now someone who's 100 has made it through you know, about 98% of people of that age have died already. So Queen Elizabeth, she was really lucky. In the future, it'll be normal to reach her age."
What's become your life work in terms of human aging? When did that first begin?
Dr. David Sinclair: "My interest in aging began when everybody's interest starts, when you realize that your parents are mortals and will die one day. That's a really sad day. We all have experienced that. We all know about death. And usually it happens around the age of four or five that we realize, that this is true for me. I was raised in part by my grandmother. My mother worked. So my grandmother did take care of me. And she was the sort of person that liked to shock people. And she shocked me when I was four years old. She said, Well, I asked the question. ... Will you always be around?
"And of course, I'm thinking, Say yes, yes, because I can't live without you. And she said, No, I'm going to die. We're all going to die. Your cat's going to die first. Then your parents are going to die. Then you'll die. And so that was traumatic. I remember exactly where I was when it happened, what the carpet felt like. It was prickly 1970s carpet. And for most of us, we do experience something that traumatic. I witnessed it in my children. I have three kids and the oldest cried for a week at night when I told her the same thing. And unfortunately, we all go through that.
"But most of us can forget about it because it's traumatic. We don't think about death every day. It's quite depressing, but I couldn't forget about it. It stayed with me because largely I felt like it was unfair. Why would there be a conscious species that knew it was going to die. That just doesn't seem right to me. And I knew that people were working on diseases, cancer, heart disease, Alzheimer's. This is what I always wanted to do. I wanted to grow up and be a doctor. But why would we ignore aging? Aging is the worst that can happen to us. So that's how I became hooked."
Why don't we have more species that live for extraordinarily long periods of time?
Dr. David Sinclair: "Oh, there's a very simple answer. We only live as long as we need to, to ensure the species survival. Evolution doesn't care about us as individuals, unfortunately. And if species are preyed upon like a mouse or an insect, it will breed rapidly and die young because they put all their energy into breeding species that are at the top of the food chain, can afford to grow slowly, reproduce slowly and live long and put effort into building a robust body.
"And, you know, we've been at the top of the food chain for not that long. So we're still evolving longer lifespans. Give us another 6 million years. We'll definitely live longer, but we don't have time for that. We need to re-engineer ourselves somehow. But there are species like you say, they are relatively rare, but there are quite a lot hundreds of species that live longer than us. A lot of reptiles, birds, even definitely whales, who, by the way, whales are very similar to us, very, very genetically similar. So, you know, it's not just a tree. We don't become trees to live a long time.
"We need to find what are the few gene changes in whales that give them the long life? And a whale is full of cells. They don't get cancer for sometimes hundreds of years. There are tricks to this. So when often I'm asked, Well, maybe we humans at our limit, 122 is the longest, at least ostensibly the longest-lived human that's recorded. They say, Well, that's it. That's all we can do. And my answer to that is, well, we're just getting started. There are lots of species that can live 200, 300 years that are not that different from us.
"Some live thousands. So there is no law of biology that says we must age. There isn't anyone who says we have to grow old. Doesn't know what they're talking about. There are ways of preserving the body. We see it in the natural world, and we just need to learn, how do they do it? And one of the interesting things is if you look at species that live a long time, like whales and these sharks and bristlecone pines, their epigenome, the structures that control the DNA, have a lot more stable epigenetic epigenome.
"Their information on how to control the genes switches, are very stable, which fits with the information theory of aging. So if we can find ways to control our cells aging process and be able to maintain that youthful pattern of which genes are on and off, like a whale on a tree, we should be able to live hundreds of years, if not thousands."
On 'living forever'
Dr. David Sinclair: "I'm not saying we should live forever. I am saying that we have a chance to postpone illness and suffering by tackling what's causing illness and suffering, which is aging. For too long we've been focused on the end product of aging, cancer, heart disease, Alzheimer's. These are 80 to 90% caused by the aging process. So we're really sticking Band-Aids at the end of life on these problems when we're missing the main point that's driving these.
"Even cancer, young people tend not to get cancer because their bodies are killing cancer cells in their body every day. So if you could take an 80 year old and make it 20, make the person 20, then they probably wouldn't get cancer either. You'd have a very strong immune system. Same for heart disease and for Alzheimer's. We're now reversing aging in mice in the brain. And then dementia goes away.
"So I believe that the best way to prevent and also to treat diseases of aging and even damage like those damaged eyeballs in the mice is to keep cells young so that they know how to function optimally and take care of us. And when we do that, I think that those diseases that cause suffering late in life in billions of people will go away because the body will be young and can fight those diseases."
On how society and the economy could support tackling aging
Dr. David Sinclair: "We have to do something about aging. The economy cannot afford not to tackle aging. We are now in a world where our population is declining across a lot of the world. There are a few pockets, hotspots of population growth, but we're going to top out at 10 billion people and start to decline. Already we're in a really bad place. In the U.S., we're already declining in fertility. Places like Japan, Italy, China, they're going to face an economic crisis within about a decade if they don't do something about it.
"... What's really often misunderstood is that by allowing people to live healthier, longer lives, it's a huge saving for the economy. I was fortunate to team up with a couple of economists in London, and we calculated that just extending life span, healthy lifespan by a year in the U.S. would save $86 trillion in the long run. And if you save lives for ten years, it's $365 trillion. These are big numbers. These are dollars that could be put towards improving education and tackling climate change."