Commentary: President Obama, Here's What You Missed At Saturday's Debate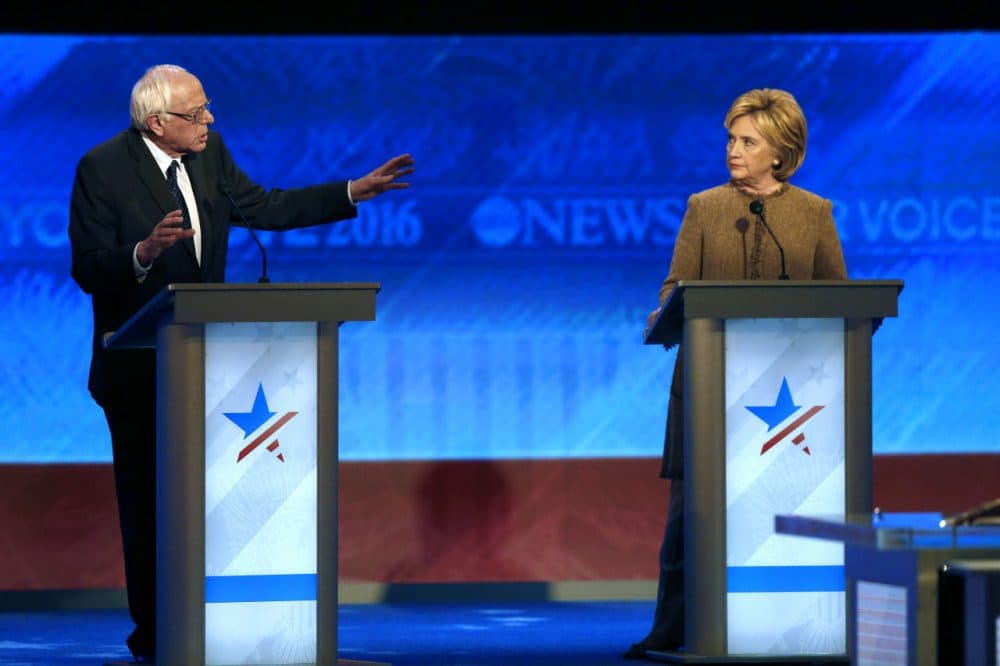 This article is more than 4 years old.
Here's an intercepted apocryphal but factual message (that is, it's fake, but recounts actual events) from a Clinton campaign official to President Obama.
Mr. President:
Hope you're enjoying the golf in Hawaii. Understand you didn't watch Dems debate live in New Hampshire. You didn't miss a thing. Hillary "killed it," as Donald Trump likes to say of his poll standing. BTW, he's not killing it vs. Hillary, trailing her by 11 points in recent Fox poll. She was only debater who used humor, ended the show with "The Force be with you." Bernie? Same ole, same ole, ranting about billionaires, knowing little about foreign policy, and apologizing to Hillary for his staffers breaching Democratic party data. Martin O'Malley? Still running for reelection as governor of Maryland. As you know, he endorsed her against you in 2008, which puts him in tough spot.
Whole thing was achingly boring. ABC took several timeouts (to sell ads, including one on energy from that Steyer guy on wind and solar). Hillary once again was late getting back on stage after bathroom break.  Upstaged them with loud "Sorry!" Moderators kept trying to limit actual disagreements so they could ask their own questions. Irritating. Many tweeters complained that, with just three candidates for three hours, why did moderators feel they had to micro-manage the thing? The whole deal lasted like what seemed about day and a half.
Climate change? Never came up. China? Well, Hillary said she'd pick the china for state dinners if she were to win the White House. You don't do that, do you? Mistakes? Hillary said ISIS uses Trump rants against Muslims to recruit terrorists. So far, none of the usual fact checkers has found evidence of that. In Trump Era who needs facts? "Knowing the Clintons and knowing Hillary, she made it up," the fabricator-in-chief Trump told ABC the morning after. Donald's name came up about as often as ISIS. Nine times in first hour.
Who else in the GOP was mentioned? Nobody. Not Jeb, not Cruz, not Carson. Obamacare came up and Sanders said single payer would be better. Interest rates weren't mentioned. Nope, zero, not once. Wall Street? Yeah, Bernie tried to tie Hillary to the big money boys. She was asked if Wall Street loves her. She said, "Everybody does!" Huge applause. (She's getting good at this, I mean she could not have prepared that answer.) She congratulated Market Basket for showing concern for its employees. More applause.
Oh, yeah, O'Malley got booed when he offered "a perspective from a different generation." Then said nothing new. He's 52, Hillary's 68, Bernie's 74. Several in the commentariat figured he shot himself in the head as possible VP candidate by knocking both of his opponents on guns. They jumped on him for that. The talking heads on CNN all said Hillary was best, even conservative S.E. Cupp.
P.S. Latest poll of NH by Franklin Pierce University/Boston Herald has Sanders leading Hillary 48-46 percent (O'Malley at 2). It's Hillary's best showing yet. Who will be nominee? Seventy-four percent of NH voters predict Hillary, 16 percent Bernie. She's killing it.
Dan Payne is a Democratic political analyst and regular contributor to WBUR Politicker.