'The Shape Of Care' Podcast Looks At The Challenges Of Caregiving
Play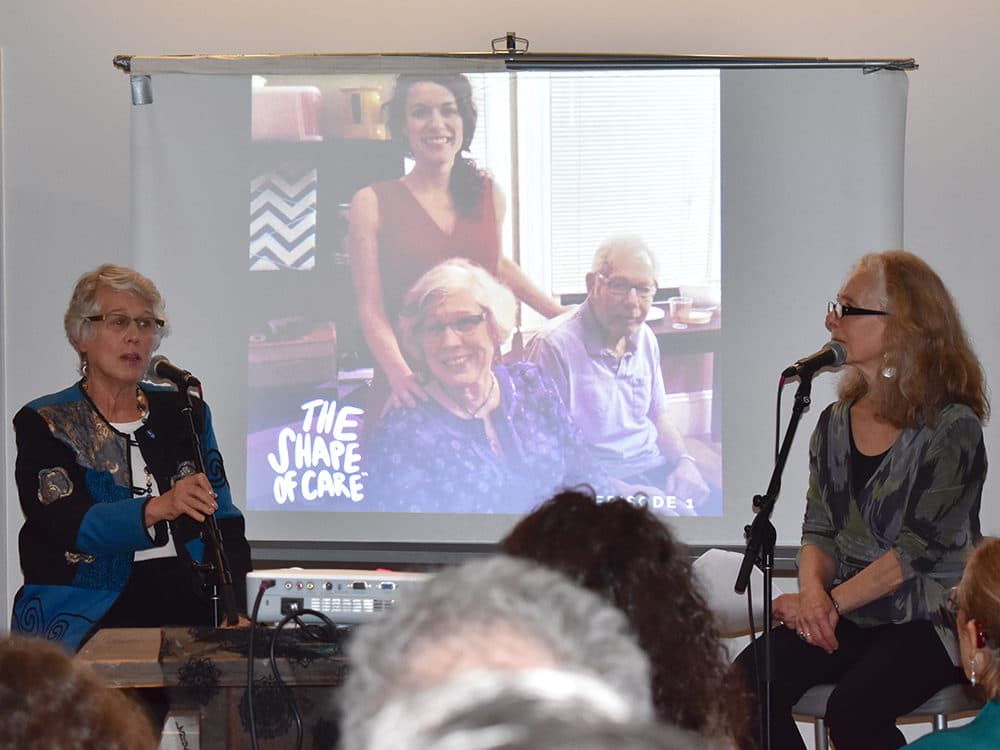 This article is more than 3 years old.
A look at The Shape of Care, a new podcast that explores the world of care giving and the challenges this job presents for the family members and workers who do it. We talk to Mindy Fried, who is the creator and host of Shape of Care, and Laurie Sheridan, a caregiver who is featured on the podcast.
Interview Highlights
On caring for her husband Ira, and finding support
Laurie Sheridan: "I run out of patience. I become frustrated. I become angry with Ira. Sometimes I don't know who he is or whom I'm dealing with. He's like a different person. And what's helped me is really two things. I mean, one, I've learned to be more patient. I've learned a lot from other caregivers, both paid and unpaid family caregivers, some of the skills in dealing with that. But what's helped me the most is being on a weekly support group of care partners. ... I found it through the hospital where he's seen for his Parkinson's disease — and that has the advantage that everyone in the group is caring for someone with the same disease. But that's not really essential, because I've also had friends at work who were dealing with similar but not the same thing, and we've formed our own little support group just talking around the edges — in a coffee and lunch — about how we got through life. And I've learned a lot of from all kinds of support groups about tips for how to get through the day and how to keep myself relatively intact."
On the fiscal and financial issues associated with caregiving 
Mindy Fried: "First of all, 10,000 baby boomers turn 65 every day. 17% of adults are caring for somebody 50 or over. And that number jumps up to 30% if you include people who are caring for someone who is ill or has a disability. That's a lot of people who are playing the caregiver role. The care workforce ... is underpaid, devalued. The work of caregiving — which is so central to our society and is becoming even more so given the demographic shift in our society — is not something that is being talked about at the national level. So I think that we need to really put those issues on the agenda, the political and policy agenda. ... We need a care grid or an infrastructure — something like what we have for our transportation system, something in which there's a web of services that are coordinated so that people really have places where they can go to get decent care.
"The turnover of home care workers is 60%. ... So what does that do to the quality of care? Well, if you've got somebody who's leaving on a regular basis, that means that they're not getting enough training, that they're not developing the same kind of relationship with the person they're caring for. Rick Serpin, who founded a worker-owned home care organization, talks about the texture of relationships being the most important thing in caregiving. He says that sometimes the work itself is kind of rote, but it is that intense relationship that is so critical. And if that relationship is cut off — because people cannot survive in the kinds of jobs that they have, where they're not being paid more than $7, $8, $9, $10 an hour — then that's going to affect the quality of care that they provide. So there's a direct link between the quality of care jobs and the quality of care that people can provide to folks who need it."
On how caregivers can advocate for better policies
Laurie Sheridan: "Talk to your legislator — local and state and federal — about the cost of care. And tell them what I think even few of them really realize — that the cost of care impoverishes families. You can either be on Medicaid if you're very poor, or you have to spend all your assets to be on Medicaid to cover the cost of care. Unless you're a veteran, or unless you're very wealthy — and can pay for the cost of care — and hardly anyone knows that. And I think if legislators really understood that — and it has to be us, it has to be we, the caregivers and the family members — because the people we're caring for are not in a position to really advocate for themselves. They're sick or they're disabled, and their lives are very, very hard.
"I think, also, just getting the word out about what caregiving is like. I mean, when you were asking earlier about what prepares you for it, I thought, in a way, nothing prepares you for what it's like to see someone get old and disabled. ... It's a shock. I haven't thought this out completely, but I feel like I wish everyone had some experience with older people. In many societies, people do, and families are together and they see their elders get old. I really didn't, and most many people in our society don't. So, there needs to be programs in schools that help people not only know what it's like to get old or to take care of someone who is old, but to sort of prepare psychologically for the fact that's going to happen to them, too."
This article was originally published on December 02, 2019.
This segment aired on December 2, 2019.