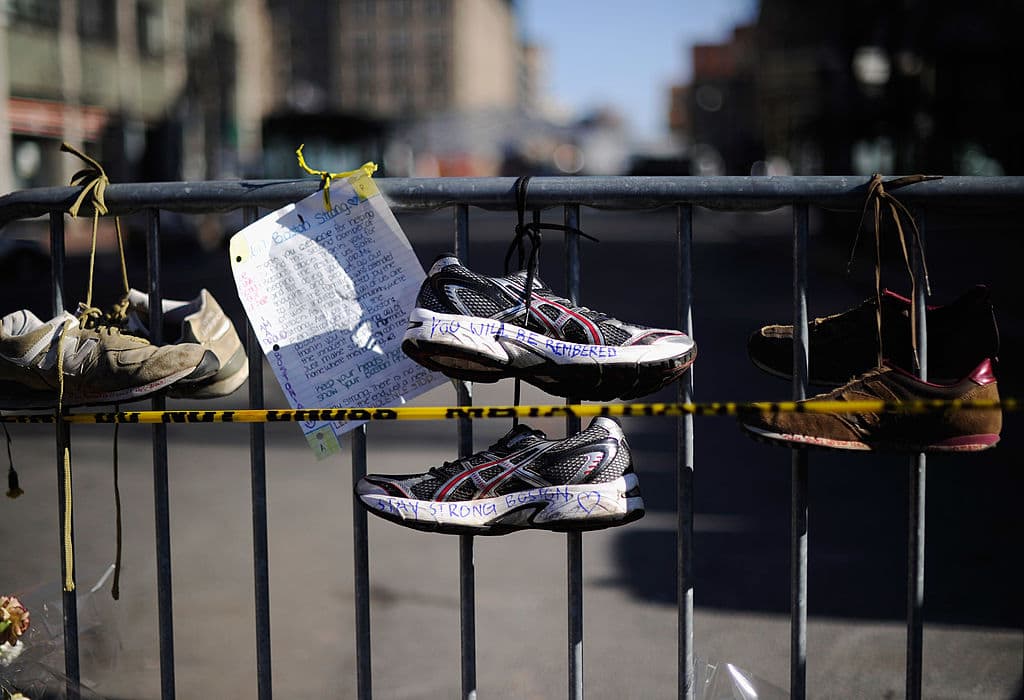 Cognoscenti at 10: Making space for human voices when the news feels too big
---
When Cognoscenti began publishing essays a decade ago, the world looked a whole lot different.
Barack Obama was running for reelection, social media was on the radar (but not omnipresent), and we were thinking about things like celebrity chefs and "Mad Men." Since Day 1, Cog has aspired to be part of a conversation, to offer a lens that invites connection.
We've always intended to do more than add to the cacophony that dominates so much opinion writing — rage-fueled clickbait that taps into people's anger and fear. It's something we think about all the time, because, frankly, rage would be easier. Cog is run by a tiny staff, and often, we're doing our best to keep up with the news, just like our readers are. But how would we articulate our approach?
If you live in New England, you know that spring in Boston is punctuated by an annual tradition: the running of the Boston Marathon. All winter long, you see packs of runners testing their legs and their lungs on the four rollers of Newton's Heartbreak Hill.
On April 11, 2013, the Thursday before the marathon — which is always run on Monday, Patriot's Day — Cog published its first reflection on the storied race: an essay by longtime marathon-watcher and WBUR alum, Alex Ashlock. His piece, on the "beauty" of the marathon, is essentially about ordinary people doing extraordinary things.
Of course, four days later, everything changed: two pressure-cooker bombs exploded in quick succession near the finish line on Boylston Street, killing three and injuring hundreds of others. Overnight, Boston was the focal point of a rapidly unfolding international story.

Cog's founding editor, Frannie Carr Toth, practically slept at her desk, trying to make sense of what had happened and help our colleagues in the newsroom report the story. Meanwhile, she figured out Cog's roadmap for covering major news events.
Kevin Donovan wrote a first-hand account of what he described as "the loudest sound I've ever heard in Boston." The next day MIT's Jim Walsh, an international security expert, wrote about what we did and didn't know, how to invoke patience in that in-between, and cited Boston's signature grit and determination, assuring us: "They picked on the wrong city." Here & Now's Robin Young wrote about speaking to an ER doctor at Boston Medical Center. She wondered, was there a sense of something being "over" in Boston? Undaunted, the doctor defiantly listed the number of people they saved that day.
Eileen McNamara wrote about "the man in the cowboy hat." His image was everywhere, then, but his story was more complicated. "Cities are not resilient. People are," she wrote, as she cautioned us not to get too carried away in rally cries, leaving "room in our anger and grief for silence and awe."
And then Travis Roy, the Boston University hockey player who was paralyzed in a freak accident 11 seconds into his first college game, wrote a remarkable essay, about what it means to live in a "new normal," how to restructure what life looks like after something that changes everything happens.
All of these essays are examples of how Cog has tried to hold space for the personal, the very human, even in — maybe especially in — times or events that feel too big to put into words. We've tried to heed the advice Julie Wittes Schlack shared years ago: to "parch despair before it takes root."
There are stories that have, unfathomably, happened again and again in these last 10 years. In a piece that's impossible to read without taking breaths between paragraphs, Leah Hager Cohen wrote about the shooting at Sandy Hook Elementary in Newtown, Connecticut. It's about how to feel -- how we still feel — even when we cannot possibly understand. We've covered too many mass shootings to count: Parkland, Uvalde, Pittsburgh, El Paso, Las Vegas, Charleston, so many others.
Climate change has become a bigger part of our coverage over the years, and rightly so. If left unchecked, scientists say our warming planet is poised to influence everything in the years to come: where we live, what we eat, who lives, who dies. Our approach to this gigantic, existential story — like so many others — has been to go small. See Fred Hewett's essay about the almost hypnotic stillness of rowing on the Charles. The accompanying award-winning video Cog produced is a haunting juxtaposition of peace and catastrophe.
The 2016 election spun an already busy news era into overdrive. (Our most-read piece that cycle, mind you, was about Hillary Clinton's "shimmy" during the first debate.) Then Donald J. Trump ascended to the White House, and the news became even more all-consuming.
For six of Cog's 10 years, Trump has been a — if not the -- dominant character in the news. Our strategy has been to create space for voices of experience and expertise to help make meaning of all we've seen: Robert Mueller and the investigation into Russian interference. The immigration crisis on our southern border (and kids in cages). A dramatically changing Supreme Court. The #MeToo movement. Two impeachment trials. Wildfires in California. Attacks on the free press. Controversy in the Catholic church. LGBTQ+ rights. Insurrection at the U.S. Capitol. To say nothing of the twin stories that have shaped everything over the last few years: the COVID-19 pandemic and a national reckoning on race in America — issues we will address more comprehensively in a future post.
We think of story as a tool to lasso chaos, a way to put a perimeter around things that feel amorphous, and then to mold it, draft by draft, into something we can hold.
We think of story as a tool to lasso chaos, a way to put a perimeter around things that feel amorphous, and then to mold it, draft by draft, into something we can hold. Stories lend us a sense of agency, a sense that we are less alone, as Anita Diamant wrote in 2014.
That brings us to one of the projects of which we're most proud. In 2017, Cog produced an award-winning multimedia series in collaboration with Kind World, a WBUR podcast at the time. In three parts, the series shared the story of two women: Rachael Cerrotti, whose grandmother was a Holocaust survivor; and Julie Lindahl, whose grandparents were Nazis. Both women, independently, had spent a decade looking into their family histories — eventually, they found each other, after Julie wrote an essay for Cognoscenti about discovering her family's dark secret. The women came to see their friendship as a peace project: A way to face the past so as not to repeat it.
We sometimes think of ourselves as building space for human voices when the news becomes too big; a beating heart amid a swirl of difficult news. This series demonstrates that role at our best — a provocative personal narrative, guided by fact, with far-reaching implications.