As More Kids Survive Cancer, New Field Emerges To Preserve Their Fertility
Play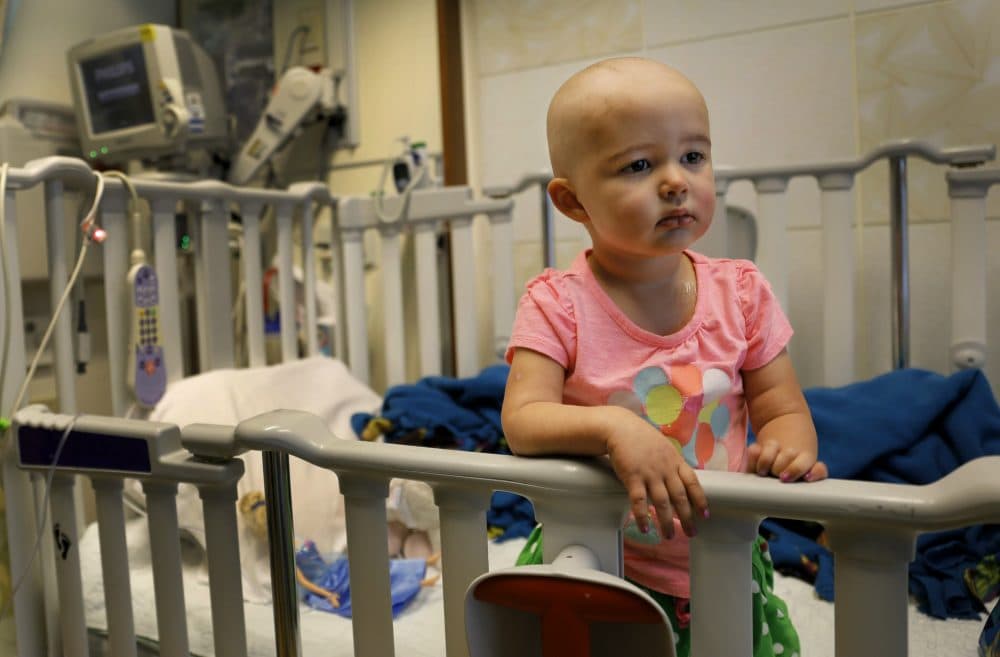 This article is more than 3 years old.
Every year, nearly 16,000 children under the age of 19 are diagnosed with cancer in the U.S. For those families, the first concern is survival. But as pediatric cancer survival rates increase, physicians are starting to think about those kids' futures, including their fertility.
Now, several hospitals around the country are offering parents of some patients the option of taking steps to preserve those kids' ability to reproduce decades down the line.
Danielle Morley, co-creator of the Onco-Fertility program at the Nemours Center for Cancer and Blood Disorder in Delaware, is doing just that.
She says the future fertility of a cancer patient is put at risk from chemotherapy, radiation or sometimes surgery.
"Certain drugs can actually affect their ability to create viable sperm in the future, in the case of males," Morley says. "And can mess with the ability for the ovary to release eggs in the future so making patients potentially infertile down the line, as well as it can also alter hormone production and decrease in their chance of being able to have kids in the future."
So Morley and two other physicians, both pediatric and adolescent gynecologists, use cryopreservation — a process of utilizing low temperatures to preserve living cells and tissues for long periods of time — to keep young cancer patients' sperm or ovaries intact. Morley says the program sees about 30 to 40 patients a year.
But the science behind preserving fertility isn't complete. Morley and her team are banking that the research and science behind it will progress in the years to come.
And so far, the research looks promising. "For ovarian [cryopreservation], there have been live births through the process of reimplantation," she says.
"We actually just got a research article from the NIH that says that they have been able to have a viable birth produced in a monkey," she adds.
Erica Avello's son Frankie, who has pilomyxoid astrocytoma in his brain, finds a glimmer of hope from the program.
"I just think it gives me hope that someday he'll be a young man that's ready to choose a partner and that he has this opportunity if he wants to be a dad — if he wants to be a biological father — that he might have the opportunity to do that," Avello says.
Interview Highlights
On the studies and procedures
Danielle Morley: "There are new studies that are still in the world of research that allow for either prepubescent patients or patients who don't have a lot of time prior to starting treatment to pursue options that can potentially preserve infertility in the future.
"What they are actually preserving, they would take out an ovary and freeze it. And one of the things that has proven viable for us in the future is reimplanting that tissue into a patient later down the road when they're ready to start to try to have children."
On the science behind cryopreservation
Morley: "So with boys the science isn't quite as far ahead as it is with females, but it's the same concept of removing a resection of a testicle, cryopreserving it, and then in theory, reimplanting it in the future. They're also looking at ways to be able to mature that tissue outside of the body and then reimplant the sperm into a female on the future. So that's still in the research level. But when we offer these things to patients, they're often very young and the hope is that the research will continue to progress and be an option for them."
"I just think it gives me hope that someday he'll be a young man that's ready to choose a partner and that he has this opportunity if he wants to be a dad — if he wants to be a biological father — that he might have the opportunity to do that."

Erica Avello
On how Erica Avello approached her son Frankie about the procedure
Erica Avello: "So we just kind of said, 'We're going to go to this hospital and they're going to do a little surgery and take out a piece of your testicle because it's going to help you someday be a daddy.' "
On downsides to the program
Morley: "There's pros and cons to everything. It's not the right option for every patient. Sometimes it's not a safe time to do an additional surgery. But for Frankie, he had the opportunity to delay chemo for a couple of days to make this possible. And he was stable and able to travel to the other institution that was able to do this for him."
On the cost
Avello: "We actually participated in a research study. They offered us the opportunity to participate where we would donate a portion of the tissue that was collected back to research. So we have a portion of his testicle frozen and then a portion was given to the researchers who are studying how to preserve fertility so that someday he can use the portion that was frozen."
On how many families have participated
Morley: "Our program sees probably 30 to 40 patients a year. And they some have options and some don't, but we've had children who have been able to egg bank. We have several children a year whose sperm bank. Not as many are able to do the testicular tissue cryopreservation honestly because of the addition of travel right now to have that procedure done."
On whether the procedure is covered by insurance
Morley: "There's a lot of push to have insurance start to cover some of these things. We actually just recently advocated for a bill that was passed in Delaware this past summer, Senate Bill 139, which now requires state-mandated insurance coverage for infertility preservation options. It doesn't mandate that every single insurance provider covers it, but I think there's a good precedence started and hopefully things will start to trend in that direction."
---
Karyn Miller-Medzon produced and edited this interview for broadcast with Peter O'Dowd. Serena McMahon adapted it for web.
This segment aired on March 27, 2019.