Musical-Drama 'We Live In Cairo' Follows Egypt's Arab Spring From Hope To Despair
Play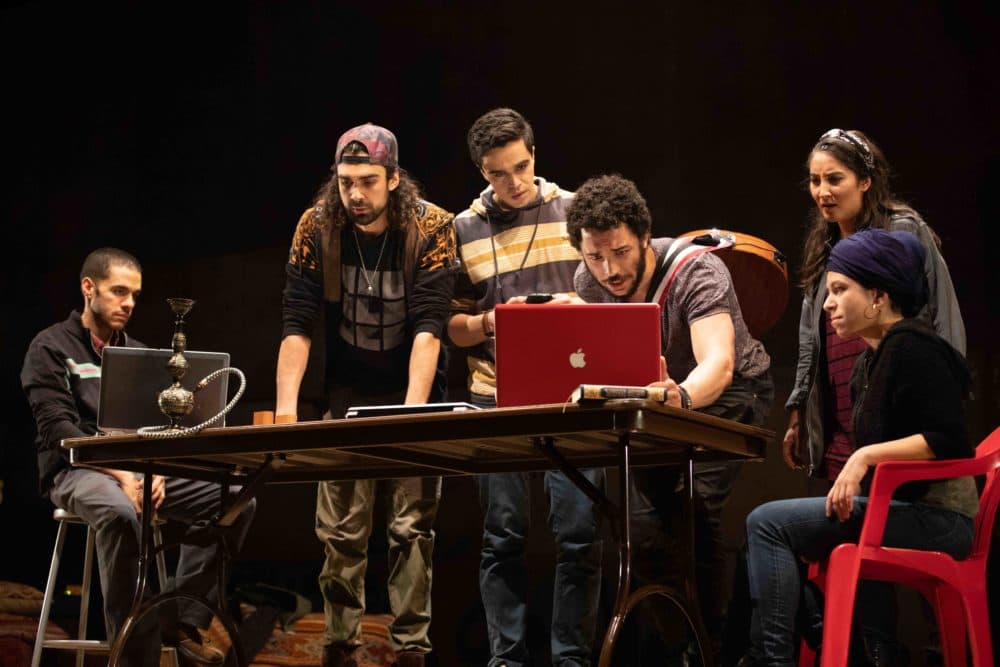 This article is more than 3 years old.
Hear part 2 of this story with NPR reporter Leila Fadel, who spent six years based in Cairo and covered political and social events during the Arab Spring.
---
When Mohamed Morsi died on Monday in a courtroom in Egypt, it was noted with a moment of silence in a theater in Cambridge, Massachusetts.
"We Live in Cairo," a new musical at the American Repertory Theatre, tells how word of mouth, social media, and tenacious activists ignited the 2011 uprising that deposed of longtime dictator Hosni Mubarak — and uplifted Morsi.
Morsi was the first democratically elected president of Egypt after the 2011 uprising that deposed Mubarak. Although he was freely elected, Morsi was removed in a military coup because of his Muslim Brotherhood membership. Morsi was arrested, his group outlawed, and has since died.
And now Egypt — which once broke free of a dictator — is locked in a repressive military regime led by President Abdel Fattah el-Sisi.
"We Live in Cairo" depicts these events by blending real news footage — such as the sounds of cheering protesters in Tahrir Square — with musical creations. On stage, social media messages that helped to spread the revolution are projected onto the theater's ceiling and walls.
Inspired by a single photograph of Egyptian activists poring over a computer screen above Tahrir Square during the 2011 riots, brothers and then-students Patrick (@PatrickLazour) and Daniel Lazour (@DanielLazour) said they were moved by the activists' courage to defy Mubarak's regime.
The brothers wanted to capture the essence of these six revolutionaries, who were armed with cameras and laptops, as they navigated the protests, elation and ultimate despair that gripped Cairo through early 2011.
"This was a 30-year dictatorship and had they not succeeded in toppling Mubarak, they could've been jailed, tortured or worse," Daniel says. "Seeing them talk with such verve and such bravery about what change they wanted to see in their country, I think, was really inspiring.'
As the siblings watched from the U.S. as el-Sisi took power in Egypt, they knew they had to continue writing in order to display the tumultuous years that followed post revolution, when a stark divide washes over the country.
"The first draft was very much about the hopefulness of 2011 and that's really where that initial draft ended, when Mubarak fell and that was sort of our bookend for the show," Daniel says. "But then as the year started progressing and as history started unfolding, we had to include what was happening post revolution."
"It's a titanic sort of moment in history," Patrick says. "If we wanted to tell the story of the revolution, I think it needed to be honored."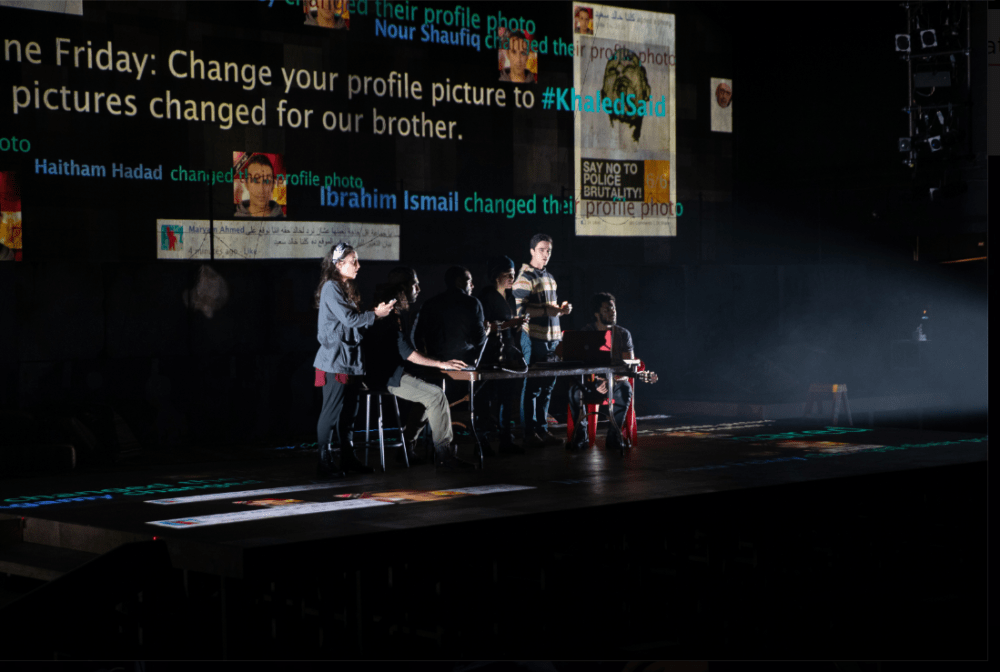 Interview Highlights
On the photo inspiration behind "We Live in Cairo"
Patrick Lazour: "It's a photograph by Ed Ou from the New York Times. He took this really incredible photo about seven floors above the square of all of these students around a table. There are two or three laptops. There's a camera. I think there's a roll of toilet paper there. It's so youthful and so dynamic and and they're all uploading testimonials and photos and videos and these things for the protests down seven floors below them. And so we saw this photo, we're like, 'Wow, there's a musicality to this and there's a youthfulness to this,' and that's, I think, what we were so drawn to when we started this show."
Daniel Lazour: "I think that's what really drew us to this story, is these young people about our age when we started. I was 19 [and] Patrick was 22. Not only how young they were, but what was at stake for them."
On workshopping the musical at American University in Cairo
PL: "Our mom's side of the family is Lebanese and our dad's is Irish and Albanian. So yes, we are Arab Americans, but we are not Egyptian. And going into a group of young people who were part of the revolution and revolutionaries, wow, you know, this is going to be an uphill battle. I mean, we are the outsiders coming in and telling this story. We did a private reading at the university as a result of censorship. I think there was a little bit of arm's length at the beginning, but what was incredible is after the show happened, there were critiques. There were so many thoughts and so many things [such as], 'Oh that's not right, you need to improve upon all this stuff.' Rightfully so, but there was also such an enthusiasm too with the students that this story is being told. In el-Sisi's regime now, the revolution is scrubbed from the narrative, that you can't talk about the revolution. So we really were heartened by that. I think there was an incredible amount of excitement that this is something that is being forgotten and it is being told again."
On whether they were influenced by Lebanese musicians, such as David Yazbek
DL: "In terms of us being sort of in community with a fellow Arab American musical-theater writer was so exciting and I think it's due time that these rhythms and these modes start making their way to the stage — trying to not make it this exotic thing to have the oud playing or the doumbek, this hand drum. I mean, it's such infectious sound."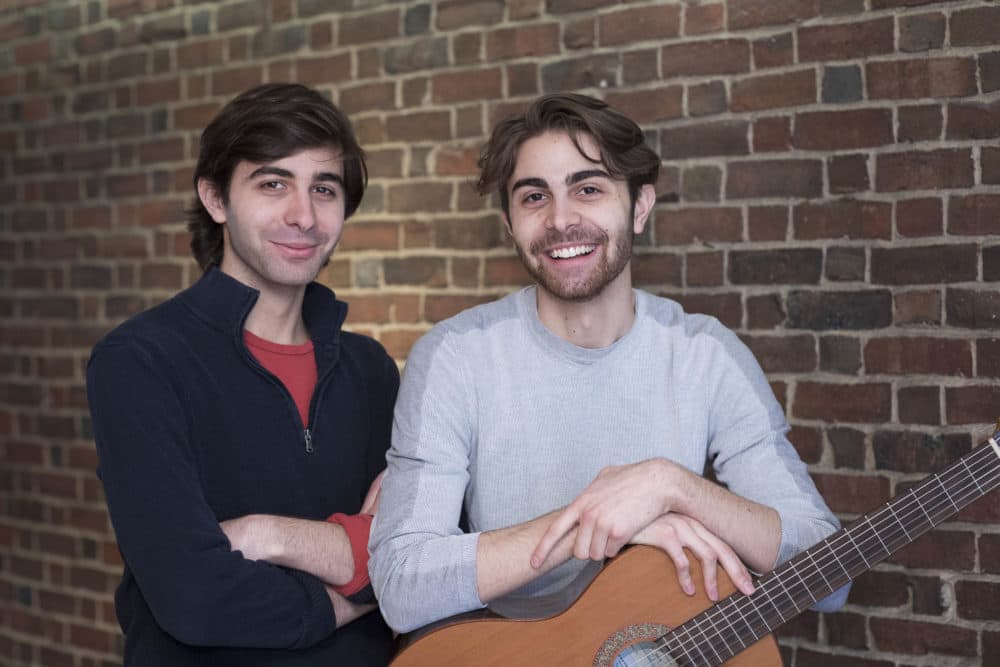 On meeting with some of the Arab Spring activists
PL: "We did speak with Wael Ghonim and he was so helpful, and I think he really is sort of the heart of the revolution in a way. I was watching those CNN interviews and you just cry in tears as he's talking about what it means to him. And I think that also spurred us on to not just make it sort of docu-theater. There were real things at stake for these characters.
"What's incredible about this moment is that we are in the company of so, so many revolutionaries. I mean Ganzeer, who was a huge street artist, actually exiled from Egypt, he did our poster art for the show. There are people who are coming, there are Egyptians who are coming to this show and saying, 'You speak to the emotions of the time.' "
On the musical's reception among activists, journalists, and those who first-hand experienced the revolution
PL: "It's the people who understand what happened. People saying, you know, 'You got it right.' And we know there's so much work to do. When people come up and say that 'You really captured the spirit,' that's the thing that keeps this thing all worth it."
---
Karyn Miller-Medzon produced this story and edited it for broadcast with Todd Mundt. Serena McMahon adapted it for the web.
This segment aired on June 19, 2019.