Longevity Study Seeks Participants, But Only Dogs Need Apply
Play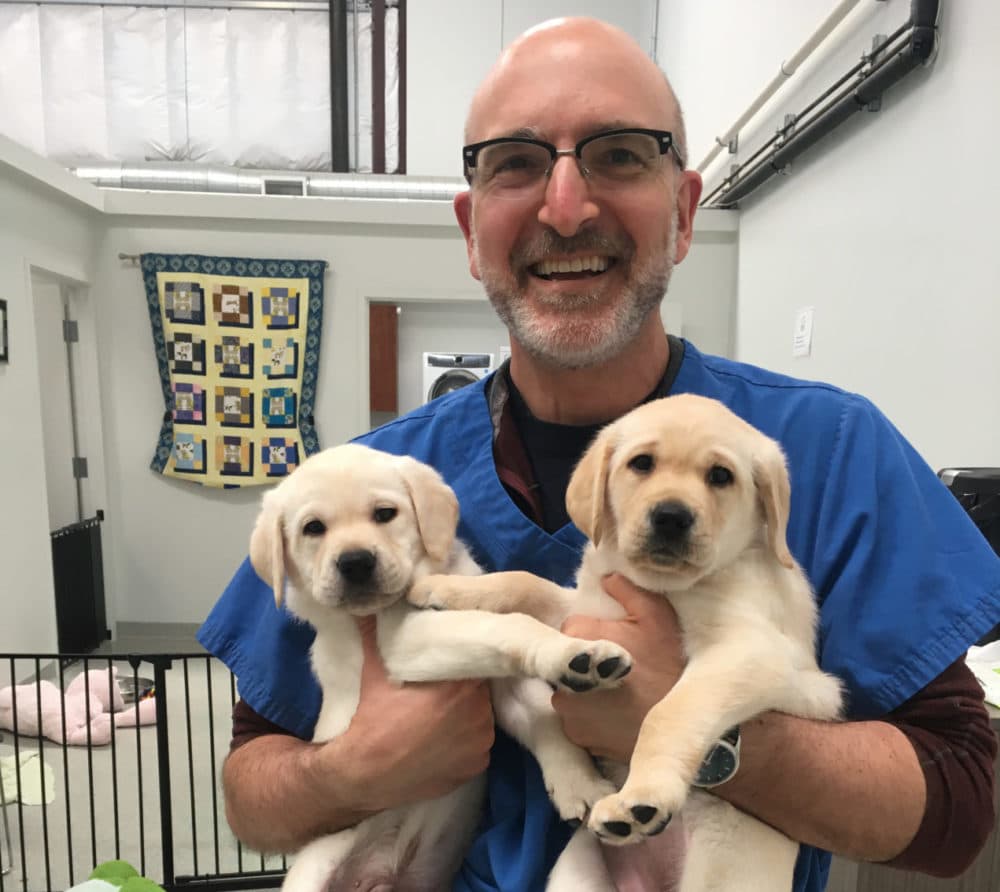 This article is more than 3 years old.
Researchers are undertaking what they say is the largest open study on aging ever on one beloved subject — dogs.
The citizen-science study, called the Dog Aging Project, is funded by a $15 million grant from the National Council on Aging. Scientists' goal is to discover new aspects of human aging by studying dogs, which share many diseases and genetic markers with humans.
There are a plethora of reasons why researchers from half a dozen universities chose to study canines, the study's co-leader Daniel Promislow explains.
Dogs are "variable," meaning there's a large spectrum of different breeds, shapes, sizes to examine. Their lives are also sped up, so what would take decades to learn in humans can be understood in dogs within just a few years, he explains.
Because the healthcare system for dogs is "second only in sophistication" in humans', studying their genome sequence over time may provide valuable insights into human aging.
"They live in our environment and in many ways, they experience our environment more intensely than we do," Promislow says. "They're often home all day while we're off at work. They're more likely to drink water from the tap rather than from a bottle. They're rolling in the yard rather than walking on it like we do. So what we learn about dogs is likely to apply to humans."
For dog owners participating in the study, researchers are asking for a swab from the inside of a dog's mouth. Once the swab arrives at the lab, Promislow says the project covers the cost of sequencing the dog's genome. Researchers then test whether variation in a dog's genome is associated with variation in the frequency of a certain disease or behavior.
The Dog Aging Project will also research environmental variations, he says, including air quality, water quality, pesticide use, and even whether the dog lives in a hardwood or carpeted home.
Then, for an estimated 1,000 of the dogs tested, scientists will collect the canines' molecular biology information.
"That tells us not only which genes are affecting which traits, but why they're affecting traits," he says. "It also gives us the opportunity to identify molecular biomarkers that might predict, for example, whether a dog is at high risk of a particular disease or if it's diagnosed with a disease, what its prognosis might look like."
Promislow says about 4% or 5% of the participating dogs will be enrolled in a clinical study to test rapamycin — a drug used to improve a "healthy lifespan." When tested in low doses on worms, flies and mice, the drug can help them live healthier and for longer, he says.
At the study's conclusion, the Dog Aging Project will share the data with anyone who wants it. In addition, individual data on a dog will be available for the owner through their veterinarian — which can then assist them in making better decisions for their pets.
Dogs of all kinds are welcome to participate in the study. Owners can nominate their pet by filling out a short survey.
For Promislow, this research is "already fulfilling a lifelong career dream" of creating "interdisciplinary science." He's excited to see what they may discover about humans — specifically when it comes to new vectors of infectious diseases in the U.S.
If scientists see a cluster of a certain disease in dogs after a few years, "We can then turn to their owners and make sure that they're doing OK and give them preventative care potentially," he says. "There are a lot of ways in which the Dog Aging Project can help human health and aging."
---
Karyn Miller-Medzon produced and edited this interview for broadcast with Peter O'Dowd. Serena McMahon adapted it for the web. 
This segment aired on November 18, 2019.