Anthony Shadid's Daughter Follows In His Footsteps: 'Journalism Brings Me Closer To Him'
Play
This article is more than 3 years old.
Two time Pulitzer Prize-winning journalist Anthony Shadid was perhaps the most admired of his day.
"I think he was the most decorated foreign correspondent of his era," journalist and teacher Rami Khouri says.
Both Shadid and Khouri reported extensively from the Middle East during their careers.
In 2012, while covering the civil war in Syria as a foreign correspondent for The New York Times, Shadid died of an asthma attack. His body was carried into neighboring Turkey by photographer Tyler Hicks.
Now, Khouri is teaching a course on Shadid's writing at the Middle East Initiative at Harvard's Kennedy School.
"You can't imagine how often people say, 'I wonder how Anthony would have written about this,' " he says.
Nada Bakri, Shadid's widow with whom he had a son, donated his papers to the American University of Beirut — where Khouri saw them and realized "what a unique insight this was into one of the greatest writers of our time."
He began "systematically analyzing" what made Shadid an outstanding writer.
What Khouri found was a paper trail of Shadid's long-time passion for reporting in the Middle East.
"He wanted to be a Middle East correspondent from his years in high school. He thought the region was not well covered and he wanted to do a better job," he says. "He wanted to let the voices of the people of the region come through the reporting."
On a recent afternoon, James Smith, Shadid's former editor for The Boston Globe, attended Khouri's class.
He shared the story of how after Shadid was shot by an Israeli sniper in Ramallah in 2002, the award-winning reporter refused to leave unless his Palestinian interpreter could leave as well.
In 2011 while with the Times, Smith said, Shadid was briefly taken hostage with other journalists in Libya by former dictator Muammar al-Gaddafi.
Students marveled at Shadid's writings, described by one student as "poetry."
Shadid's Journalism Legacy Lives On Through His Daughter
When Shadid died, he left behind two children. One of them, 18-year-old Laila Shadid, who was only 10 when she learned the news of her dad's death, is taking up the torch: She's in college studying to become a journalist.
Khouri believes the materials collected from her dad's journalism career will have an impact on her writing, providing her with examples of "good journalism" and "good humanity."
For Laila Shadid, who visited the class the same day as Smith, partaking in a course based around her father's work was "really powerful," she says.
"There are so many things I want to ask him, a lot of which I'm learning through his writing," she says. "Analyzing it like we did here and hearing everyone else's praises of his work really helps me understand who my dad was as a writer and helps me develop my own sense of self in a lot of ways."
In 2018, Laila Shadid wrote a piece called "Last Words" in honor of her dad. She said she often had to take breaks because of the emotion toll of poring over her father's words.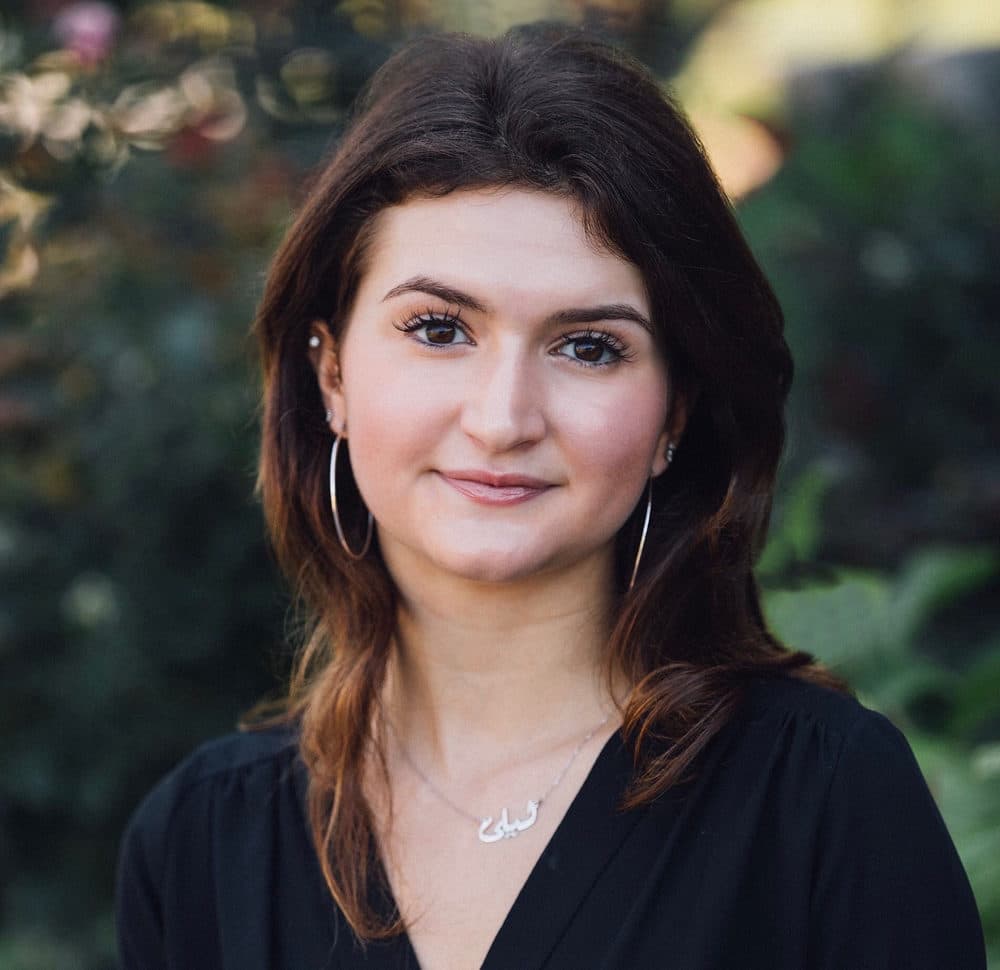 "In some ways I feel like when I'm reading his writing, it's him talking to me and teaching me about what was so important to him, especially reading 'House of Stone.'"
"House of Stone: A Memoir of Home, Family, and a Lost Middle East" — a memoir she says "felt like a blessing" — is about Shadid's ancestors' home in Marjayoun, Lebanon, that he rebuilt, she explains. He expressed guilt about being away from Laila Shadid during her childhood.
"I learned so much about myself in a lot of ways and where I come from and the importance of being Lebanese, an Arab American woman in a world that often villainizes the Middle East," she says. "I think that's what really fueled my dad and he wanted me to understand it."
In "Last Words," she says matter-of-factly how her father felt the need to go, especially post-9/11, to war zones, which affected her parent's marriage. She describes in excruciating detail how he died.
"How could I be attracted to the art that killed my father?" she says. "In a lot of ways, journalism brings me closer to him."
Despite the toll Shadid's career took on her and her family, she says she hopes to continue his legacy by aspiring to be a voice in the Middle East.
"I understand why he had to do what he did. And I am so proud to be his daughter," she says. "And every single day I think about my dad and I think about his legacy. And it informs pretty much every choice I make."
---
Robin Young produced this story for broadcast. Serena McMahon adapted it for the web. 
This segment aired on November 26, 2019.