N.H. Gov. Sununu Predicts Trump's Economy Will Win Over The 'Live Free Or Die' State In November
Resume
It's primary day in New Hampshire. Democratic candidates are making their final push to voters, a day after President Trump held a packed rally in the state and gave a shout out to its Republican Gov. Chris Sununu.
Trump falsely claimed that "hundreds and hundreds of busses" of Massachusetts residents came to vote in New Hampshire in the 2016 general election, blaming these non-resident voters for his slim loss to Hillary Clinton there. State government officials later investigated those claims and proved them baseless.
Gov. Sununu, however, has not gone on the record to denounce the theory that out-of-state voters tipped the 2016 result, though he has contrasted his leadership philosophy with that of the president.
"I don't like the way the president says certain things … We have very different styles, very different approaches," Sununu says.
But he also voiced his support for Trump's agenda. He approves of policies such as tax cuts, regulatory reform and the recent U.S. Mexico-Canada Agreement, which he says "created a lot of economic opportunity for the citizens of New Hampshire."
"We have the most booming economy in the Northeast right now," he says "and that's not by accident because the policies get results. And as governor, that's all I care about: getting results."
When it comes to watching Democratic presidential hopefuls duke it out in his state this year, Sununu told "Fox & Friends" viewers last month that they should "grab their popcorn" because "it's going to be fun to watch." He's criticized the field for pandering to what the president called the "extreme left" — positions he thinks will backfire in New Hampshire and throughout the country.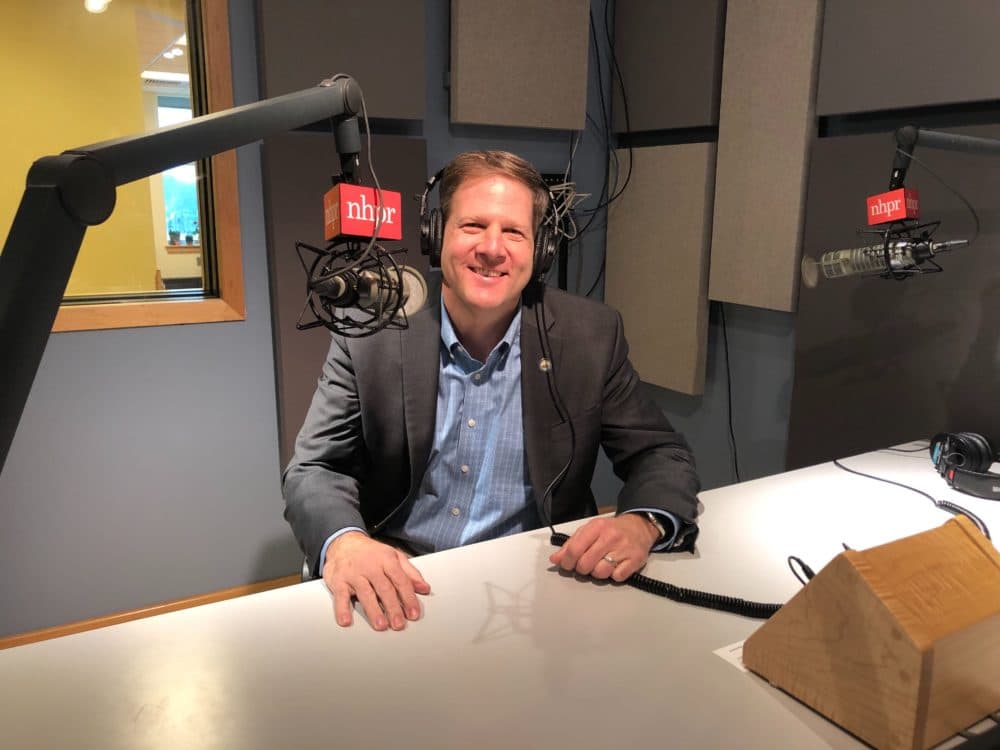 Interview Highlights
On whether he's worried about Trump's performance in New Hampshire
"President Trump is going to win New Hampshire. When folks go to fill out their ballot in a ballot box, they look at what's going to impact themselves and their neighbors and in their communities. And economic prosperity brings a better quality of life, better access to health care, more opportunity for opioids and mental health and all these things that really impact our day to day lives. And people are going to vote in those interests, especially if on the other side, the answer is a socialist like Bernie Sanders. This is the Live Free or Die state."
On Trump's comment about busloads of illegal voters skewing New Hampshire's 2016 results
"So what he's referring to there is we were the only state in the country where you didn't need to be a resident. So you could come same-day voter registration, which we have here, and say, well, I'm going to be domiciled here and vote. You didn't have to be a resident.
"… The buses [are] separate. Yeah, that's a separate issue. We didn't have a residency law — the only state in the country. And we have a residency law now. That's all."
On the opioid crisis and Trump's recent federal budget cut proposal
"The previous administration did so little on this drug and opioid crisis, essentially ignored it. We've fundamentally changed that. And when I went down and met with the president in 2017, I said, 'Look, this is what we need. We need funding. This is how we're going to use it. We're going to rebuild our system.' And they provided that funding — over $50 million. So they deserve a lot of credit there and that's why he talks about it a lot. The other issues you're talking about in terms of the budget, the number one thing we need out of this budget is flexibility. And I think I speak for 50 governors when I say that states want flexibility to design their own systems. It cannot be a Washington one size fits all big system. Big government is not here to solve your problems. That is not the purpose of government. Government is here to open up doors of opportunity for you or your family or your business or whatever it might be. And that's my job to set up as many doors as possible and then Live Free or Die, right? You go through the doors that fit you and your path. So the flexibility is the most important. So we'll take a look at this budget. I haven't looked at it too in-depth in the past couple days, we've been a little busy.
"I also know that's not the final budget. Congress is gonna get their hands on it. They're going to make some changes. The most important thing is something gets passed."
On whether he's worried about Michael Bloomberg's campaign
"No, no, not at all. So Michael Bloomberg is being very open about his attempts to buy an election, right? He's not even playing in New Hampshire. He's just trying to buy votes. He's not meeting voters one on one. He's not engaging on a debate stage. Now, he's gonna get a lot of delegates out of that to be sure. He won't get enough. It will go to some sort of very aggressive brokered convention. Nobody should play into that."
"... [I'm not worried] at all. Look, because he's not going to win. So he's gonna be an example of when you ignore New Hampshire. It doesn't work. He couldn't win — you can't thumb your nose in New Hampshire in the primary and win it in the general. Absolutely not. And because of that, it sets a tone for him for the rest of the country. He's not earning it. He's not spending the time with the voter. He's spending time buying TV ads."
On Trump's tariffs with China
"The USMCA agreement is a great example, right? The president negotiated a great deal. It's great for Mexico. It's great for Canada. It is fabulous for the United States. Phase 1 of a China deal is now in place. Phase 2 is coming down the line. These are things that weren't even attempted by previous presidents. So he's slowly evening the playing field. The tariffs hurt. They stink. I get it. But our economy is really, really strong here."
---
Karyn Miller-Medzon produced and edited this interview for broadcast with Peter O'Dowd.  Lynsey Jeffery and James Perkins Mastromarino adapted it for the web.
This segment aired on February 11, 2020.