He Tested Positive For Coronavirus. Now He's Spent Weeks In Quarantine
Play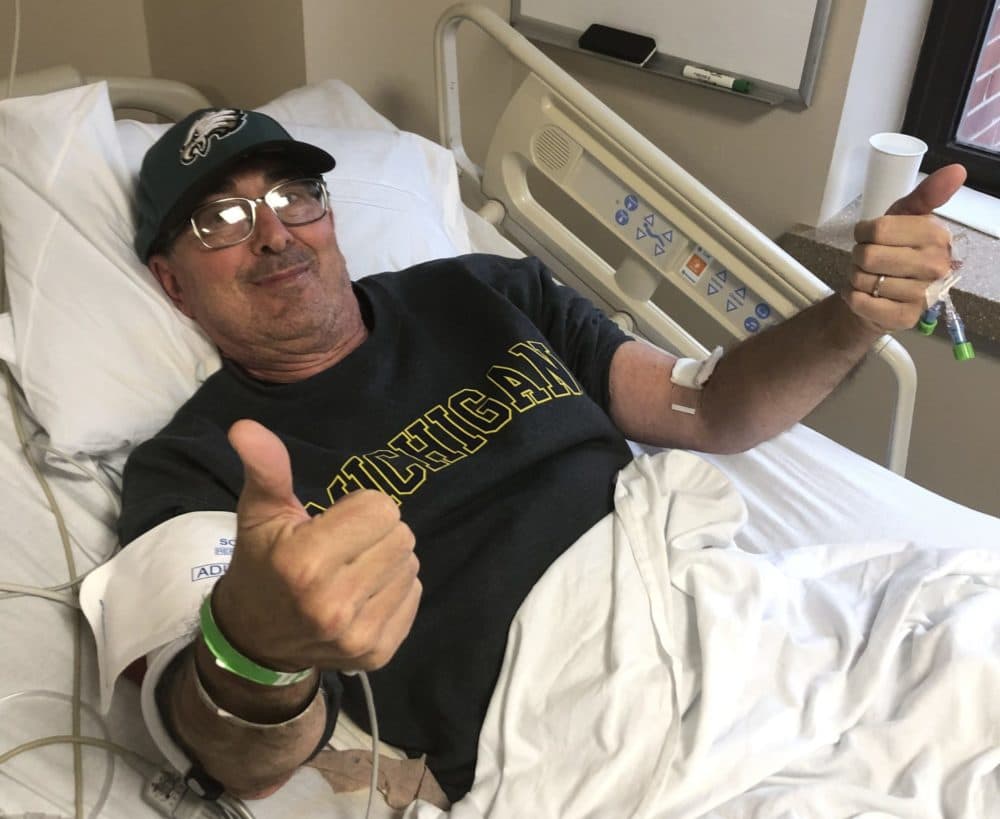 This article is more than 2 years old.
There are now more than 100,000 people with confirmed cases of COVID-19 worldwide. One of them is Santa Clarita, California, resident Carl Goldman.
The 67-year-old caught the new coronavirus on the disease-stricken Diamond Princess cruise that was quarantined off of the coast of Japan in February. Now, he's in federal quarantine at the University of Nebraska Medical Center in Omaha.
The virus hit him during his flight back to the U.S. after he and his wife were released from the Diamond Princess. While en route home, he says he woke up with a fever of 103.
Unlike common colds he's experienced before, he says there were no typical symptoms such as sniffles, stuffiness or body aches.
"All I had was a dry cough that still persists," he says. "That's the only thing that reminds me that I still have the virus."
He says even when the coronavirus was at its peak, he never felt that sick. Right now, he says he feels fine, but has to remain in quarantine until he tests negative for three days in a row. The test includes cotton swabbing both nostrils for about five seconds each, then a deep throat swab.
"So that's a lot of fun," he jokes.
The federal quarantine he was in is straight out of a scene from "The Andromeda Strain" movie, he says, complete with double glass windows, heavy-duty doors and staff dressed in full hazmat gear. The specific biocontainment unit he lived in was established after the post-9/11 anthrax scare, he says.
Since his wife never got the virus, she was placed in a low-level quarantine area. After 10 days, Goldman was moved to the low-level unit, where patients had individual dorm-style rooms equipped with a TV, internet and an exercise bicycle.
Staffers taking care of low-level patients are not in hazmat suits, but are still dressed in full-body gear, he says.
Goldman, who is self-employed, says he's lucky to have Medicare and reliable supplemental insurance. While insurance will cover part of his bills, he says the U.S. government will "pick up most of the tab."
When he's finally cleared to head back to Santa Clarita, he suspects he'll "have a scarlet 'C' tattooed" on his forehead. His wife, who has never tested positive for the virus, recently returned home and faced a negative reaction from some. Goldman claims their dog sitter was fired from a second job after his boss discovered he had been in contact with Goldman's wife.
"There's a lot of misinformation out there," he says. "There's a lot of fear."
After learning of his dog sitter's firing, he says the pair made a decision that when he returns home, he'll self-quarantine for another two weeks.
"Even though I'll be free of the virus, I'll have the stamp of approval and many letters from the CDC so I'll no longer be contagious, we agreed that I'm going to stay home for 14 days and not go out in public places," he says, "just to give everyone a chance to chill and get adjusted to that."
The global paranoia over the disease is "overkill," he says, but he acknowledges the need to be proactive and act accordingly.
"This virus does travel very, very easily and there's no cure for it right now," he says. "We're all contagious and we go for days without realizing that."
He advises those who are nervous about coronavirus to pick up a quality digital thermometer because "every time you sneeze or every time you cough, you don't want to freak out thinking you have the virus."
---
Chris Bentley produced and edited this interview for broadcast with Kathleen McKenna. Serena McMahon adapted it for the web. 
This segment aired on March 6, 2020.